High-performance office cleaning services are a proven method for cost-effectively increasing employee morale, health, and productivity.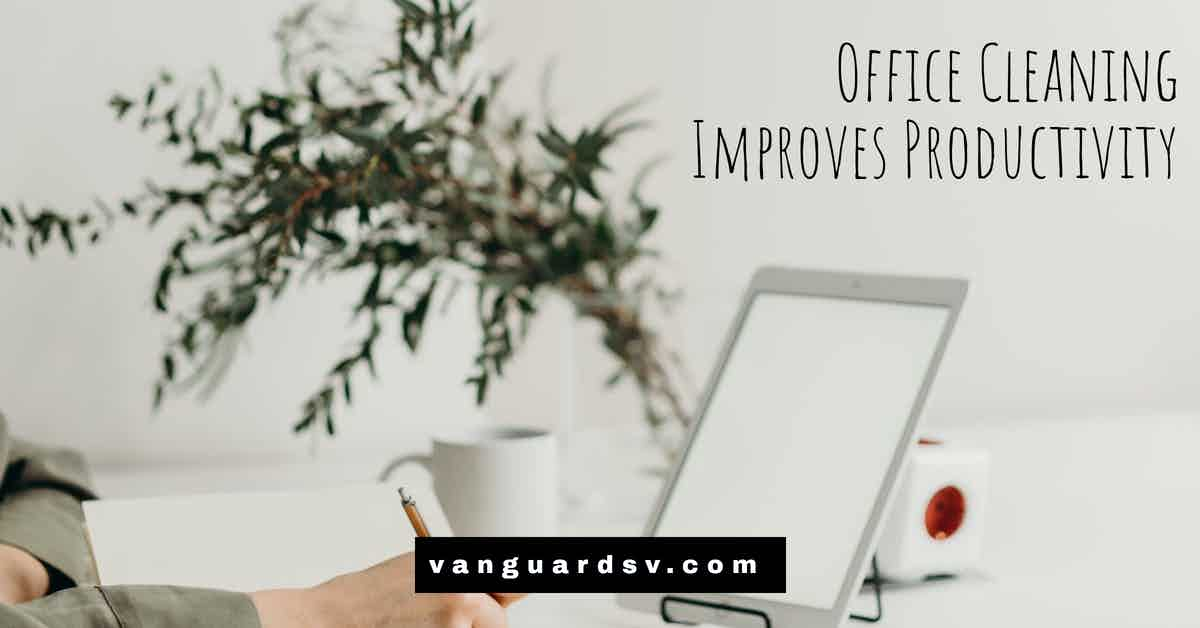 Improving Employee Productivity and Retention With Enhanced Office Cleaning Services
Enhanced cleaning services focused on occupant health have a measurable impact on worker retention, happiness, and productivity.
Unfortunately, office cleanliness continues to be a challenge for many businesses.
An estimated ninety-plus percent of office workers cite workplace organization, safety, and hygiene as critical to their happiness.
Still, fewer than half say their workspace is cleaned regularly or well.
According to a 2018 survey conducted by Tork;
[...] a resounding majority of manufacturing employees identify operational efficiency (96 percent), safety and hygiene (94 percent), and organization of work environments (93 percent) as top enhancers of their happiness on the job.
However, according to a survey conducted by the U.K.-based GCC Facilities Management:
Approximately one-third of respondents avoid using workplace kitchenware for fear of a lack of cleanliness.
Roughly one-quarter said they spend their own money to provide supplies to maintain their workplace's cleanliness and hygiene.
35% stated their desks were not cleaned daily.
36% said their office mouse has never been cleaned.
35% stated their computer keyboard has never been sanitized, and;
28% said nobody had ever cleaned their office phone.
Source:
Poor workplace cleanliness and hygiene results in dissatisfied workers who have demonstrated an increased capacity and willingness to seek employment elsewhere--a costly issue for businesses.
According to PeopleKeep;
[...] a shocking 42 million US employees left their jobs voluntarily in 2019—27% of the workforce.

This was an increase of over 2 million in 2018, which saw 40 million voluntary departures and an increase of over 88% since 2010.

Some studies predict that every time a business replaces a salaried employee, it costs 6 to 9 months' salary on average.
How Office Cleaning Improves Productivity
One of the main functions of cleaning is removing dirt, allergens, and other pollutants that negatively impact indoor air and environmental quality, resulting in decreased respiratory illness and disease, allergy and asthma symptoms, and sick building syndrome cases.
Eliminating these issues has been shown to reduce healthcare-related expenses while improving worker productivity, resulting in tens of billions of dollars in profits.
According to a paper published by Indoor Air, the Internation Journal of Indoor Environment Quality;
At present, we can develop only crude estimates of the magnitude of productivity gains that may be obtained by providing better indoor environments; however, the projected gains are very large.

For the U.S., we estimate potential annual savings and productivity gains of $6 billion to $19 billion from reduced respiratory disease; $1 billion to $4 billion from reduced allergies and asthma, $10 billion to $20 billion from reduced sick building syndrome symptoms, and $12 billion to $125 billion from direct improvements in worker performance that are unrelated to health.

Sample calculations indicate that the potential financial benefits of improving indoor environments exceed costs by a factor of 18 to 47.

Estimates of Improved Productivity and Health from Better Indoor Environments
Additional productivity improvements that have been cited by other sources include:
Creativity boosts.
Stress reduction.
Improved focus.
Maximized operational time and efficiency, and;
Increased motivation.
Cleaning Tips to Improve Productivity
Enhanced, high-value office cleaning for occupant health is a science that leaves no room for guesswork.
Every surface is susceptible to the accumulation of dust and allergens, and is potentially party to the spread of deadly germs and bacteria.
Knowing what product to use, how, and when is critical to a successful cleaning outcome and occupant health and safety.
So, the first tip is to hire a professional with the knowledge, training, and experience to get the job done right, safely, and without harming the facility or its occupants.
The next step is to divide your facility up into zones and identify high contact surfaces, surface types, and required cleaning tools, products, and disinfectants.
Document each zone and cleaning task, then assign a team member to a task to focus on within the zone--a practice commonly referred to as team cleaning.
Have the surfaces and air in the facility routinely tested for quality and the presence of microbes that may be unknown to custodial staff and management and to ensure the effectiveness of the current cleaning practices.
Finally, establish bi-directional lines of communication between occupants and custodial teams to ensure everyone's needs are being met and effectively communicated in a productive manner.
References & Resources
Takeaway
Cleaning for occupant health is a team function requiring participation from all stakeholders, from the C-suite to the custodial team.
Establishing a high-performance cleaning routine is a proven method for ensuring occupant health, wellness, happiness, productivity, and retention.
Conversely, avoiding the necessary process or attempting to cut corners to save money demonstrably has a negative impact on bottom lines and business outcomes.
Employing an in-house custodial team is costly, often resulting in extensive management overhead.
Outsourcing your facility's cleaning requirements is a proven method for cost-effectively onboarding valuable services without the challenges faced by managing in-house teams.
If you would like more information regarding the effectiveness of high-performance infection prevention and control measures, or if you would like to schedule a free, no-obligation onsite assessment of your facility's custodial needs, contact us today for a free quote!
In Bakersfield, CA, call (661) 437-3253
In Fresno, CA, call (559) 206-1059
In Valencia CA, or Santa Clarita CA, call (661) 437-3253
In Palmdale, CA or Lancaster, CA, call (661) 371-4756