Spring cleaning your office is a proven method for increasing occupant productivity and happiness in the workplace.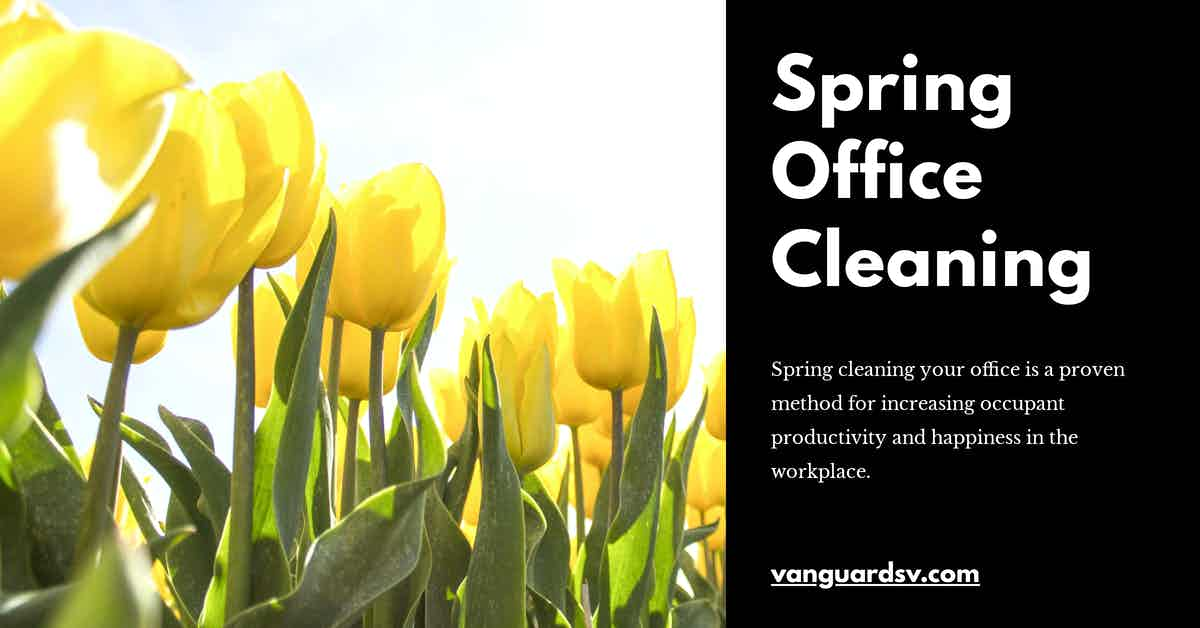 Spring Cleaning the Office to Promote Workplace Health and Happiness
Historically, across the U.S., the month of March was the ideal time for homes and businesses to begin spring cleaning.
Increased temperatures allowed occupants an opportunity to throw open winter-shuttered doors and windows, bringing in fresh air and sunshine while blowing out the previous season's buildup of soot and dust.
In modern times, the tradition continues with a little more scientific backing on the real-world impact of indoor environment and air quality on facility occupants' health, wellness, and productivity.
According to a 2018 case study of office workers in the Netherlands;
It is found that a higher objective cleanliness correlates significantly with a higher perceived productivity of employees working in office environments of non-profit organizations in The Netherlands.

A higher measured cleanliness also correlates significantly with a higher work satisfaction level of employees working in office environments.

Finally, a significant correlation is found between the satisfaction of employees with their work as a whole and the perceived productivity of the employees; a higher satisfaction leads to a higher perceived productivity.
Conversely, in workplaces where clutter is allowed to accumulate and hygiene and sanitation are allowed to deteriorate, occupant productivity and workplace satisfaction take a serious hit.
The Negative Impact of Clutter and Messiness
Workplace clutter is a serious issue that has a measurable impact on occupant productivity, mental health, motivation, and a business's professional appearance.
According to Forbes;
A new survey by retailer OfficeMax of over 1,000 adults finds that 90% of Americans believe clutter has a negative impact on their lives and work.

A surprising 77% said clutter damages their productivity, in line with previous studies revealing that executives waste six weeks a year searching for lost items and information.

Additionally, more than half of all respondents said disorganization impairs their state of mind and motivation levels, while two out of five people said it hurts their professional image.
Additionally, the issue of workplace clutter and messiness extends to the impressions and attitudes of coworkers.
According to a new survey of over 1000 workers by staffing firm Adecco, a majority of Americans (57%) admit they judge coworkers by how clean or dirty they keep their workspaces.

Meanwhile, nearly half say they have been "appalled" by how messy a colleagues' office is and most chalk it up to pure laziness.
Workplace clutter also prevents custodial teams from accessing areas of a workspace to clean and disinfect, resulting in decreased cleaning outcomes and increased rates of illness and infection, making decluttering and tidying up the top priority for spring cleaning.
Tips for Successful Spring Office Cleaning Programs
Any successful cleaning program focused on occupant health requires a clear path for custodians to sanitize and disinfect as many surfaces as possible.
Clutter obstructs that path and must be removed before beginning, or the remainder of the spring cleaning efforts will be for naught.
Once all the clutter is relocated, properly stored, recycled, or otherwise disposed of, all horizontal and vertical surfaces should be vacuumed, swept, and dusted.
Once physical layers of dust have been removed, use a microfiber towel and a soap-based commercial-detergent to wipe down each surface and remove any remaining soil, grease, oils, and unseen germs and bacteria.
Once the surface has dried, target surface disinfection can take place.
Make certain to observe manufacturer-recommended dwell times, wear appropriate safety equipment, allow proper ventilation, and time disinfection applications during periods of minimum facility occupancy to avoid potential health hazards and cross-contamination.
Where possible, clean from top to bottom, from the dirtiest part of a facility--typically the restroom--to the cleanest, and starting from the point farthest from the exit, working backward toward the door to avoid walking over a freshly cleaned floor.
Takeaway
Spring cleaning your office is an excellent way to start the year off right.
Decluttering should always be the first step in an effective spring cleaning plan. It will go a long way towards ensuring desirable outcomes during the cleaning and disinfection stage of the process.
Stage out your spring cleaning plan and get your whole team involved in the decluttering phase.
Once that is complete, outsource the complex and often dangerous cleaning and disinfection stage to a local service provider to ensure maximum occupant safety and promote the highest standards of cleanliness.
If you would like more information regarding the effectiveness of high-performance infection prevention and control measures, or if you would like to schedule a free, no-obligation onsite assessment of your facility's custodial needs, contact us today for a free quote!
In Bakersfield, CA, call (661) 437-3253
In Fresno, CA, call (559) 206-1059
In Valencia CA, or Santa Clarita CA, call (661) 437-3253
In Palmdale, CA or Lancaster, CA, call (661) 371-4756