Day porter services can positively impact business financials, cleaning outcomes, facility hygiene, and occupant wellness and productivity.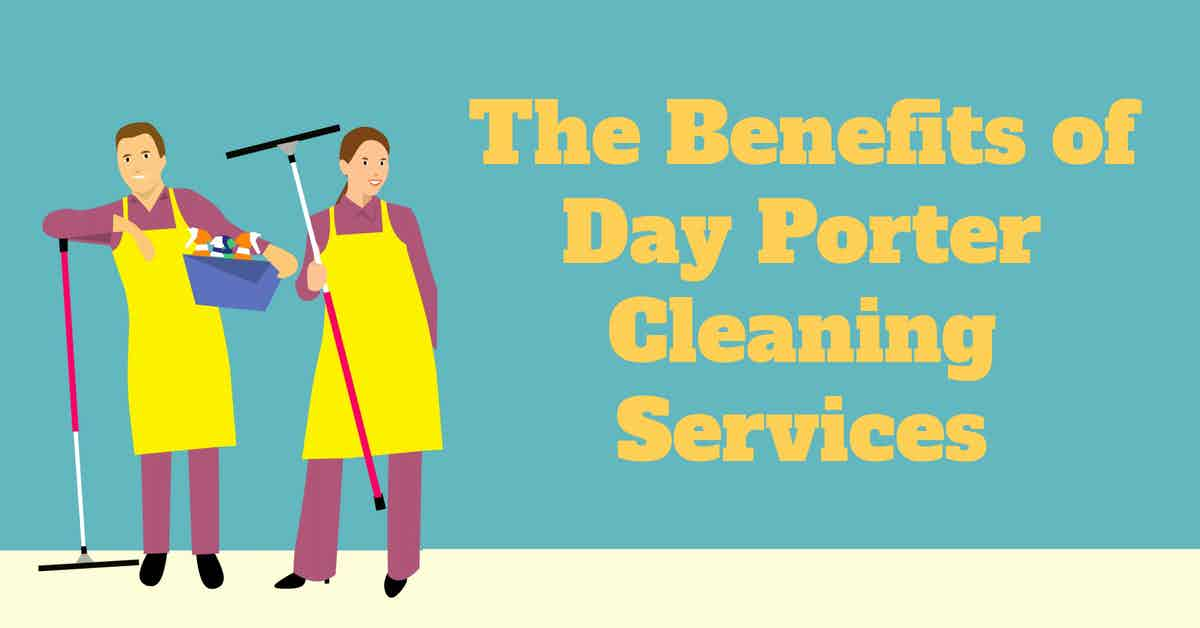 Day Porter Cleaning Services Benefit Schools and Businesses
There are several advantages to implementing some form of day porter services in your school or businesses cleaning program, including:
The improvement of facility hygiene and the protection of occupant health via ongoing touchpoint and high-traffic area cleaning.

A reduction in total labor and operations costs when compared to nighttime or after-hours only services, and;

Improved cleaning outcomes that directly impact facility occupant satisfaction.
Day Porters Improve Facility Hygiene and Occupant Health
Due to the ongoing challenges with SARS, you have probably seen several examples of day porters cleaning and disinfecting high touch surfaces after each use--think grocery carts, gas pumps, and self-checkout touchscreens.
You can observe larger-scale examples in airport and public transportation terminals where day porters follow behind the flow of large crowds as they move through an assigned section of the facility and clean behind them.
Cleaning touchpoints in this manner significantly reduces the presence of germs and bacteria on regularly contacted surfaces, thereby reducing the spread of illness to the people who touch them.
Day Porter Services Reduce Operational Costs
Using day porters has been shown to reduce labor and utility costs, with studies showing potential savings of up to 25 percent over conventional after-hours services.
Cleaning during the day is 15 to 25 percent less costly than , at night, advocates say.

Labor savings can be 5 to 10 percent, thanks to the elimination of day porter positions and the increased efficiency of workers who are watched more closely.

Daytime cleaning can also net 10 to 15 percent in energy savings when lights are turned off at night.
If adequately managed, further studies have shown that day porters can reduce labor costs even further.
The ideal is to have day porters on task to keep restrooms policed, front doors touched up and spills taken care of immediately while the night crew does the heavy cleaning and restocking of bathrooms.

If this technique is managed correctly, there can be a 10 to 20 percent overall savings in labor being reduced from the night crew tasks.
Conversely;
If the day porter is not managed or becomes a gopher for the tenants, then there can be a 10 to 20 percent increase in total labor with no appreciable improvement in service.
Day Porter Services Improve Cleaning Outcomes and Occupant Satisfaction
The bathroom is the most commonly used and commonly complained about room in any facility.
Ideally, restrooms should be cleaned in line with occupant traffic and vulnerability, and in a manner that does not interfere with occupant use or result in a closure; i.e., the more vulnerable the occupants--young children, the sick, immune-deficient, or the elderly--and the more traffic the restroom sees, the more often you want someone checking in on it and cleaning, removing trash, or restocking paper and soap products.
Maintaining restrooms in this manner has been shown to reduce facility issues and occupant complaints regarding cleanliness, smell, and the availability of soap, toilet paper, or paper towels, across multiple industries.
Tips to Get the Most out of Your Day Porter Services
Day porter services can be beneficial for any school or business as long as they are implemented and managed correctly.
Some tips for ensuring your business is leveraging day porter services for the most benefits include:
Check restrooms multiple times, but limit duties to one task per check-in; e.g., wipe down counters on one check, pick up and empty trash on another, and refill paper towels and soap later on.

Keep track of the foot traffic going in and out of your facility and have the day porter service the area just before and immediately after large crowds enter and leave.

Have the porter(s) keep an eye, or nose, out for bad smells, report them, and then attempt to address them before they become a real problem.

Instruct the porter to sweep as necessary and clean up spills and stains as required, but avoid using them for full floor cleaning services if possible to save time and keep them busy with more relevant tasks, and;

Avoid using day porters as gophers or messengers to keep them task focused on operationally critical tasks and avoid driving up operational and labor expenses.
References & Resources
Takeaway
Day porter services have been vital in the fight against SARS-CoV-2 and have proven themselves as valuable tools in extensive, high-traffic facilities where restrooms and other areas can be quickly soiled and left a mess for other occupants.
Proper training and management are critical to the successful implementation of day porter cleaning services.
If you would like more information regarding day porter services, or if you would like to schedule a free, no-obligation onsite assessment of your facility's custodial needs, contact us today for a free quote!
In Bakersfield CA, call (661) 437-3253
In Fresno CA, call (559) 206-1059
In Valencia CA, or Santa Clarita CA, call (661) 437-3253
In Palmdale CA, or Lancaster CA, call (661) 371-4756