While most of the rest of the country is reporting mild to moderate influenza outbreaks, several California counties, including Fresno, San Bernadino, San Luis Obispo, San Benito, and Santa Clara, are already reporting severe conditions.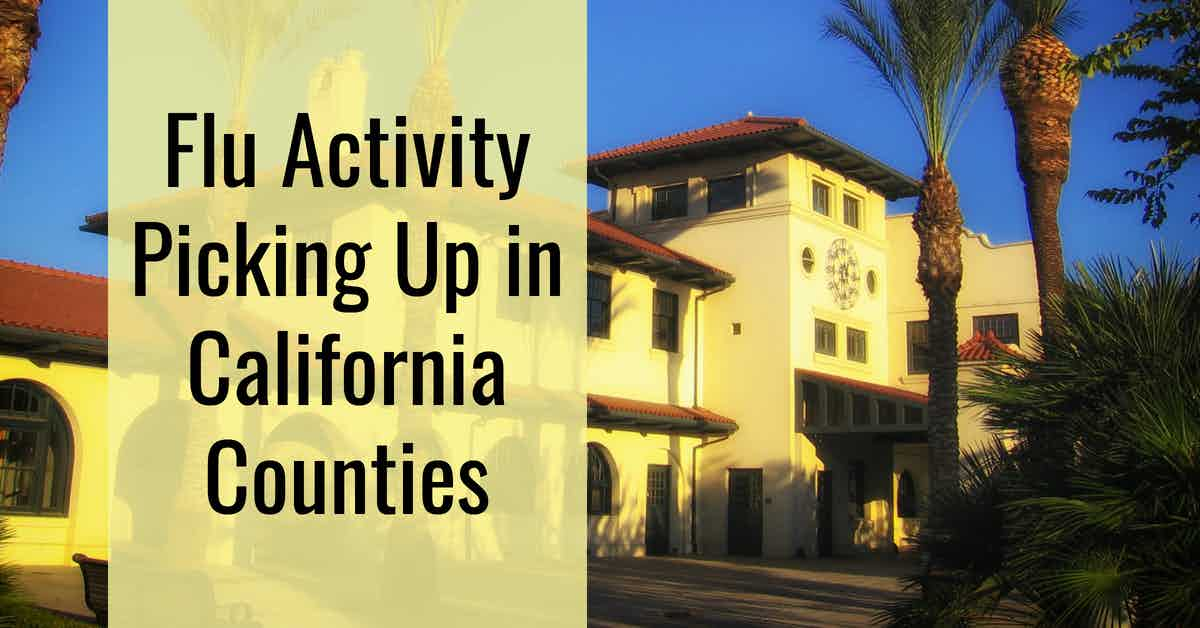 Ready or Not, Here Comes the Flu
Early predictions that the U.S. could potentially experience a mild to non-existent influenza season appear to be wishful thinking.
Though the U.S. Centers for Disease Control and Prevention's website currently shows minimal activity, that report is two weeks behind at the time of this writing --dated October 31st, 2020.
Presently, Everyday Health's Flu Map Tracker shows increasingly widespread severe outbreaks springing up across the country, including several counties throughout California.
If current trends continue, we will have opened the door for a dreaded 'Twindemic' scenario, whereby we must simultaneously combat SARS-CoV-2 outbreaks alongside a historically challenging Influenza epidemic.
According to the New York Times;
As public health officials look to fall and winter, the specter of a new surge of Covid-19 gives them chills.

But there is a scenario they dread even more: a severe flu season, resulting in a "twindemic."

Even a mild flu season could stagger hospitals already coping with Covid-19 cases.

And though officials don't know yet what degree of severity to anticipate this year, they are worried large numbers of people could forgo flu shots, increasing the risk of widespread outbreaks.

The concern about a twindemic is so great that officials around the world are pushing the flu shot even before it becomes available in clinics and doctors' offices.

Fearing a 'Twindemic,' Health Experts Push Urgently for Flu Shots
Keeping Schools and Businesses Open and Safe This Flu Season
The COVID-19 pandemic shone the light on several weak points in the cleaning service industry, including training and education, and supply chains.
Addressing these issues now can go a long way toward protecting your facility's occupants from illness, as well as preventing it from being closed due to health and safety concerns.
Additional steps include:
Increasing cleaning and disinfection frequencies, which as prior years have shown, can all but eliminate the transmission of influenza and other pathogens.
Consider staggering student and employee time in the facility to reduce the number of people indoors and the chances for them to pass germs back and forth.
Keep facility visitors to a minimum, preferably confined to a specific section of the facility, and then clean and disinfect that area as often as needed.
If you have not already, assess the feasibility of working remotely where possible.
Re-emphasize the importance of social distancing--staying home when you have symptoms or feel ill--and regular handwashing with soap and water.
References & Resources
Takeaway
Currently, it appears that we may be approaching a worst-case scenario in regards to a challenging influenza season combined with the ongoing issues surrounding SARS-CoV-2.
Outsourcing your facility's cleaning and disinfection services is a proven method for bridging the gap in janitorial expertise, addressing cleaning supply chain issues, ensuring the highest standards of cleanliness and safety, implementing high-efficiency cleaning and disinfection tools, such as electrostatic disinfection, and reducing your employee's exposure to harmful chemicals and potentially deadly pathogens.
A proven and cost-effective method for ensuring the highest cleanliness and safety standards is outsourcing daily and specialized custodial services to an experienced service provider.
If you would like more information regarding the effectiveness of high-performance infection prevention and control measures, or if you would like to schedule a free, no-obligation onsite assessment of your facility's custodial needs, contact us today for a free quote!
In Bakersfield CA, call (661) 437-3253
In Fresno CA, call (559) 206-1059
In Valencia CA, or Santa Clarita CA, call (661) 437-3253
In Palmdale CA, or Lancaster CA, call (661) 371-4756