Consumer confidence in business cleanliness is high going into the holiday shopping season, but challenges with personal protective equipment and disinfectant use remain.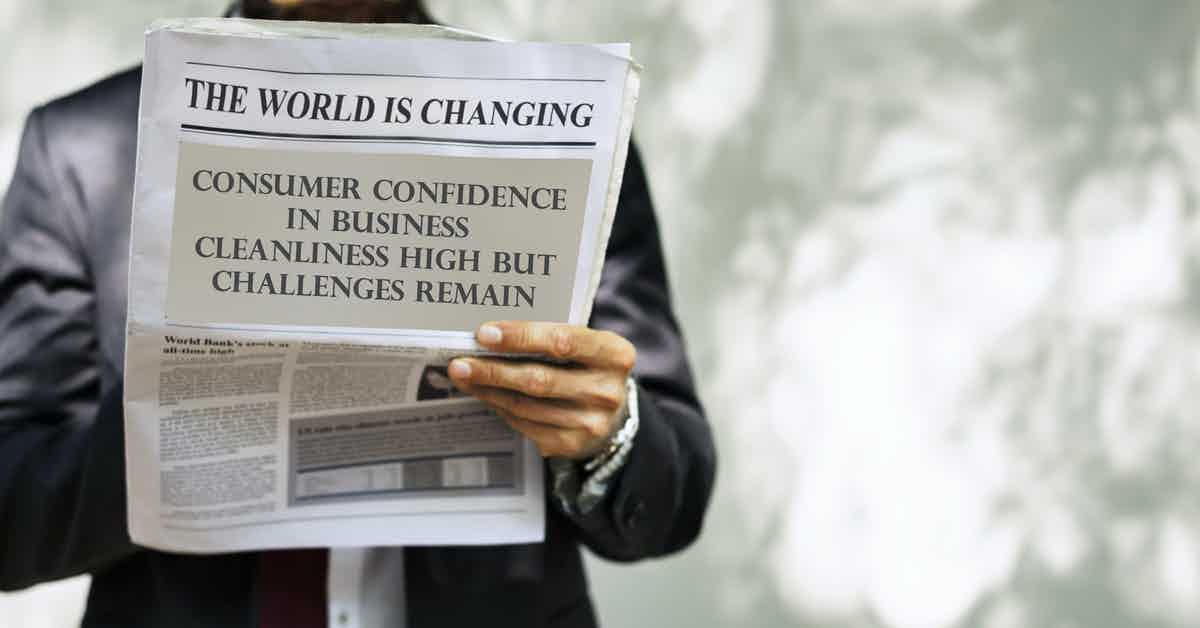 High Consumer Confidence in Business Cleanliness
A recent study has shown a high level of consumer confidence regarding business facility cleanliness going into the holiday season.
According to the nation-wide study conducted by the American Cleaning Institute (ACI):
On average, 65% of those surveyed said businesses are cleaning enough--72% of those 55 and older, and 59% of those 18-34.
90% of those ages 55 and older and 81% of those ages 18-34 reported high confidence in the cleaning products being used by businesses.
51% believe businesses, schools, and other public locations are maintaining an adequate level of cleanliness in preparation for cold and flu season.
However, behind the scenes, there are several challenges that remain, including:
The increased use of broad-spectrum disinfectant products.
The incorrect use of personal protective equipment, and;
Who is actually doing the cleaning.
Hidden Challenges of Increased Cleaning and Disinfection Requirements
Many organizations--both schools and businesses--have pulled out all the stops in an attempt to combat the ongoing SARS-CoV-2 public health emergency.
Unfortunately, the overzealous approach is likely causing more harm than good.
According to a recent interview published on CleanLink, inexperienced business owners and facility managers are not reviewing safety data sheets or OSHA's PPE and bloodborne pathogens standards, not training their staff on how to correctly wear PPE.
Additionally, the widespread and increased use of hazardous disinfectant chemicals has raised alarm among certain organizations; specifically, Green-Seal, who is concerned about the long-term effect excessive product use will have on the environment, service providers, and other building occupants, especially where proper PPE use is clearly not being enforced.
According to Green Seal CEO Doug Gatlin;
With too many workplaces turning to excessive disinfection and hazardous chemicals that can compromise people's health, it has never been more urgent to work with cleaning service providers who are independently verified to meet the highest industry standards for safety and performance.

Celebrating The Commitment To Healthy, Safe Cleaning Practices
Finally, the need for increased cleaning and disinfection services has led many schools and businesses to leverage inexperienced workers to perform services for which they have little to no training.
As an example, bus drivers are being used to clean and disinfect buses between student dropoffs and pickups.
As a bus driver for over 22 years for Wyoming Public Schools, no school year has been quite like 2020 for Sue Hubscher.

Typically there's enough students, routes, field trips and additional school activities to keep her workday full, but the pandemic has understandably limited those activities.

With these extra hours in the day, however, Solkolski and five other bus drivers for the district have stepped up in a different way — serving as daytime custodians for the district's West Elementary School
Addressing the Hidden Challenges of Increased Cleaning and Disinfection Requirements
Addressing the requirements and consumer demand for increased cleaning and disinfection services in schools and businesses safely and effectively requires business owners and facility managers to confront and take on the hidden challenges as well, which means:
Training, not just in the use of cleaning products and chemicals, but when, where, and how to safely use PPE.
Using safe products that meet the need for the environment they are used in and the occupants they are meant to protect, as opposed to fogging every room with highly toxic and corrosive chemicals, and;
Ensuring everyone that cleans understands how to do it properly and avoid cross-contaminating other surfaces.
References & Resources
Takeaway
A recent nationwide study has provided much needed good news for businesses right before the holiday buying season--consumer confidence is high regarding the perceived cleanliness of their facilities.
However, there are strong indicators that beneath that perception, unsafe practices abound, including the improper use of personal protective equipment and deadly disinfectant products by untrained workers.
These types of practices could potentially lead to numerous long-term issues for service providers, facility occupants, and the environment.
Fortunately, with the proper training and oversight, many of these challenges can be overcome while exceeding customer satisfaction.
If you would like more information regarding the effectiveness of high-performance infection prevention and control measures, or if you would like to schedule a free, no-obligation onsite assessment of your facility's custodial needs, contact us today for a free quote!
In Bakersfield CA, call (661) 437-3253
In Fresno CA, call (559) 206-1059
In Valencia CA, or Santa Clarita CA, call (661) 437-3253
In Palmdale CA, or Lancaster CA, call (661) 371-4756