As the summer rapidly comes to a close, questions still loom as to whether or not schools and universities can, let alone should, reopen to students and staff amid the ongoing COVID-19 outbreak.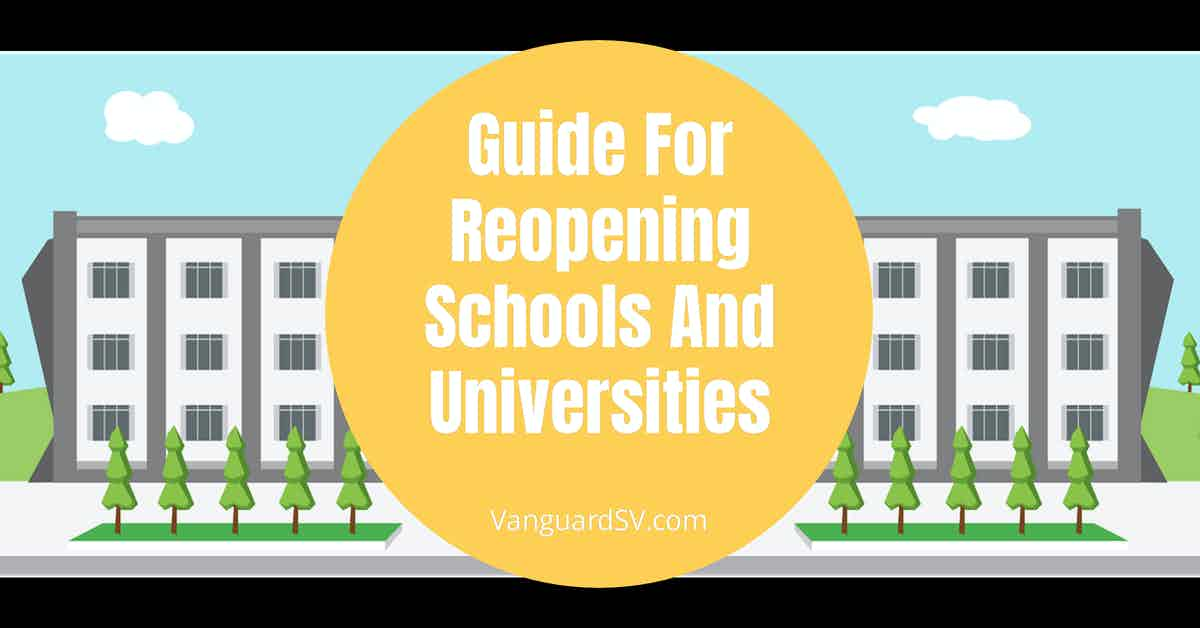 Safely Reopening Schools And Universities
The summer is winding down and it appears that, statistically, the SARS-CoV-2 virus is as well.
However, parents, students, school officials, and staff are, for obvious reasons, very concerned about not only the quality of education that can be extended to students during the outbreak, but occupant safety as well.
That said, not allowing students to return to class poses a series of increasingly problematic challenges, including:
Student mental and physical health and development.
The ability of parents to return to work, and;
Increasing gaps in education.
According to WebMD;
From a health perspective, the health of kids and the health of staff has to be thought through before schools reopened.

But the reality is that not having schools open decreases the ability of parents to return to work.

Kids are missing out on education, but schools also provide much more than just education.

School is important for a child's development.

Many children are reliant on school for free lunch and other meals.

Other kids get special education services like speech therapy and occupational therapy.

Schools are a real, clear piece of kids' behavioral health support and community support
The Case for Reopening Schools
Around the world, several countries opened their schools to students in mid-May, though social distancing and masks were used as precautionary measures.
It has been pointed out that U.S. policies of keeping schools closed unduly burdens school-age children who have, remarkably, mostly been passed by, by the outbreak.
According to Wired;
The precise role children play in both contracting and transmitting the virus is still unknown, and the subject of debate among experts.

A recent article in The New York Times asserted that "cases could soar" if schools were to reopen any time soon.

The claim (as stated there) rested on two recent studies: an unpublished—and widely contested—analysis of viral loads; and a modeling study based on contact surveys.

Speculations such as these, based on a connecting of the dots, may prove to be correct. But most of the empirical evidence thus far points to the contrary.

Not only do American politicians' insistence on keeping schools closed put them increasingly at odds with other nations, it redoubles the policy's well-established social costs.

As it stands, children appear to be bearing an undue burden for society.

From early on in the pandemic there were indications that children, miraculously, weren't suffering from Covid-19 to anywhere near the extent as adults.

A report summary of 72,314 cases by the Chinese Center for Disease Control and Prevention, published in The Journal of the American Medical Association on February 24, noted that just 1 percent of patients were under 10 years old, and another 1 percent were aged 10 to 19.

Further, there were zero deaths in the youngest cohort.
Tips for Safely Reopening Schools and Universities
Reopening schools and universities will require an enhancement to several aspects of daily life and facility maintenance, including:
HVAC Systems - A pre-entry blow out test should be performed to clear out any particles in the ducts.  Vents and ducts should be cleaned, and commercial-grade HEPA filters should be replaced.
Ventilation Monitoring - There is mounting evidence that SARS-CoV-2 spreads via airborne microbes smaller than 5 microns, so increased airflow will help disperse the particles in the air and help prevent transmission.
Health & Hygiene - Hand hygiene training and hand awareness will need to be drilled in and enforced for all occupants and guests.  Additional enhanced daily cleaning protocols well in excess of pre-outbreak clean-for-appearance measures will need to be put in place.  All policies must be communicated to all occupants and guests via emails, signage, and other means, such as audio announcements.
Class Sizes & Schedules - Reduced class sizes that facilitate social distancing and eliminate issues with overcrowding can be complemented by staggering student schedules or implementing non-traditional schedules, such as year-round school.
References & Resources
Takeaway
Schools and universities must reopen--the services they provide to our communities are too valuable to continue without.
However, a pragmatic approach should be applied that protects facility occupants, allows parents to return to work, and helps calm the fears of the community.
Chief among those are enhanced cleaning and infection prevention policies with a focus on cleaning for occupant health.
Outsourcing to an experienced service provider is a proven method for ensuring the highest standards of cleanliness and safety while maintaining operational costs and management overhead.
If you would like more information regarding the effectiveness of high-performance infection prevention and control measures, or if you would like to schedule a free, no-obligation onsite assessment of your facility's custodial needs, contact us today for a free quote!
In Bakersfield CA, call (661) 437-3253
In Fresno CA, call (559) 206-1059
In Valencia CA, or Santa Clarita CA, call (661) 437-3253
In Palmdale CA, or Lancaster CA, call (661) 371-4756