The availability of baby changing tables in restrooms has developed into a topic of increased interest across the U.S. in recent years, with fathers pushing for their installation in all public restrooms, and facilities managers concerned about the challenges of maintaining a healthy and hygienic bathroom to provide the service.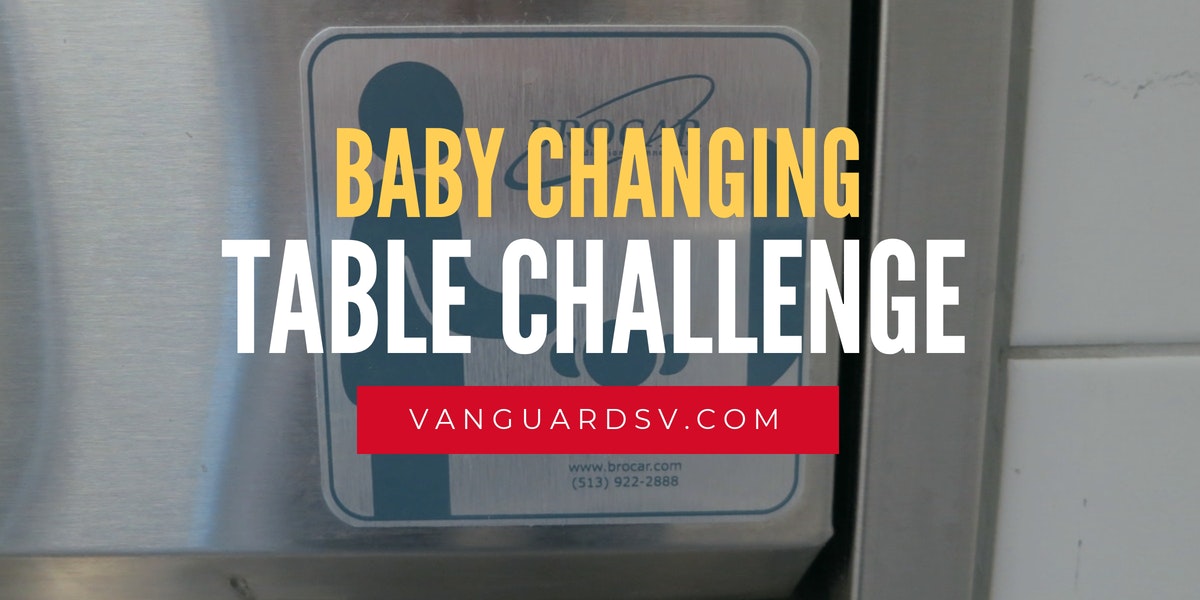 The Dilemma of Baby Changing Tables
The availability of baby changing tables in men's public restrooms across North America sparked an interesting debate in 2018 regarding equality.
Changing table inequality was placed front and center in 2018, fueled by an image posted on social media of Florida father, Donte Palmer, with his child in his lap squatting to change his son's diaper.

Since that post, which garnered national and international media attention, Palmer has founded #SquatForChange, an organization committed to arming dads with the proper changing table resources they need to be hands-on with their children.

Palmer is working with Pampers to champion thousands of dads who have used social media to voice their desire to see changing table equality.

Pampers Announces Commitment to Provide 5,000 Baby Changing Tables for Installation in Public Restrooms
The issue of baby changing table availability underscores the evolving active role fathers play in the raising of young children.
According to Fatherly;
Some 90 percent of fathers today change, bathe, feed, and perform basic-care duties for their babies on a regular basis.

Now you're saying to yourself, where can I change this dirty diaper?

Pampers Joins the Movement to Provide Changing Tables for Men's Restrooms
To their credit, the torch for this cause has been picked up by well-known baby product manufacturer Pampers, who has promised to install 5,000 baby changing tables in public restrooms throughout North America by 2021.
According to an announcement on the Pampers website;
9 out of 10 dads have gone into a public restroom that has not had a baby changing table.

Pampers, the #1 choice of parents recognizes dads are more hands-on than ever and wants to help enable them to take the best care of their babies.

As part of its "Love the Change" campaign, Pampers is proud to announce they're providing 5,000 changing tables for men's restrooms across North America by 2021.
Expanding the Focus of Diaper Changing Station Availability
While the availability of hygienic changing stations for young children in men's public restrooms is pronounced, the challenge extends to women's public restrooms, as well as the availability of stations for adults with disabilities and those who care for them.
To begin addressing this public health issue, in 2016, Congress passed H.R.5147--The Bathrooms Accessible in Every Situation or BABIES Act--mandating the availability of changing tables in federal government buildings with public restrooms.
Additionally, several states and local governments have started to consider, or have passed emergency legislation mandating the availability of adult diaper changing stations to provide hygienic services for adults with special needs and their caregivers.
According to ABC FirstCost News;
In July, an emergency ordinance set forth by Councilman Danny Becton was passed which requires some businesses with public restrooms in Jacksonville to install adult changing tables.

Businesses like theaters, restaurants, convention centers and stadiums undergoing new construction or renovations over 50 percent will have to install an adult changing table by Jan. 1.

Adult changing tables for patients installed at Wolfson Children's Hospital
Cleaning Challenges Facing Facilities Managers
The absence of diaper changing stations for children and adults with special needs presents a serious challenge for facilities managers and custodial services in regards to the health and safety of building occupants.
In the case of adults, care providers are often forced to change diapers on the floor of the restroom, which is covered in germs and bacteria, and likely to become more soiled with the unhygienic changing of dirty diapers.
According to Lisa Hyche, a nurse for special needs patients, in an interview with Tuscon.com;
A lot of these special needs patients are confined to a wheelchair so they can't stand.

By putting them on the floor, it's not only hard for the person who has the handicap but also the caregiver, the nurse, whoever's taking care of them, to literally lower them to the floor, pick them up, put them back in the chair.
The article goes on to elaborate that;
Hyche said she and a friend took samples from a floor in a public bathroom and had them sent to a lab to culture it for germs and bacteria.

There were so many, she told lawmakers, that there were too many to count and an inability to even differentiate among the many varieties.

Bill requiring adult changing stations in new public restrooms resurrected in House
The real challenge for facilities managers, regardless of the availability of charging stations, is the restrooms are covered in germs.
According to WebMD;
But while there's plenty of bathroom paranoia to go around, anxiety might be a little overdone.

Yes, there can be plenty of bugs lying in wait in public restrooms, including both familiar and unfamiliar suspects like streptococcus, staphylococcus, E. coli and shigella bacteria, hepatitis A virus, the common cold virus, and various sexually transmitted organisms.

But if your immune system is healthy, and if you adopt simple hygienic measures like handwashing, you should be able to deliver a knockout punch to most of what you encounter and perhaps put your "germ-phobia" to rest.
The problem is, young children have underdeveloped immune systems, and disabled persons often suffer from compromised immune systems.
Complicating the matter is the lack of sanitation on diaper changing stations, often as a lack of cleanup after use--resulting in the presence of fecal matter and other bacteria.
Working with a local ABC affiliate in 2010, Dr. Michelle Barron of the University of Colorado Hospital conducted a germ and bacteria test of baby changing stations in a local mall, a library, different big-box stores, a coffee shop, an airport, a rest stop, three city-owned buildings, a fast-food restaurant, and even a hospital.

According to an article posted by the network at www.thedenverchannel.com, the changing tables in a big-box store and a library tested positive for fecal matter; changing tables from all of the facilities in the experiment tested positive for bacteria. Even changing pads used by parents as a protectant tested positive for bacteria.
Cleaning Tips for Adult and Baby Diaper Changing Stations
Restrooms and changing stations should be cleaned throughout the day, and according to use.
Babies especially are more susceptible to the negative side-effects of commercial cleaning and disinfectant products. Therefore your custodial team should employ environmentally-preferable products with a neutral pH to ensure their health and safety.
Wipe down all touch-points, including the interior, security straps, handles, and sides.
Rinse the surface to remove any soils and any remaining chemical residue.
Spray a diluted concentration of disinfectant or, preferably, apply a coat of disinfectant from an electrostatic disinfection appliance, and;
Ensure disinfectant wipes are stocked and easily accessible for parents and care providers to wipe down the table after use.
References & Resources
Takeaway
The availability of diaper changing stations is rapidly developing into a hot topic of discussion for parents and legislators.
However, the challenge extends to businesses, even those with private restrooms, schools where families are allowed the use of the bathrooms, public transportation facilities, including on airplanes, restaurants, and the hospitality industry.
Parents are fed up with the lack of availability of the stations, as well as the health and safety concerns associated with having to compromise by changing the children or adults on the floor, counters, or other areas, and they are taking their business elsewhere.
Making these services available in a clean and hygienic facility will ensure your organization is well placed in plans of your customers, as opposed to bypassed due to their absence.
Regular cleaning and disinfection is the only method for ensuring the health and safety of those using the services, as well as the other occupants of your facility.
Outsourcing your needs ensures that your facility can rise to the challenge of these demands in a cost-effective manner.
If you would like more information regarding the benefits of outsourcing your organization's ongoing restroom cleaning requirements, or if you would like to schedule a free, no-obligation on-site assessment of all of your facilities infection prevention and control needs, contact us today for a free quote!
In Bakersfield CA, call (661) 437-3253
In Fresno CA, call (559) 206-1059
In Valencia CA, or Santa Clarita CA, call (661) 437-3253
In Palmdale CA, or Lancaster CA, call (661) 371-4756