Veterinarian offices are complex facilities that require a multi-faceted approach to cleaning to ensure the health of all occupants and patients, as well as the hygiene of the facility.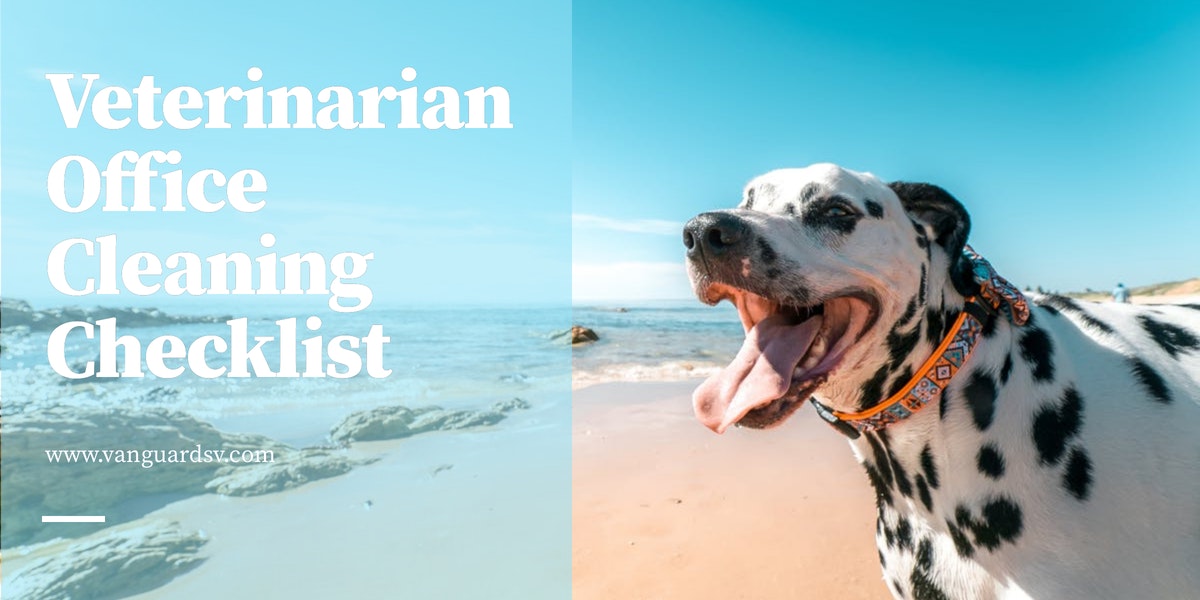 Cleaning Checklist for Veterinarian Offices and Hospitals
Veterinarian facilities have several spaces that are routinely trafficked by pets, owners, and staff that must be sanitized in a manner conducive to a healthy and productive environment, not unlike a doctor or surgical office, including:
Waiting rooms.
Back offices.
Employee break rooms.
Restrooms.
Kennels, and;
Exam rooms.
Each of these spaces must be cleaned and disinfected within the framework that the purpose is to protect everyone while preventing the transmission of disease from:
Person to person.
Pets to people, and;
Pets to pets.
The most efficient method is to approach the cleaning and disinfection by surface, as opposed to by room, with a focus on medical-grade product use.
In each space, we recommend cleaning with microfiber products and medical-grade cleaning products, followed up by a thorough covering with an electrostatic-disinfection appliance.
Additionally, emphasize cross-contamination prevention with the use of color-coded microfiber assigned to rooms and surfaces, and combine that with the two-bucket cleaning method.
Waiting Rooms
A typical waiting room has several germ hot spots for people and pets that will need to be sanitized daily, including:
Door handles.
Water faucet handles.
Coffee pot handles.
Light switches.
Chairs and tables.
Waiting room desk and computer equipment, and;
The floor.
The waiting room floor is the most critical surface.
Pets and people will track in germs, bacteria, and chemicals on their feet and shoes that can make both pet owners and animals sick.
Consider substituting a vacuum scrubber once per week for standard mopping to ensure a deep and hygienic clean.
Additionally, the placement of entry mats will significantly reduce the number of particles and germs that are trafficked in from outside.
Given the waiting room will be the most heavily trafficked space, consider supplementing the daily cleaning and disinfection procedures with green cleaning wipes on the waiting room desk, water faucet handle, and door handle.
Finally, make sure to mop up and disinfect any pet accidents immediately.
Back Offices,  Breakrooms, and Restrooms
While there does exist the potential for passing germs from pets to people, the more significant concern in people-centric spaces are the germs that commonly move from person to person.
Standard cleaning and disinfection practices should suffice, but special attention should be paid to floors and fomites, especially computer equipment and anywhere food is consumed.
The single most important practice is to establish and enforce high-quality hand washing policies in line with hospitals and doctor's offices, and emphasize the use of liquid hand sanitizer after leaving the restroom, and before and after handling pets.
Pay attention to the types of chemicals used in the cleaning process in these spaces, as many commercial cleaning products have been tied to severe long and short-term health, productivity, job satisfaction, and engagement issues in office workers.
Kennels and Exam Rooms
The exam rooms and kennel area will be a little more pet-specific.
The critical areas will be the horizontal surfaces--floors, cage bottoms, and exam tables--and the cleaning and disinfection should focus on the health of the pets in addition to the efficacy of germ and bacteria removal.
A clean for health first approach mandates that the cleaning and disinfection products employed should only be as toxic as necessary, which means that, in general, it should be acceptable to apply an EPA/EWG certified Safer Choice or certified green cleaning product.
As previously mentioned, disinfecting with an electrostatic disinfection appliance will provide full surface coverage and disinfection in a fraction of the time of attempting to manually disinfect the surfaces by hand, and ensure germs and bacteria have nowhere to hide.
Additionally, regularly cleaning the kennel room floor with a vacuum scrubber will simplify long-term floor care and significantly reduce the presence of illness-causing germs and bacteria.
References & Resources
Takeaway
Veterinarian offices are somewhat unique in that they possess the potential to transmit diseases to both humans and pets, complicated by the pets adjacency to the floor and their child-like capacity for putting things in their mouth.
Low-quality cleaning and disinfection practices are a sure-fire method for discouraging patronage for affluent pet owners, and will almost certainly lead to issues with employee illness, performance, and absenteeism, and may result in litigation where a treasured pet is lost due to veterinarian office HAIs.
Outsourcing to an experienced service provider is a demonstrably superior alternative to either maintaining a custodial and facilities maintenance team in-house or requiring staff to clean and disinfect in addition to their other duties.
If you would like more information regarding the advantages of a structured high-performance cleaning and disinfection program for your veterinary office, or if you would like to schedule a free, no-obligation onsite assessment of your facilities infection prevention and control requirements, contact us today for a free quote!
In Bakersfield CA, call (661) 437-3253
In Fresno CA, call (559) 206-1059
In Valencia CA, or Santa Clarita CA, call (661) 437-3253