Conflicting studies have recently emerged regarding the views and trends--issues and challenges--of workstation sharing, colloquially referred to as hotdesking.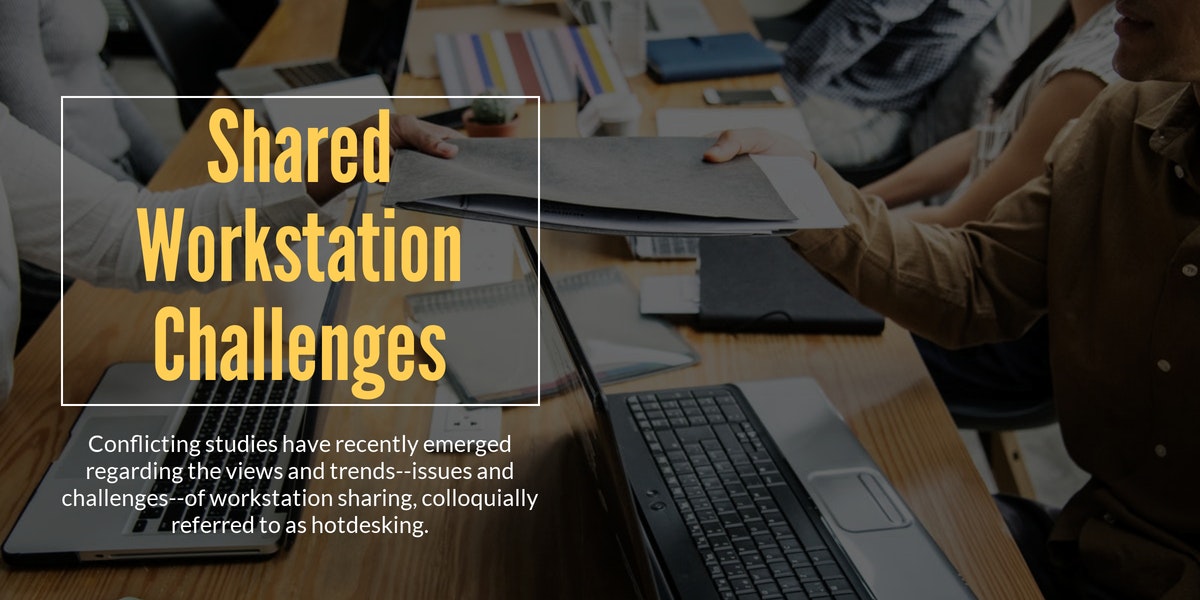 Emerging Shared Workstation Trends and Challenges
Open office spaces are nothing new in the U.S., and studies show that, despite workforce objections, the trend will increase in the coming years, presenting several challenges for office workers, custodial staff, and facilities managers.
According to a recent survey conducted by real estate firm, Savills;
[...] a mere 12 percent of people believe sharing workstations with their colleagues make them more productive.

Half claimed it made them less productive, compared to around a third in a related study two years ago.

The report claims that while firms are attracted to the idea to reduce the amount of office space they need and to improve collaboration, around 60 percent of respondents would prefer a personal workstation.

The study found that there was little evidence to support the idea that younger workers preferred this kind of flexible workplace design model.
Counter to that sentiment, according to a different study conducted by Advanced Workplace Associates (AWA), workstation sharing and worker mobility are reportedly on the rise, having more than doubled over the last ten years.
With the rising use of technology and 'smart working', an increasing number of employees are roaming offices freely, making the most of flexible environments and resources.

Internal mobility has more than doubled in the past 10 years.
That may be due to the significant decrease in employee participation in developing and implementing a workplace strategy.
As alternative workplace programs increase in size and maturity, the report shows employee involvement in the planning, implementation, and evaluation has significantly decreased.
The primary driver appears to be cost-reduction in the form of workspace densification--more people in less space equals lower overhead.
Currently, the average personal space per worker is 151 square feet, which is down from 176 square feet per person in 2013.

The figure has substantially decreased from just seven years ago when each person had 225 square feet. Individual workspace is expected to decrease even further, down to 100 square feet, as it currently is in Europe.

Densification is attractive because it reduces costs, especially in Class-A offices which have the highest lease rates.

If more workers can fit in a given area, facility executives can save money by leasing less space.
Increasing workplace density and internal workforce mobility present significant challenges.
Noise levels--one of the primary complaints regarding shared workstations among employees, and;
The increased likelihood of cross-contamination between workers--the more people in a small space sharing resources and interacting with one another increases the risk of workplace illness, absences, and losses in productivity, increasing the need for environmentally-friendly and cost-effective cleaning and infection control services.
[...] the people working in these settings will, on average, have two more episodes of the common cold per year than those working in private offices.

As offices increasingly shrink and workers continue to socialize, the importance of a clean office becomes more critical.
High-Performance Cleaning Recommendations for Shared Workstation Offices
Shared workstations and open offices mean shared germs and an elevated potential for the spread of airborne diseases.
Conventional cleaning methodologies defeat the productivity focus of open workspaces by contaminating the indoor air with high levels of pollution, commonly referred to as volatile organic compounds.
Depending on the nature of your workplace, this can have a devastating effect on cognitive functions and creativity, ultimately leading to lost profits and an unhealthy workforce.
A clean for health first approach, consisting of:
Environmentally-friendly cleaning products.
Color-coded microfiber.
High-performance floor scrubbers, and;
Electrostatic disinfection appliances.
can thoroughly clean and disinfect an open office in a fraction of the time, when compared to conventional cleaning methods, with fewer people, while leaving the workspace free of harmful germs and bacteria, as well as the toxic chemicals traditionally associated with a thorough deep cleaning.
Resources & References
Takeaway
For better or worse, at least for the time being, it appears that hotdesking, open offices, and shared workspaces are here to stay.
This trend puts enormous pressure on custodial staff and facilities managers to provide a clean and safe working environment, free of the germs and bacteria that can counteract any benefit to collaborative working environments.
The key to the successful adoption of free roaming, open office environments is to adopt equally advanced methods for cleaning and disinfecting that place the health and happiness of the worker above all.
If you would like to learn more about the health and safety risks associated with shared workstation office spaces, or if you would like to discuss the proven benefits of a clean for health first infection prevention and control service for your open office, contact us today for a free quote!
In Bakersfield CA, call (661) 437-3253
In Fresno CA, call (559) 206-1059
In Valencia CA, or Santa Clarita CA, call (661) 437-3253