Medical office cleaning requires the adherence to specialized cleaning practices and products to prevent the spread of germs and bacteria to custodial teams and facility occupants.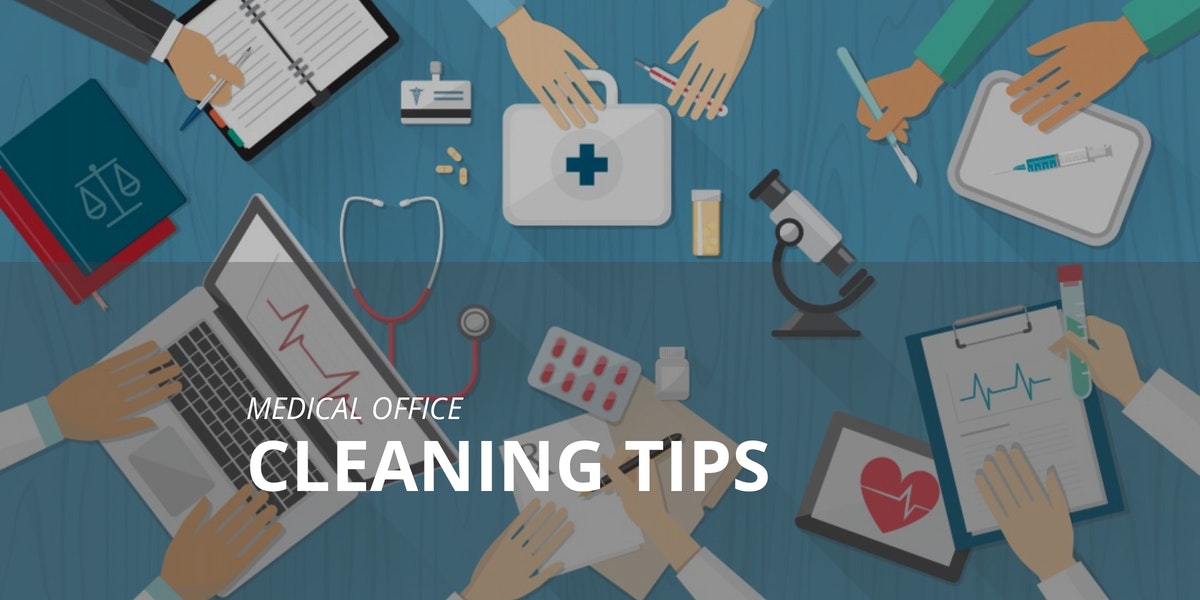 Tips for Cleaning Medical Offices
Medical offices, though similar in makeup and practice to many other businesses, are held to a much higher standard of cleanliness and hygiene than their conventional counterparts due to the highly contagious or vulnerable nature of their occupants and clients.
Due to these increased expectations, combined with specialized waste disposal requirements, specific cleaning and infection control practices must be employed to avoid potentially hazardous issues involving cross-contamination or hazmat exposure, including:
Mandatory safety equipment.
Approved cleaning and disinfection products, and;
Routine germ hot spot cleaning.
Wear Rubber Gloves & Face Mask
Viruses, such as influenza, can survive for up to 48 hours on the surfaces we encounter every day, such as desks, door handles, and light switches, while many forms of dangerous bacteria can survive for much longer.
During the cleaning process, some of these germs can become dislodged from the surface and become airborne, increasing the risk of inhalation and infection.
To prevent unwanted contact, as well as the unintentional spread of germs, always wear safety gloves and a respirator or mask when cleaning a medical office or sanitizing known contaminated surfaces.
Vinyl, latex or nitrile gloves are acceptable for general cleaning but the Association for Professionals in Infection Control and Epidemiology (APIC) recommends that nitrile gloves be worn for cleaning in healthcare environments because of its chemical and puncture resistance.

Nitrile gloves are manufactured without donning powder and do not contain latex. In addition, latex prices are up as much as 40 percent since last year. Nitrile gloves currently cost 30 percent less than latex options.

To protect the face and mouth, face masks provide double the infection-control coverage since they protect both the janitor wearing the mask, but also any building occupants in the vicinity of the janitor during cleaning.

Janitors Should Wear Gloves and Face Masks To Stop The Spread of Disease
Cleaning and Disinfection Products
Several products are approved for use when cleaning and disinfecting health care environments, including many non-toxic green cleaners, including:
All natural citrus-based multi-surface cleaners - It is vital that all surfaces are cleaned to remove dirt and oil before disinfection, especially when disinfecting with hydrogen-peroxide to ensure maximum efficacy.
Quaternary ammonium compounds (Quats) - A traditional hospital-grade disinfectant and anti-pathogen that has been successfully employed for the last 100 years.  Poses significant health risks when used in high concentrations, especially where manufacturer dilution and safety recommendations are not followed, and;
Hydrogen-Peroxide - Much safer to use than quats.  However, the efficacy of the product is significantly reduced in the absence of thorough pre-cleaning procedures.
Hot Spot Cleaning
Routinely wiping down high-contact surfaces will significantly reduce the presence and spread of germs and bacteria.
In a medical office, those hot spots are pretty much everywhere--consisting of every surface regularly touched by patients and staff, including:
Computer equipment and cell phones.
Coffee pot, door, and refrigerator handles.
Pens and magazines.
Desks, tables, chairs, and other furniture, and;
Elevator, ATM, and vending machine buttons.
Avoiding Cross-Contamination
Surface cross-contamination is one of the most significant challenges facing medical office custodians and is often a result of outdated cleaning products and practices.
Dirty mops, sponges, or towels used to sanitize contaminated surfaces should never be used to clean or disinfect other surfaces before being laundered with approved detergents.
To avoid cross-contamination issues:
Use color-coded microfiber and assign each color to a surface, room, or floor of a building.
Use the two-bucket cleaning method to avoid spreading dirty, contaminated water, and;
Always clean and disinfect from the point furthest from the exit and back out of the room to prevent recontamination.
References & Resources
Takeaway
Cleaning a medical office is a complex process requiring specialized equipment and chemicals as well as an experienced custodial team to avoid unintentionally spreading germs and bacteria or exposing facility occupants to dangerous hazmat spills and toxic chemicals.
Outsourcing your medical facilities needs is a proven method for cost-effectively ensuring the health and safety of all occupants while providing the highest standard in facility hygiene and cleanliness.
If you would like to learn more about the advantages of outsourcing your medical office cleaning and infection control requirements, or to schedule a free onsite facility walkthrough, contact us today for a free quote!
In Bakersfield CA, call (661) 437-3253
In Fresno CA, call (559) 206-1059
In Valencia CA, or Santa Clarita CA, call (661) 437-3253