According to recent studies, a clean facility correlates strongly to happiness and productivity in schools and the workplace.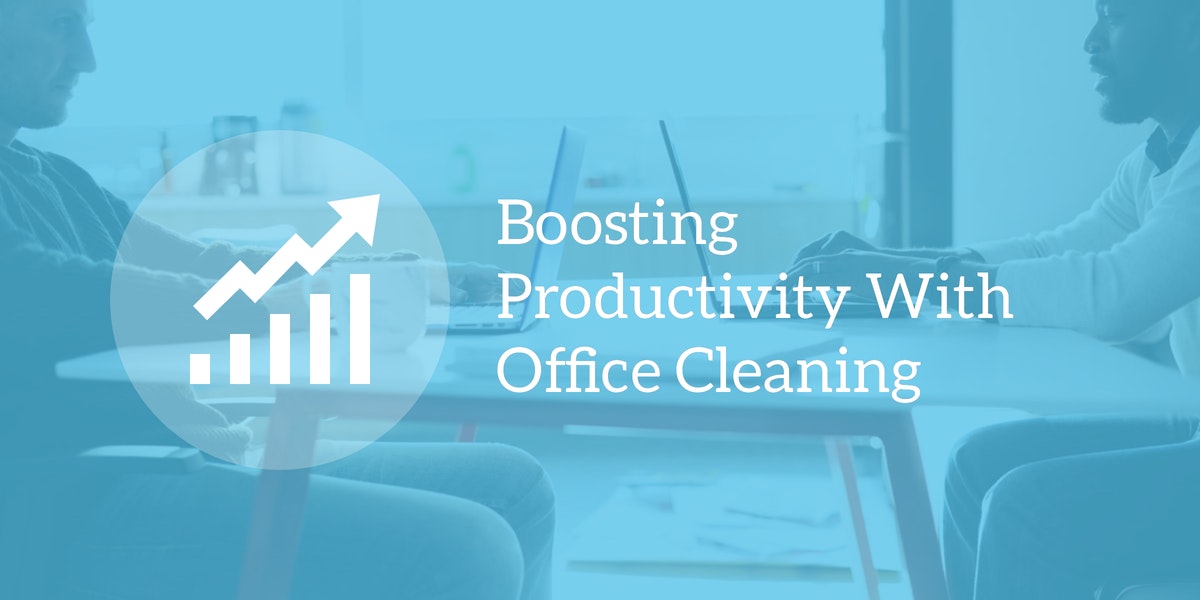 Boosting Productivity With A Clean Office
Happy workers are more productive.
However, what makes workers happiest may come as a surprise.
According to survey data recently released by Tork regarding the hygiene and cleanliness of a workplace and how it related to occupant satisfaction;
[...] a resounding majority of manufacturing employees identify operational efficiency (96 percent), safety and hygiene (94 percent), and organization of work environments (93 percent) as top enhancers of their happiness on the job.

In fact, when it comes to positive influences on employee morale, the study concluded that efficiency, organization, safety and hygiene rank considerably higher than other factors in a facility, such as advancements in technology and machinery (87 percent).
The correlation between worker happiness and increases in productivity is backed by further research conducted by the Social Market Foundation and the University of Warwick's Centre for Competitive Advantage in the Global Economy.
The researchers showed a random selection of employees a 10-minute comedy video and then followed up with several questions and a work assignment to determine productivity levels.
According to the results;
The experiment showed that productivity increased by an average of 12%, and reached as high as 20% above the control group.

By way of comparison, Dr. Daniel Sgroi, the author of the report, noted that in regards to GDP and economic growth, "rises of 3% or so are considered very large."
A further correlation between workplace cleanliness and employee productivity was established by the A Minnesota Department of Health, which found that workers perceived a drop in performance when experiencing discomfort commonly associated with dust, including dry or itchy eyes, a headache, and lethargy of approximately 3-8%, with a measurable decrease (2-6%) in cognitive functions.
Source:
A Smarter Way to Clean
In the past, conventional wisdom dictated that an area was clean if it smelled of chemicals and looked presentable.
Modern research has shown us that is far from the case.
Traditional cleaning methods and products are poisoning us and the environment, as well as leading to a rise in superbugs that are resistant to antibacterial chemicals and antibiotics.
Modern cleaning practices focus on cleaning for health first, which involves:
Eliminating the use of toxic chemical cleaners and disinfectants in favor of certified green cleaning products.
Leveraging color-coded microfiber and multiple buckets to eliminate cross-contamination.
Regularly disinfecting well-document germ hotspots to significantly reduce the spread of production affecting germs and bacteria, and;
Advise on and facilitate recycling and sustainability practices, which have been shown to drive up worker morale and are strongly favored by modern consumers.
What Your Organization Can Do Today
Your organization can take additional steps that have been shown to increase worker health and productivity, including:
Providing hand-hygiene education and support the practice by provisioning hand sanitizer in convenient locations.
Arrange furniture and office settings so occupants are exposed to direct sunlight as much as possible.
Regulate facility temperature and airflow to ensure occupant comfort.
Paying attention to and addressing occupant complaints regarding cleanliness, especially reports of mold or an increase in instances of illness or discomfort, especially flu-like symptoms, and;
Encouraging occupants to keep their workspace tidy and organized to reduce clutter and the mental and physical stress clutter places on everyone.
References & Resources
Takeaway
Studies continue to establish strong correlations between facility cleanliness and occupant productivity, which have a direct impact on business profits and student test scores.
Outsourcing is a proven method for cost-effectively, ensuring a high-standard of facility cleanliness and safety without the cost and challenges associated with direct hire/in-house cleaning staff.
Additional savings and productivity increases are possible with the addition of advanced green cleaning and sustainability programs, which have been shown in numerous recent studies to dramatically increase occupant productivity and cognitive functions while reducing workplace-related illness and sick leave.
If you would like to learn more about the measurable increases in occupant productivity from working in a clean classroom or office, or if you would like to schedule a free, no-obligation onsite assessment of your facilities cleaning and infection control needs, contact us today for a free quote!
In Bakersfield CA, call (661) 437-3253
In Fresno CA, call (559) 206-1059
In Valencia CA, or Santa Clarita CA, call (661) 437-3253