Outsourcing your organization's restroom janitorial services and maintenance needs will help augment the staff necessary to clean and disinfect public and school restrooms.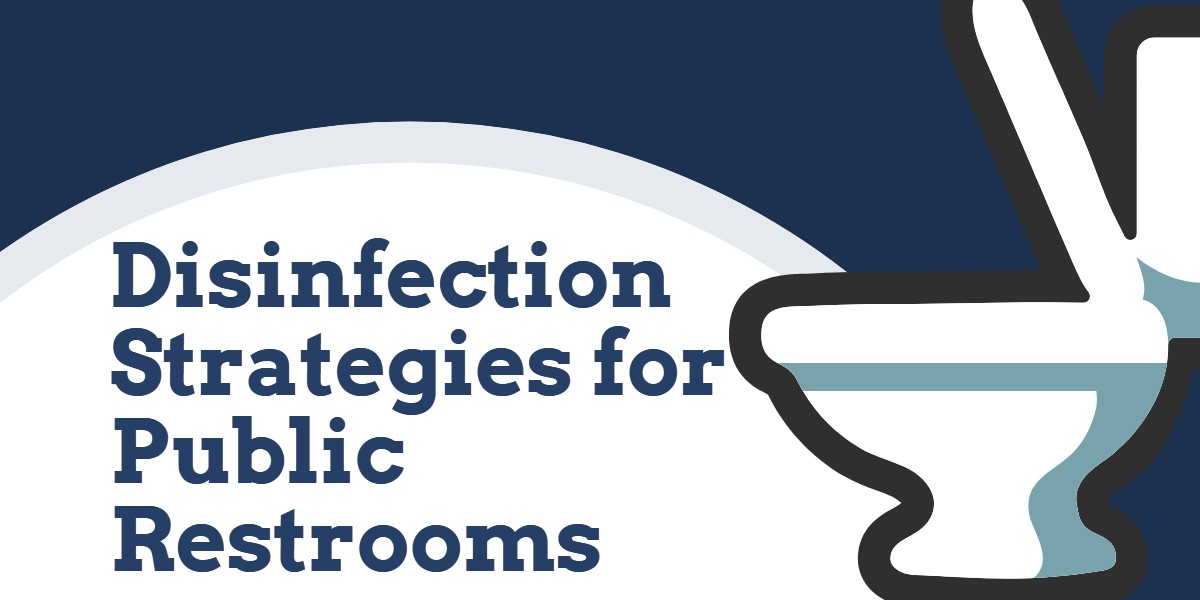 Outsourcing Janitorial Services Improves Disinfection and Maintenance Strategies for School and Public Restrooms
Restrooms have a significant impact on several aspects of business and school operations.
A clean, well-stocked restroom that is adequately attended to will typically elicit little notice.
Conversely, a dirty bathroom, especially one that emits foul odors or has a clogged toilet, can negatively affect relations with staff, customers, students, and parents.
The Clogged Commode Challenge
According to a recent Harris Poll commissioned by Sofidel:
76% of respondents had encountered a clogged public toilet in the past, and;
86% stated the encounter negatively affected their impression of the business.
Further, clogged toilets affect customer impressions differently, based on industry.
71% said a clogged toilet would negatively impact their perception of a restaurant.
56% of respondents said they would look upon hotels unfavorably.
46% said a clogged toilet would adversely affect their impression of an airline, and;
45% stated a clogged toilet would impact their opinion of a cruise liner.
Insufficient Staffing Challenges
Clogged toilets and dirty restrooms are not merely a byproduct of misuse, but likely a direct result of inadequate staffing.
Take, for instance, the recently proposed strike by Los Angles school custodians.
According to a recent article published by Cleaning & Maintenance Management;
Union and school district officials are especially divided on staffing levels for janitors.

Union leaders say current staffing levels have resulted in dirty schools and closed restrooms.

LA School Custodians Considering Strike
Unfortunately, the staffing issue appears to be far from closure.
According to a recent piece published by 89.3 KPCC radio, citing Union President Max Arias ;
[...] on issues like staffing levels for janitors, the two sides remain far apart.

[Arias] said SEIU Local 99 wants to rebuild custodial staffs to pre-recession levels — which were already only half of what his union considered a "minimum" staffing level.

Union representing 30,000 LAUSD janitors, aides, clerks and others begins talking 'strike'
Closed or ignored restrooms can lead to additional problems for schools.
A recent report published by ABC 33/40 highlighted a school bathroom at Pickens County High School in Alabama, which smelled so bad, the school janitor would not enter the facility to clean it.
According to the article, the restroom in question was adjacent to the weight room, forcing students to endure the stench while working out.
Former students took to social media to highlight the issue, which was apparently brought to the administration's attention, and promptly ignored for months, inciting the rightful outrage of parents, including PCHS Parent Deborah Ferguson.
Ferguson told a coach, who she said told her the facility had been in disrepair for at least six months, despite being brought to the principal's attention already.

"If that custodian's job is to go to the classroom, hallways and the bathrooms and keep things clean, why was nothing ever done about this?" Ferguson said, "Don't close the door and say, 'We're just going to leave it that.'"
Disinfection Strategies for School and Public Restrooms
The cleaning and maintenance necessary for school and public restrooms are typically a factor of occupancy and use.
The more often a restroom is used and, depending on if it is servicing a restaurant or high school boys' locker room, the more or less often it will need to be checked and cleaned.
The monitoring of restroom activity has always been key to maintaining a clean facility that meets the health and safety needs of occupants.
In the past, the responsibility of monitoring has fallen on custodial staff, and often relied on occupant policing and reporting of problematic conditions, such as clogged toilets or no toilet paper.
While that approach is still extremely viable for current facilities and organizations with low budgets, updated and documented policies and procedures are necessary to ensure occupant needs are being met.
Fortunately, new technologies have emerged that allow for the automation of monitoring and alerting services, such as paper and soap product use and counts.
Monitoring the use of paper and sanitation products for spikes can alert the necessary parties that an increase in occupancy in use is occurring, allowing the coordination of on-demand services that are more cost-effective than scheduled walkthroughs.
Additional technologies, such as fast-dissolving toilet paper to avoid clogs and self-disinfecting surfaces to simplify sanitation procedures, improve health conditions and increase occupant satisfaction.
Green Cleaning Tips
Always remember to clean first from the most soiled location to the cleanest, from top to bottom.
For routine disinfection services, and to save a considerable amount of money while simultaneously improving surface disinfection, indoor air quality, and occupant health, use an EPA certified Category IV disinfectant.
Combine color-coded microfiber towels and mop heads with the two-bucket cleaning method to avoid cross-contamination, and;
Scrub the floor clean, starting from the furthest corner from the door, cleaning as you back out of the space.
Takeaway
Dirty bathrooms can kill a business and develop into an ongoing nightmare for school administrators.
Understaffing is demonstrably a fundamental factor in poorly attended bathrooms, which has lead to negative customer impressions and ongoing complaints from parents, as well as numerous health and performance issues.
If you would like to learn more about how outsourcing public and school restroom janitorial services and maintenance can reduce operational costs while improving staff, student, teacher, customer, and parent impressions of your organization–contact us today for a free quote!
In Bakersfield CA, call (661) 437-3253
In Fresno CA, call (559) 206-1059
In Valencia CA, or Santa Clarita CA, call (661) 437-3253