Outsourcing your pet boarding facilities' janitorial services will cost-effectively improve your organization's disinfection strategies, pet and staff health, and customer satisfaction.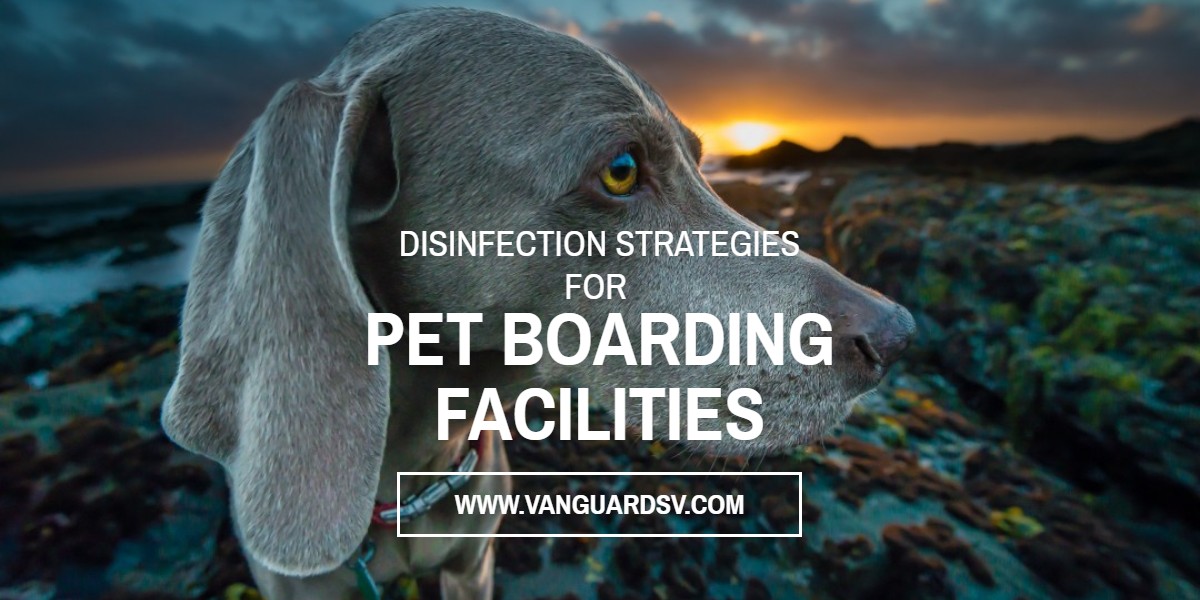 Green Janitorial Services Improves Disinfection Strategies in Pet Boarding Facilities
Americans spend billions of dollars every year on their pets--more than $5 billion of which goes towards boarding--and, according to the American Pets Product Association, that kind of spending comes with high expectations.
[...]  more than $60 billion was spent on pets in the United States in 2015.

Of that, more than $5 billion was spent on grooming and boarding.

To remain competitive in this market, pet professional businesses must keep pet owners happy, and that means keeping their pets happy and healthy.
The first step towards a safe and healthy boarding facility, as well as happy pet owners, is the implementation of a high standard of cleanliness and disinfection.
Unfortunately, even the most well-intentioned of cleaning practices can have devastating results if performed improperly.
A clean shelter encourages adoptions and public support as well as protecting animals from disease.

However, incorrectly performed, disinfection and cleaning can be ineffective or actually serve to spread disease.

Disinfectants can even cause significant harm if used incorrectly.
Recommended Green Cleaning Practices and Disinfection Strategies for Pet Boarding Facilities
The first thing that you'll need to keep in mind is that you will be cleaning and disinfecting for two separate spaces--the kennel and animal boarding facilities, and the human office, work, and break areas.
Cleaning and disinfecting for each of these spaces often require particular products, procedures, and training.
The first step, regardless of space, is to document each area's needs, including product use, chemical handling safety, and schedules.
Cleaning and Disinfecting Pet Areas
All pet areas will need to be thoroughly cleaned and disinfected on a regular basis.
This includes:
Kennels and cages.
Exercise areas/yards.
Toys.
Food bowls.
Beds.
Litter pans.
Tools, and;
Medical treatment areas.
Product use, including dilution and laytimes, should be documented to avoid hazardous exposure.
Keep in mind that cleaning products considered safe for human spaces may be very toxic to pets, and that experienced custodial providers use specialized products for this purpose.
Cleaning and Disinfecting Staff Areas
Human-specific areas will need to be cleaned and disinfected on a daily basis, especially customer-facing regions, or places where food is consumed, including:
Restrooms.
Break areas and kitchens, as well as;
Lobbies.
The most critical areas to focus on, due to their ability to transmit disease, are:
Anywhere food is consumed.
Hard, non-porous surfaces and high-contact areas.
Floors, carpets, and walkway mats, and;
Uniforms and cleaning materials.
The same general approach to cleaning and disinfecting used in animal area cleanup can be employed for human spaces.
However, something humans should pay particular attention to is hand-hygiene.
Proper hand-hygiene is mandatory to prevent the spread of germs from person to person, animal to animal, and even animal to human.
Green Cleaning Tips
A clean for health first approach is vital to maintaining a clean, safe, and healthy environment for pets and people.
This can best be achieved through a modified green cleaning regimen tailored towards a pet-friendly environment.
Given the nature of most group settings, the facilities and grounds have a high risk of contamination with infectious agents.

Proper cleaning and disinfection results in a cleaner, healthier environment and helps prevent the spread of infectious disease to both animals and people.
First, remove any solid or liquid waste.
Clean first, moving from the dirtiest area to the cleanest, and from top to bottom to avoid contaminating clean areas.
When cleaning the floor, start at the edge farthest away from the exit, then clean on your way out to avoid contaminating the floors.
Disinfect with products certified as safe for use with pets, and follow manufacturer recommend lay times.
Rinse and dry as necessary or as required for safe product use.
Use color-coded microfiber towels and mop heads in combination with the two-bucket cleaning method to avoid cross-contamination.
Avoid the use of bleach and other harsh chemical air fresheners, cleaning products, and disinfectants.
Always allow proper ventilation, especially during the application and lay times of disinfectants.
Train staff on the proper use, handling, and emergency response requirements for cleaning chemicals, regardless of toxicity.
Install UV lighting, HEPA filtration, and environmental controls to maintain a healthy level of indoor air quality.
References & Resources
Takeaway
One of the most essential factors in creating a clean for health first program for your pet boarding facility is to understand the difference between cleaning and disinfecting, best described by Shelter Vet.
Physical cleaning is defined as the removal of urine, fecal matter, and other organic material from the environment.

Cleaning should result in a visibly clean surface, but may not remove all of the harmful pathogens.

Disinfection is the process that will kill most of the contaminants in a given area.
Due to the complexity and liability associated with the potential for passing animal germs to human pet owners, disinfection and deep cleaning tasks can most cost-effectively be addressed by an outsourced provider.
If you would like to learn more about how outsourcing your pet boarding facilities' janitorial services to a certified green provider will improve your organization's disinfection strategies –contact us today for a free quote!
In Bakersfield CA, call (661) 437-3253
In Fresno CA, call (559) 206-1059
In Valencia CA, or Santa Clarita CA, call (661) 437-3253