Conventional cleaning products pose a series of significant risks, ranging from short-term health issues and diminished cognitive ability to cancer and death.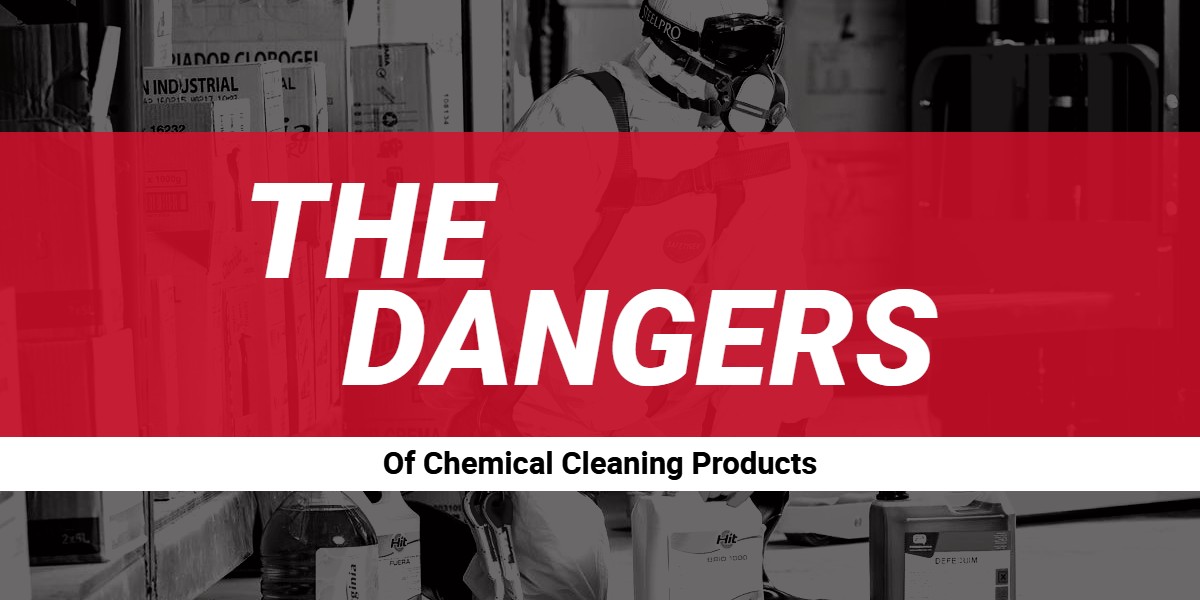 The Varied Dangers of Using Conventional Commercial Cleaning Products
Conventional consumer-grade and commercial cleaning products are hazardous to your health.
According to the American Lung Association;
Many cleaning supplies or household products can irritate the eyes or throat, or cause headaches and other health problems, including cancer.

Some products release dangerous chemicals, including volatile organic compounds (VOCs).

Other harmful ingredients include ammonia and bleach.

Even natural fragrances such as citrus can react to produce dangerous pollutants indoors.
Unfortunately, according to an article published in The International Journal of Gynecology and Obstetrics, the dangers also extend to the unborn.
Widespread exposure to toxic environmental chemicals threatens healthy human reproduction.

International Federation of Gynecology and Obstetrics opinion on reproductive health impacts of exposure to toxic environmental chemicals
Examples of the Dangers Posed by Chemical Cleaning Products
According to the Environmental Working Group, chemical cleaners have been linked to a swath of dangers to adults, children, and the unborn, including:
Asthma.
Cancer.
Reproductive or Developmental Problems.
Allergies or allergic reactions, and;
Chemical Burns and Poisonings.
Despite these health concerns, cleaning product labels often do not give consumers enough information about their ingredients to allow people to make informed decisions on which ones are safer and which ones might harm their health.
Phthalates, Air Fresheners, and Brain Development
Chemical cleaning and air freshening products have been shown to cause serious issues with unborn children and the reproductive process.
According to a recent article published by CNN;
In a landmark alliance, known as Project TENDR, leaders of various disciplines have come together in a consensus statement to say that many of the chemicals found in everyday products can result in neurodevelopmental disorders, including autism and attention-deficit disorders.
One of the most hazardous chemicals, commonly found in chemical air fresheners, are phthalates.
In a consensus statement published by Project TENDR, phthalates were identified as;
[...] a prime example of chemicals of emerging concern to brain development.

Prime Examples of Chemicals and Pollutants Toxic to Brain Development
The Commonly Used Cleaning Product Hall of Shame
The Environmental Working Group maintains a regularly updated list of commonly used cleaning products, colloquially referred to as the Hall of Shame, that can lead to severe short and long-term health issues, including:
Simple Green Concentrated All-Purpose Cleaner - Absorbed through the skin, damaging red blood cells, and potentially leading to eye irritation, as well as containing alcohol ethoxylate surfactants which have been banned by the European Union.
Spic and Span Multi-Surface and Floor Cleaner - Disruptive to hormones and presents a long-term danger to aquatic life.
Scrubbing Bubbles - Causes lung irritation and inflammation.
Mop & Glo Multi-Surface Floor Cleaner - Contains DEGME, which according to the United Nations is "suspected of damaging the unborn child."
CVS/pharmacy Fume-Free Oven Cleaner - Contains an undisclosed product known to the State of California to cause cancer.
Comet Disinfectant Cleanser Powder - Contains approximately 146 chemicals, some of which have been linked to cancer, asthma, and reproductive disorders.
Mr. Clean, Easy-Off and Formula 409 - Contains chemicals that can cause asthma attacks and lead to new cases in those who were previously asthma-free.
Source:
Green Cleaning Tips
Certain regulations require the use of hazardous chemical cleaning and disinfection products, specifically bleach, which is highly corrosive and has been linked to numerous health issues.
When using these types of chemicals, proper training, handling, dilution, ventilation, and safety equipment is mandatory to prevent dangerous exposure.
For less severe cleaning requirements:
Switch to EPA certified Safer Choice cleaning products and Category IV disinfectants.
Employ a Chemical Management System (CMS) to eliminate issues with dilution and direct concentrated chemical contact.
Make Material Safety Data Sheets (MSDS) easily available for all occupants and custodial staff.
Maintain regular training on product handling and emergency response.
References & Resources
Takeaway
The dangers of commonly used cleaning products far outweigh their advertised benefits.
According to the Organic Consumers Association;
The most acutely dangerous cleaning products are corrosive drain cleaners, oven cleaners, and acidic toilet bowl cleaners.

The National Institute of Occupational Safety and Health has found that one-third of the substances used in the fragrance industry are toxic

Other ingredients in cleaners may have low acute toxicity but contribute to long-term health effects, such as cancer or hormone disruption.
Certified green cleaning products combined with chemical management systems eliminate occupant exposure to hazardous chemicals, reduce expenses associated with the inevitable long-term healthcare requirements, and improve indoor air quality, a demonstrable factor in occupant cognitive functions and performance.
If you would like to learn more about the benefits of outsourcing your organization's cleaning and product management needs–contact us today for a free quote!
In Bakersfield CA, call (661) 437-3253
In Fresno CA, call (559) 206-1059
In Valencia CA, or Santa Clarita CA, call (661) 437-3253