Professional green cleaning services can address several health concerns unique to the safe care of disabled persons.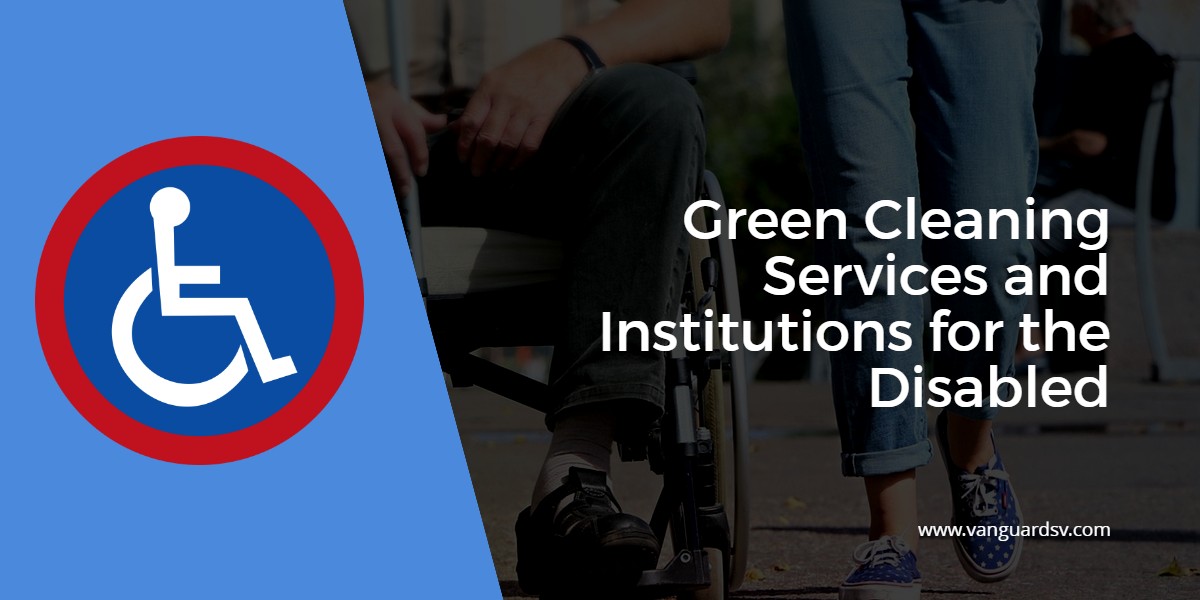 Green Cleaning Services for the Safe Care of Disabled Persons
According to the U.S. Centers for Disease Control and Prevention, for reasons well outside of the scope of this document, disabled persons often suffer from poor health.
Studies have shown that individuals with disabilities are more likely than people without disabilities to report:

Poorer overall health, less access to adequate health care, [and] smoking and physical inactivity.

[Additional] health conditions are also called secondary conditions and might include:

Bowel or bladder problems, fatigue, injury, mental health and depression, overweight and obesity, pain, and pressure sores or ulcers.
While no custodial program could help relieve all of the challenges facing institutions providing support services for disabled individuals, outsourcing your organizations need's to a certified green cleaning provider will likely yield remarkable improvements in the overall health and sense of well-being in your organization's employees and charges.
Addressing Specific Sanitation Challenges
A one size fits all solution is inappropriate in cases where special care must be taken to avoid the potential for complicating or aggravating symptoms in those with compromised immune systems; underscoring the importance of pollutant-free air flow.
Further, it is vital that those disabled persons functioning with diminished capacity are not placed in an environment slathered with toxic 'cleaning' products that could be accidentally ingested through surface-to-skin-to-mouth, face, or eye contact.
Primary areas of focus are:
Walkways and Ramps - For obvious reasons, physically disabled persons and those confined to assisted mobility devices, such as wheelchairs, will need to have a clear path of travel to and from their transportation and your organization's facilities.  Regular sweeping and debris removal is recommended, as well as optimized trash/recycling receptacle placement and services.
Windows - Clean windows reduce electrical use and energy consumption by allowing maximum sunlight to shine in, an essential element to a holistic healthy indoor environment, and is essential to combating depression and lethargy.  Clean windows will also improve the look and atmosphere of your facilities, which is vital when walking through the available spaces with prospective customers. Conversely, dirty windows can become pitted and stained, costing a small fortune to replace, as well as present an unenticing and unappealing appearance.
Indoor Recreational Areas & Computer Labs - Flat non-porous surfaces are hotspots for germs and bacteria, which can be very dangerous for patients with compromised or weakened immune systems, specifically computer equipment, which can be difficult to clean without damaging sensitive electronics, and time-consuming without the proper training and equipment, as well as extremely expensive if the systems were to be accidentally destroyed. Further, dust is a notorious killer of computer performance and expected lifespan, so dusting and cleaning, in addition to proper sanitation, is essential to maintaining a functional and healthy environment.
HVAC Systems - Statistically speaking, according to the CDC's numbers, disabled persons often suffer from nicotine addictions which, in the form of cigarettes, can cause secondary respiratory issues for sensitive individuals indoors.  With this in mind, it is vital your building allows for proper air flow and filtration to remove as many indoor air pollutants as possible while avoiding contributing to the problem with perfume air fresheners and aerosol cleaners.  Additionally, the HVAC system and filters should be regularly serviced to prevent pushing allergens, dust, and other airborne microbes into the environment where they can potentially trigger adverse respiratory and other reactions in workers and patients.
Restrooms - The elevated level of concern regarding bladder and bowel issues mandates an immaculate and well-supplied bathroom to avoid any problems that may compromise the health or mental well-being of patients.  This should be completed with certified green cleaning products to avoid problems with toxic chemical-to-skin contact or inhalation that may complicate already present health conditions.
Kitchens & Dining Areas - Sanitary surfaces and areas for food and beverage consumption is necessary to ensure the safe elimination of microbes and bacteria that can cause bowel disruption and illness, specifically the norovirus, which can lead to dangerous dehydration conditions, even in healthy individuals.
The challenge is to cost-effectively sanitize all surfaces and implement profit-focused sustainable practices that improve that complement the safe and healthy environment your organization must foster.
Takeaway
Combining green cleaning services with modern sustainable business practices will complement the safe environment your organization must foster to ensure the physical and mental well-being of your disabled patients.
A considerable amount of care needs to be taken by trained, caring, and experienced staff to select and implement the products and procedures that can lead to significant quality of life improvements and experiences for all building occupants.
If you would like to learn more about the advantages of outsourced green cleaning services for your institution supporting disabled persons, contact us today for a free quote!
In Bakersfield CA, call (661) 437-3253
In Fresno CA, call (559) 206-1059
In Valencia CA, or Santa Clarita CA, call (661) 437-3253