Cleaning services tips for the Summer.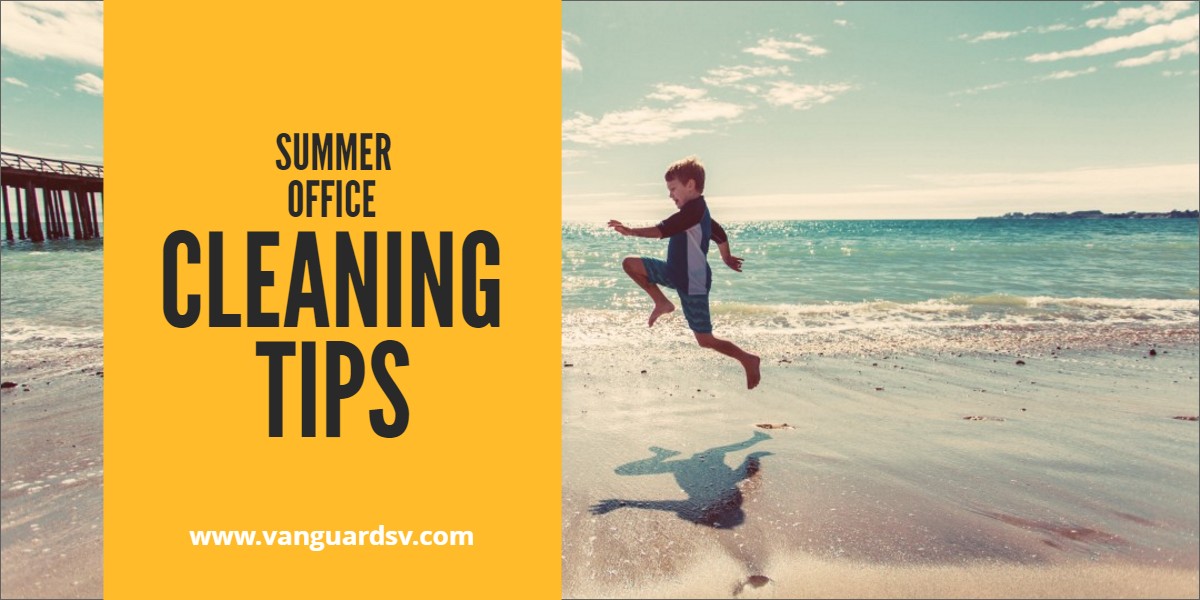 Summer Office Cleaning Services Tips
Summer is officially here, and that means many schools and businesses now have the chance to clean out the winter time muck around and inside of their workspaces.
With students and the rain gone until the Fall, it's time to take a hard look at dirty windows, mud-stained carpets, and dirty walls.
While you're at it, why not give those dusty blinds and curtains a good once over.
Last, but not least, consider taking those old rugs outside for a good dusting, and have those comfy office chairs and couches steam cleaned while it is pleasant enough to open doors and windows to allow the humidity to escape.
Let the Sunshine In
Natural sunlight has been shown to have such a positive effect on worker wellbeing and performance that:
[sic]... many countries in Europe require that workers be within 27 feet of a window...[sic]

-A Literature Review of the Effects of Natural Light on Building Occupants
A simple, do it yourself method for green cleaning your windows is to use a mixture of white vinegar and water, combined with a microfiber cloth, to wipe down your windows on a weekly basis.
Summer is also a perfect time to check and repair caulking and weather stripping to avoid unnecessary energy consumption and waste.
For More Information:
Clean the Curtains and Blinds
Traditional curtains and blinds are dust magnets and facilitate a breeding ground for dust mites.
Cloth curtains should be taken down and cleaned in warm water on a monthly basis.
Blinds should be cleaned with a microfiber cloth or duster.
Additionally, consider taking them all down over the summer for a soak in warm water and white vinegar to remove dirt from hard to reach places.
For those concerned with privacy and exposure to harmful UV rays, consider replacing curtains and blinds with allergy resistant window coverings.
For added protection, place HEPA filtered air purifiers next to windows to allow fresh air in without the added dust and pollution.
For More Information:
Winter Mud and Summer Mold
Muddy shoes and boots trace endlessly across the carpet in winter months.
Just maintaining a basic level of cleanliness during that time can be a chore.
When the Summertime heat and humidity come into play, that mud can quickly turn into mold, causing numerous health issues.
Schedule your green, deep extraction carpet cleaning for early morning or late evening hours to allow windows and doors to be open, quickly relieving the space of humidity.
For More Information:
What are you Sitting On?
Large, comfy office chairs and couches are ideal for employees and guests to get off of their feet.
The problem is that the chair may not be the only thing that they are sitting on.
People don't have any idea what's in their furniture. If they did, it would make them sick
Everything from dust and mold to bed bugs could be hiding in your office furniture.
The best way to treat them, short of reupholstering, is a regular green steam cleaning.
The temperature will be high enough to kill bed bugs without damaging the material.
Not using chemical shampooing will eliminate additional pollutants and allergens.
As with the carpets, try to steam the couches and chairs in the mornings or late evenings with the doors and windows open.
Takeaway
While we always recommend a professional and routine green cleaning services regimen for your office, there are certain things you can do yourself to increase the wellness of your office and staff.
Clean the windows to remove dust and allergens.
Clean curtains and blinds monthly, or completely remove them so dust has no place to hide.
Install allergy resistant window coverings to protect from harmful UV rays.
Deep clean your carpets to remove winter mud before it turns into mold.
Regularly steam clean your fabric based furniture.
If you would like to learn more about the benefits of professional cleaning services for your business, contact us today for a free quote!
In Bakersfield CA, call 661-395-3009
In Fresno CA, call 559-473-1790