Early data from the U.S. Centers for Disease Control and Prevention's (CDC's) Influenza Surveillance Report shows concerning trends in reported influenza infections, hospitalizations, and deaths.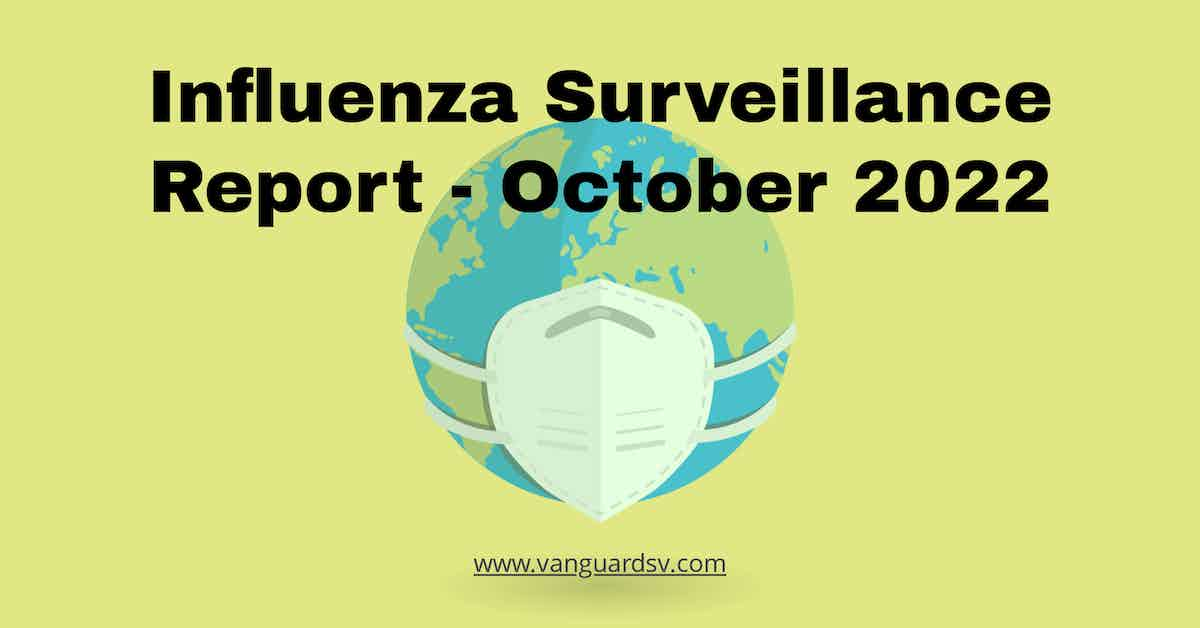 October 2022 Influenza Surveillance Data
The current landscape of the U.S. cold and flu season appears troubling.
According to data submitted to the CDC by clinical labs around the country, as of week 41 of 2022:
Of the more than 60 thousand lab-tested specimens, 4.4% tested positive--a significant jump from 3.6% with more than double the specimens tested just one week before.
More than 97% of the species testing positive were Type A.
Of the Type A strains, more than 77% were identified as H3N2, and more than 22% were identified as H1N1--both swine flu variants.
Outpatient visits to a health care provider for respiratory illnesses for week 41 are above baseline at 3.0%.
Eight states report moderate Influenza Like Illness (ILI) activity, and ten already report either high or very high activity.
Long-term care facilities report a 0.4% positive test rate among residents.
1,164 patients were admitted to the hospital for week 41 with confirmed influenza infections.
8.8% of mortalities for week 41 were attributed to pneumonia, influenza, or COVID-19 (PIC), which sits well above the epidemic threshold.
No influenza-related pediatric deaths have been recorded.
Cleaning & Intervention Strategies to Prevent Cold and Flu Transmission
The following methods proved extremely effective throughout the COVID pandemic:
Dry and wet clean indoor spaces daily using microfiber-based products, HEPA-filtered vacuums, and commercial-grade, soap-based detergents.
Identify high-contact surfaces and assign a person a schedule to disinfect the surface several times throughout the day.
In low-risk, non-healthcare environments when there are no reported outbreaks--cleaning once per day and deep cleaning and then disinfecting once per week is sufficient.
During epidemic-level outbreaks, increasing cleaning and disinfection frequencies is warranted, though caution must be taken to prevent excessive disinfectant use.
For high-risk facilities that are challenging to clean and disinfect, such as schools, evidence suggests that switching to daily electrostatic disinfection and a weekly deep clean schedule can markedly decrease the spread of influenza in the classroom.
In addition to daily and weekly cleaning and disinfection strategies, several combined intervention methods have been shown to significantly slow the spread of germs and bacteria between occupants and facility surfaces.
Hand Hygiene
Handwashing with soap and water several times per day, especially after specific interactions, has been shown to reduce the spread of influenza significantly.
In assessing IPC [Infection Control Practices] interventions, the WHO report shows a range that has proven highly effective in preventing HAI occurrence.

Hand hygiene is highlighted in the report as the single most effective measure to reduce the transmission of microorganisms/pathogens and reduce HAIs. Where good hand hygiene practices are followed, 70 percent of HAIs can be prevented.
A proven method for increasing occupant handwashing compliance levels is to ensure that restrooms and handwashing stations are clean, well-maintained, and stocked with soap and paper products.
Screening
Influenza symptoms can appear up to four days after exposure.
A person is typically contagious roughly twenty-four hours before symptoms appear.  Screening facility guests and occupants for cold and flu symptoms, including a fever, can help prevent transmission.
Where possible, employees and guests should always be encouraged to stay at home and seek medical advice when feeling ill.
References & Resources
Takeaway
The 2022-23 cold and flu season appears to be shaping up to be a rough one--with initial reports already over the epidemic baseline.
Preventing PIC transmission requires a combination of enhanced cleaning and intervention strategies executed by trained service providers.
Onboarding the requisite labor and material resources necessary to ensure the highest standards of cleanliness and safety are maintained can prove cost-prohibitive.
Outsourcing is a proven method for onboarding highly in-demand cleaning and disinfection services and experience for a fraction of the price of maintaining a similar service in-house.
If you would like more information regarding the effectiveness of high-performance infection prevention and control measures, or if you would like to schedule a free, no-obligation on-site assessment of your facility's custodial needs, contact us today for a free quote!
In Bakersfield, CA, call (661) 437-3253
In Fresno, CA, call (559) 206-1059
In Valencia, CA, or Santa Clarita, CA, call (661) 437-3253
In Palmdale, CA, or Lancaster, CA, call (661) 371-4756