Several studies have demonstrated the direct connection between office cleanliness and workforce wellness, job satisfaction, and workplace productivity.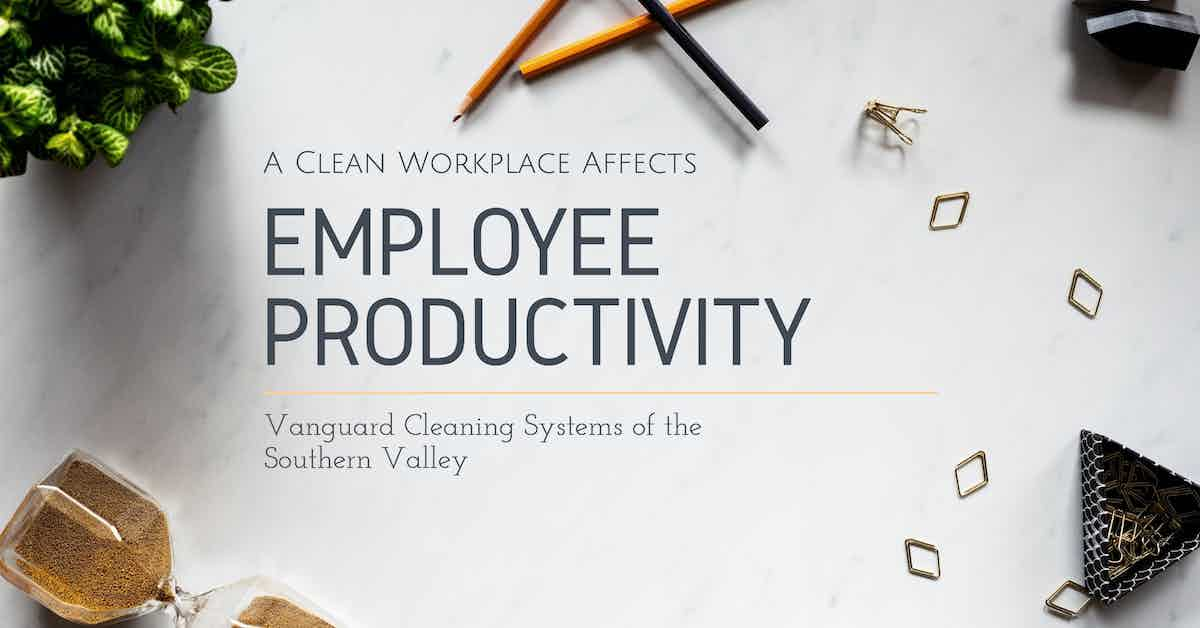 How a Sustainably Clean Workplace Affects Productivity
Sustainably clean workplaces have been shown to directly impact occupant health and cognitive functions, both of which are fundamental to high levels of workplace productivity.
For example, researchers from the Harvard T.H. Chan School of Public Health's Center for Health and the Global Environment conducted an intensive study on two dozen participants, reporting that;
[...] cognitive performance scores for the participants who worked in the green+ environments were, on average, double those of participants who worked in conventional environments; scores for those working in green environments were 61% higher.

Measuring nine cognitive function domains, researchers found that the largest improvements occurred in the areas of:

Crisis response (97% higher scores in green conditions and 131% higher in green+).

Strategy (183% and 288% higher).

Information usage (172% and 299% higher).

In addition, when researchers looked at the effect of CO2—not normally thought of as a direct indoor pollutant—they found that, for seven of the nine cognitive functions tested, average scores decreased as CO2 levels increased to levels commonly observed in many indoor environments.

Green office environments linked with higher cognitive function scores
Additional reported benefits of clean workplaces include:
Improved occupant attendance.
Increased workforce concentration and workplace efficiency.
Improved workplace morale and reduced stress levels.
Higher workforce retention rates and recruiting numbers.
An increase in equipment longevity and performance.
High levels of customer satisfaction, and;
Fewer workplace injuries and associated legal and medical costs.
Evidence-Based Cleaning Protocols to Improve Occupant Productivity
Clean the office every day.
Start with dry cleaning--dusting, sweeping, and vacuuming.
Follow up with wet cleaning with a commercial-grade soap-based detergent applied with microfiber to remove any soil not picked up in the dry cleaning process.
Focus on targeted fomite disinfection with an EPA-registered product--in non-healthcare environments, outside of cold and flu season or a pandemic, you should not disinfect the entire office every day.
Do disinfect high-risk areas of your office every day--specifically restrooms, kitchens, and breakrooms, which contain numerous germ hotspots.
Use EPA-registered VOC-free disinfectants where applicable to help improve indoor air quality.
Discontinue the use of perfumed air fresheners altogether.
Increase occupant access to clean, well-stocked restrooms and hand hygiene stations.
Provide occupants with self-service sanitizing kits for their workspace.
Use signage, emails, newsletters, and employee training to communicate sustainable cleaning efforts, and goals, in addition to seeking occupant feedback on how they feel about work conditions and office hygiene.
Increase indoor airflow through mechanical (HVAC) or natural (open doors and windows) means.
Install commercial-grade portable air cleaners in employee workspaces.
Employ team-cleaning methods that capitalize on each member's strengths to significantly improve cleaning outcomes.
Institute regular custodial training that emphasizes cross-contamination avoidance methods, proper chemical handling and disposal procedures, and how to respond in an emergency, and;
Use ATP and IAQ testers to validate methods, targets, and investments, and strategize improvements.
Using these methods has been shown to significantly improve occupant productivity when compared to workers in a similar environment where conventional cleaning protocols are used.
A study by the University of Arizona found that employees who work in a clean and organized environment are up to 15% more productive than those who work in a cluttered and messy environment.

The study also found that employees who work in a clean environment are less likely to take sick days, and they are more likely to stay focused and on task.
Takeaway
High-quality, sustainable cleaning and targeted disinfection services positively impact workforce metrics, such as cognitive functions and physical health, that directly affect workplace productivity.
Conversely, conventional cleaning methods, mainly where corrosive disinfectants and perfumed air fresheners are heavily utilized, negatively impact occupant productivity metrics by releasing harmful chemicals into the environment.
Onboarding the requisite labor and material resources necessary to ensure the highest standards of cleanliness and safety are maintained can prove cost-prohibitive.
Outsourcing is a proven method for onboarding highly in-demand cleaning and disinfection services and experience for a fraction of the price of maintaining a similar service in-house.
If you would like more information regarding the effectiveness of high-performance infection prevention and control measures, or if you would like to schedule a free, no-obligation on-site assessment of your facility's custodial needs, contact us today for a free quote!
In Bakersfield, CA, call (661) 437-3253
In Fresno, CA, call (559) 206-1059
In Valencia, CA, or Santa Clarita, CA, call (661) 437-3253
In Palmdale, CA, or Lancaster, CA, call (661) 371-4756