Air pollution represents the single greatest environmental threat to human health, and according to recent data, workers are concerned with the direction businesses and other organizations are heading in.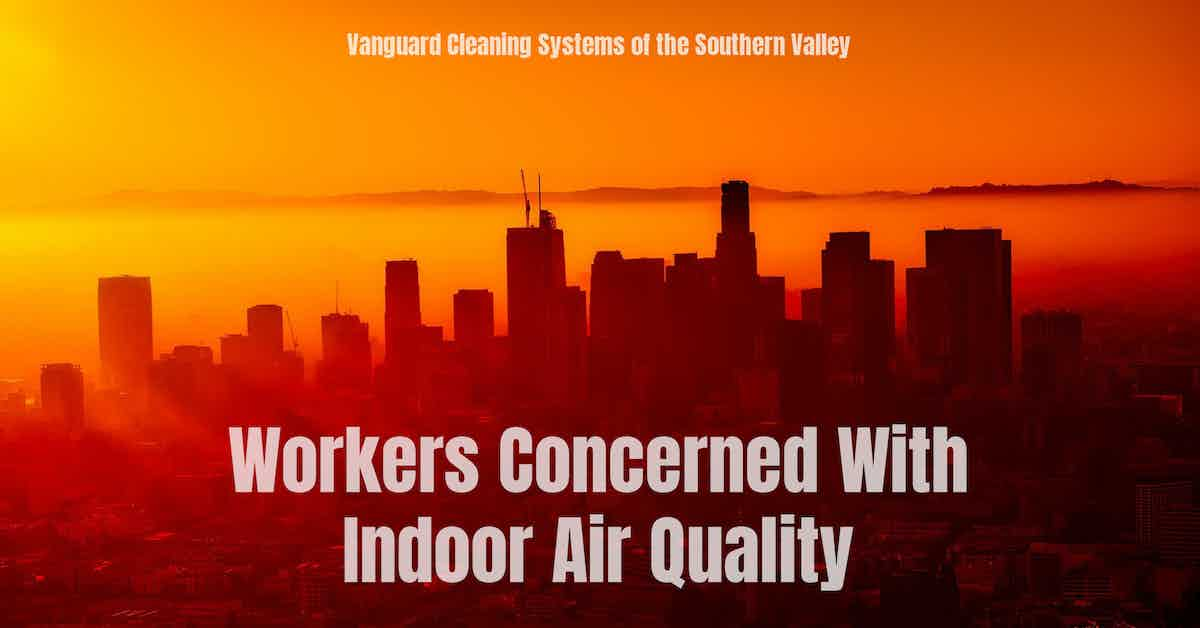 Concerning IAQ Trends in the Workplace
September 7th, 2022, marks the United Nations' International Day of Clean Air for blue skies.
In observance of this event, a survey was conducted by Fellowes Brand of more than 1,100 U.S. office workers to ascertain their impression of indoor air quality in their workplace.
According to the survey results:
91% of respondents agreed that clean indoor air helped them perform optimally in the workplace.
88% stated that clean indoor air in the workplace was an employee right.
However, only 36% of respondents considered the indoor air at their workplace to be "very clean."
Among respondent's top concerns regarding the negative health consequences associated with low IAQ:
71% cited allergy symptoms.
68% said they were at least somewhat concerned with viruses other than COVID-19.
66% listed headaches, and;
65% mentioned workplace fatigue.
Impacts of Indoor Air Quality on Cognitive Function
Several studies have established a significant link between indoor air quality and occupant health and cognitive functions among school-aged children and the elderly.
Recently, a team of researchers from the Harvard T.H. Chan School of Public Health sought to expand upon our understanding of how IAQ impacts the cognitive functions of middle-aged U.S. office workers.
According to the findings;
[...] this study adds to the evidence of the acute impacts on cognitive function associated with poor indoor air quality.

Benefits on cognitive function from reducing exposures to PM2.5 [fine inhalable particles, with diameters that are generally 2.5 micrometers and smaller] and CO2 indoors, either by filtration or higher ventilation rates, may positively impact productivity, educational attainment, safety, and many other activities where cognitive performance is important.

This study also contributes to the body of literature indicating that building performance is associated with cognitive performance.

In addition to the well-established health benefits from lower PM2.5 levels (e.g. reductions in cardiovascular disease, asthma attacks, premature mortality), and from higher ventilation rates (e.g. reduced infectious disease transmission, fewer sick-building symptoms, and reduced absenteeism), our findings provide further incentive to improve air quality in indoor spaces.

Associations between acute exposures to PM2.5 and carbon dioxide indoors and cognitive function in office workers: a multicountry longitudinal prospective observational study
Healthy Building Strategies to Improve IAQ
Improving indoor air quality is relatively simple and inexpensive, especially when compared to healthcare and productivity costs associated with low IAQ.
Conveniently, the same facility strategies recommended for seriously disrupting the spread of COVID-19 are ideal for significantly reducing particulate matter and carbon in our indoor air supply.
According to a July 2022 paper published by the Lancet COVID-19 Commission, the following four strategies are recommended:
Commission or recommission buildings - This will assess the operational status of critical systems, especially HVAC, and make adjustments and repairs.
Maximize outdoor airflow - This can be accomplished via mechanical (HVAC) or natural (open window) means and serves to disperse particulate matter, including airborne allergens and pathogens in the air, reducing occupant exposure and forcing unwanted microbes through the ventilation systems.
Upgrade HVAC filters to MERV-13 or higher - The upgraded filters will trap unwanted particulate matter and prevent occupant exposure.
Supplement with portable air cleaners - Installing portable commercial-grade air cleaners will reduce particulate matter in the air, including bacteria and pathogens, and can significantly improve the health and productivity of occupants for a low initial investment, particularly in buildings where modifications are not feasible.
References & Resources
Takeaway
Indoor air quality is crucial to occupant health and performance and has a direct impact on business profits.
In addition to improving airflow and filtration, pollutant source elimination should be employed where possible.
Many cleaning and disinfectant products off-gas VOCs, or otherwise contribute to indoor environmental pollution, especially perfumed solutions.
Switching to EPA-registered Safer Choice and other third-party validated "green cleaning" products will significantly reduce the off-gassing of toxins into the environment.
Onboarding the requisite material resources and skilled labor to ensure high-level outcomes may prove cost-prohibitive for many organizations.
Outsourcing is a proven method for onboarding highly in-demand cleaning and disinfection services and experience for a fraction of the price of maintaining a similar service in-house.
If you would like more information regarding the effectiveness of high-performance infection prevention and control measures, or if you would like to schedule a free, no-obligation on-site assessment of your facility's custodial needs, contact us today for a free quote!
In Bakersfield, CA, call (661) 437-3253
In Fresno, CA, call (559) 206-1059
In Valencia, CA, or Santa Clarita, CA, call (661) 437-3253
In Palmdale, CA, or Lancaster, CA, call (661) 371-4756