Indoor air quality in classrooms directly impacts the transmissibility of airborne pathogens and allergens, occupant attendance, performance, and long-term life outcomes.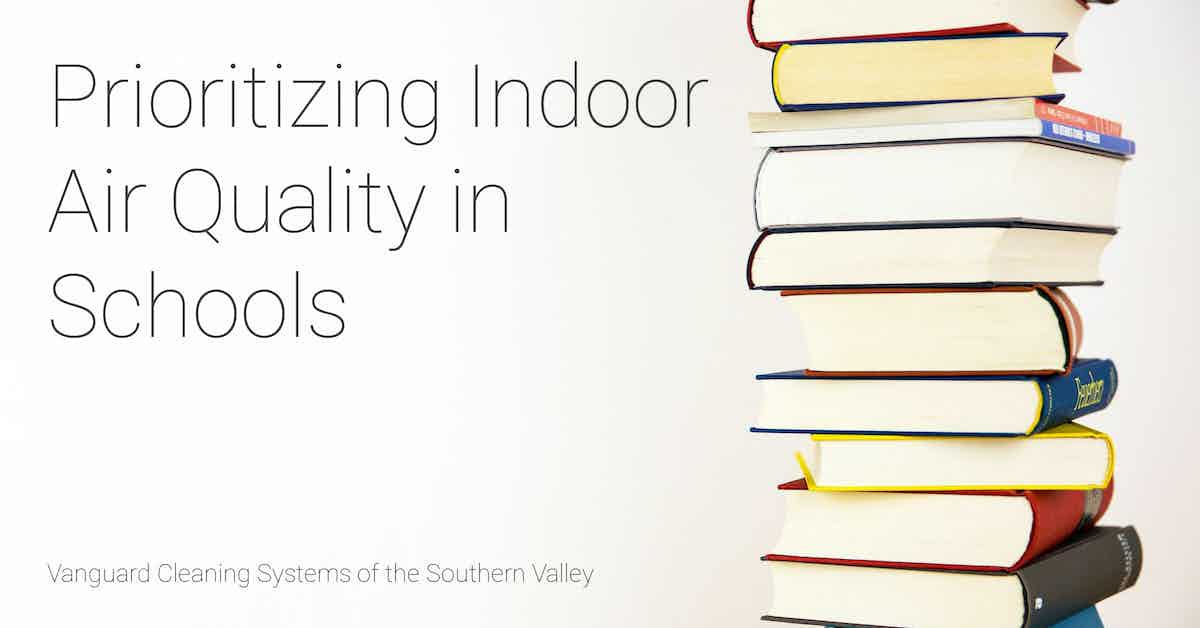 The Importance of Improving Classroom IAQ
Indoor air quality is the product of several factors, including airflow.
During the SARS-CoV-2 pandemic, researchers found that increasing the flow rate of fresh outdoor air through a facility significantly reduced the transmission of COVID-19 between occupants.
According to a study published by The Center for Green Schools;
After increasing fresh air ventilation through the pandemic (as well as other mitigation strategies), we found that there was zero spread in our school through the entire previous school year and a half despite very high community spread. During the first two weeks of the new school year in 2021, we had an outbreak at one elementary school with spread throughout the school, which required us to switch to remote learning for a week at that school.

Managing Air Quality During the Pandemic: How K-12 Schools Addressed Air Quality in the Second Year of COVID-19
In addition to dispersing allergens and airborne pathogens, increased indoor air circulation has demonstrable positive impacts on occupant performance and wellness.
According to CleanLink;
The benefits of improved IAQ are not only health-centric, but they can improve morale and focus as well.

Studies show a direct correlation between the quality of indoor air and the performance of tests scores from students, productivity of staff, and attendance averages.
Improving IAQ With Mechanical Ventilation
There are several cost-effective methods for increasing natural airflow into a building and improving indoor air quality, including:
Increasing outdoor air intake through the HVAC system.
Implementing a low-occupancy flush of the HVAC system.
Opening doors and windows.
Using a combination of floor and window fans to pull in and circulate fresh air.
Deploy commercial-grade air purifiers and cleaners, and;
Upgrade the HVAC HEPA filters to a minimum MERV-13 level.
Improving IAQ With Enhanced Cleaning
Enhanced cleaning and disinfection methods also have a marked effect on indoor air quality, specifically:
Cleaning daily with a combination of commercial-grade soap-based detergents applied with microfiber, and HEPA filtered vacuums.
Using a targeted disinfection approach--focusing on germ hotspots--using an EPA-registered disinfectant.
Performing routine deep cleaning of floors, restrooms, kitchens, and high-dust areas.
Performing regular facility-wide disinfection of high-risk areas with an electrostatic disinfection appliance, and;
Switching to Safer Choice disinfectant products and adopting green cleaning methods where applicable.
According to the California Childcare Health Program;
Green cleaning describes the growing trend of using cleaning products and methods that are safer for human health and the environment.

By using products with less toxic ingredients, early care and education (ECE) programs can protect the health of children and staff and protect the environment.

Environmentally friendly cleaning is accomplished by establishing policies and procedures and providing staff training in safe and effective cleaning practices.
References & Resources
Takeaway
Indoor air quality is a critical component of high-performing facilities and directly impacts student test scores, health, attendance, and long-term life outcomes.
Long-term IAQ improvement programs should include:
Improvements and maintenance to mechanical air flow systems.
Upgrades to HVAC HEPA filters.
The deployment of commercial-grade air purifiers.
Using Safer Choice or certified green cleaning products and disinfectants.
Avoiding unnecessary facility-wide applications of corrosive disinfectant products.
Following product labels, including dwell time and ventilation requirements.
Maintaining all equipment and filters to ensure optimal performance.
For many organizations, acquiring and maintaining the labor and material resources required to implement and sustain a high-performing IAQ program will likely prove cost-prohibitive.
Outsourcing is a proven method for onboarding highly in-demand cleaning and disinfection services and experience for a fraction of the price of maintaining a similar service in-house.
If you would like more information regarding the effectiveness of high-performance infection prevention and control measures, or if you would like to schedule a free, no-obligation on-site assessment of your facility's custodial needs, contact us today for a free quote!
In Bakersfield, CA, call (661) 437-3253
In Fresno, CA, call (559) 206-1059
In Valencia, CA, or Santa Clarita, CA, call (661) 437-3253
In Palmdale, CA, or Lancaster, CA, call (661) 371-4756