Healthcare officials are emphasizing the importance of summertime cleaning routines to combat the surge in COVID-19 variants.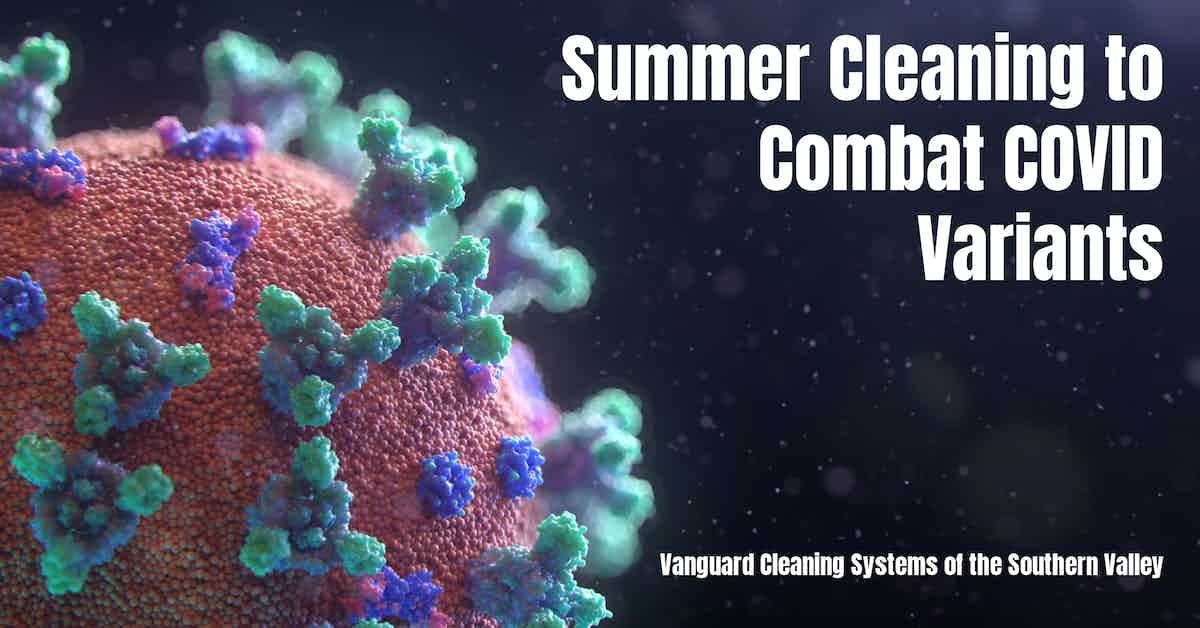 Summer COVID Cases Surging
According to recent reports, summer cases of COVID-19 variants have quietly surged across California.
New coronavirus infections in parts of California may be surging even higher than winter's Omicron wave, potentially explaining why so many people seem to be infected simultaneously.

The concentration of coronavirus levels in San Francisco's wastewater is at even higher levels than during the winter [...].

The wastewater data suggest many infections aren't being recorded in officially reported coronavirus case counts.

That is because so many people are using at-home over-the-counter tests, which can be more convenient than getting tested at a medical facility, where results are reported to the government.

Fueled by rapid reinfections, California's soaring summer COVID wave could top winter surge
A possible cause for the swell in infections is the increased transmissibility of the current variants.
According to Roy Chemaly, M.D., Chief Infection Control Officer at MD Anderson;
[These variants are] the most transmissible and immune-evasive strains of the COVID-19 virus to date.

Today, they're causing around 80% of COVID-19 cases in the U.S.

BA.5 is the more transmissible of the two and is causing 65% of cases, while BA.4 is causing 17%.

They are subvariants of the coronavirus's Omicron variant.

BA.4 and BA.5 are similar to earlier Omicron subvariants, but they have one important difference: mutations in their spike proteins make it easier for them to penetrate human cells and cause infection.

These mutations can also help BA.4 and BA.5 escape disease-fighting antibodies created by past COVID-19 vaccines and prior infections.

This, along with the natural waning of vaccine protection and the fact that many communities are lifting COVID-19 restrictions, sets the stage for the virus to spread.

COVID-19's BA.4 and BA.5 Omicron subvariants: 12 questions, answered
Health Experts Emphasize Pandemic-Era Cleaning Through the Summer COVID Surge
Before the original COVID pandemic ended, public health officials determined the primary transmission route for SARS-CoV-2 was through the air as droplets.
That revelation countermanded months of facility cleaning and disinfection recommendations.
However, upon examination of cyclical influenza data, it was hypothesized that increasing cleaning efforts and social distancing to halt the transmission of COVID may have caused an influenza variant to go extinct.
It's well-known that COVID-19 pandemic restrictions pretty much quashed the 2020-2021 flu season, with influenza cases falling to never-before-seen lows in the United States.

So little flu circulated, in fact, that some scientists now suspect that one of the major strains of influenza might have gone extinct, for lack of humans to infect.

Influenza B/Yamagata is one of four strains regularly included in annual flu shots, but in the midst of COVID lockdowns that strain appears to have fallen completely off the radar.
Because of that, health experts recommend that pandemic-era cleaning methods and routines remain intact to protect facility occupant health and safety from commonly transmitted diseases that historically complicate COVID infections.
Enhanced Cleaning Methods to Combat COVID Surge
Enhanced cleaning methods that proved effective during the height of the COVID pandemic for eliminating the existence and spread of common infections include:
The daily cleaning of occupied facility areas with a commercial-grade soap-based detergent applied with microfiber.
Disinfecting high-touch surfaces and high-risk facility areas several times per day.
Employing Safer Choice and EWG-certified disinfectants.
Focusing on service provider training and occupant communication instead of hygiene theater, and;
Taking measures to increase indoor air quality by upgrading and servicing HVAC systems and adding additional filters and commercial-grade air cleaners.
Takeaway
Current data suggests an increase in undetected or unreported COVID cases are surging across California, causing concern among public health officials who are recommending a continuation of pandemic-era facility cleaning to combat the spread of common contagious disease that can complicate COVID infections and potentially overwhelm healthcare facilities.
Onboarding the requisite material and labor resources necessary to maintain pandemic-era cleaning protocols year-round can prove cost-prohibitive for organizations struggling through the current economic and staffing woes.
Outsourcing is a proven method for onboarding highly in-demand cleaning and disinfection services and experience for a fraction of the price of maintaining a similar service in-house.
If you would like more information regarding the effectiveness of high-performance infection prevention and control measures, or if you would like to schedule a free, no-obligation on-site assessment of your facility's custodial needs, contact us today for a free quote!
In Bakersfield, CA, call (661) 437-3253
In Fresno, CA, call (559) 206-1059
In Valencia, CA, or Santa Clarita, CA, call (661) 437-3253
In Palmdale, CA, or Lancaster, CA, call (661) 371-4756