It has been estimated that approximately one in thirty hospitalized patients will acquire at least one HAI during their visit, underscoring the importance of routine enhanced cleaning and standard infection control measures.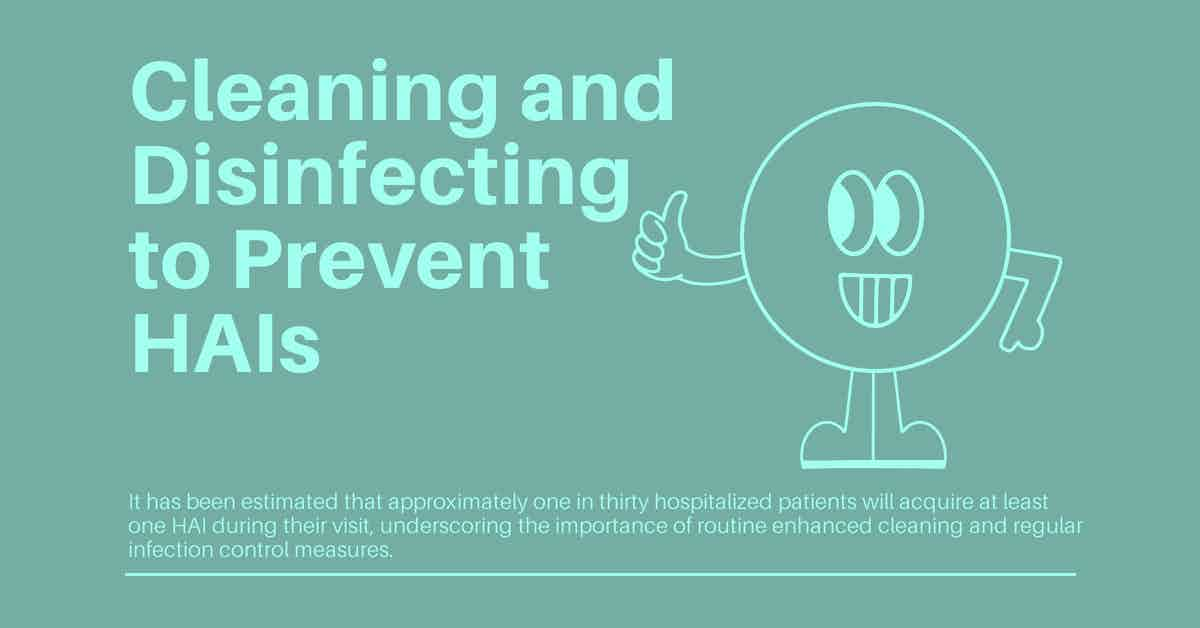 COVID-19 and Increased HAIs
The COVID-19 pandemic severely disrupted healthcare efforts to diminish the presence and impact of antimicrobial-resistant germs that affect a reported 1 in 31 patients annually, though the number is undoubtedly higher.
Hosptial policies focused on handling COVID patient care, reducing their focus on screening and isolating incoming patients for specific highly transmissible infections, resulting in an increase in several types of HAIs, including MRSA.
According to the latest (2020) numbers from the U.S. Centers for Disease Control and Prevention;
The analysis of the 2020 quarterly ACH SIRs found significant increases in CLABSI, CAUTI, VAE, and MRSA (methicillin-resistant Staphylococcus aureus) bacteremia, compared to 2019.

The largest increases occurred during quarter 4 of 2020 (2020Q4).

Data showed an overall 47% increase in CLABSIs (central line-associated bloodstream infections) across all location types for 2020Q4 compared to 2019Q4; ICUs observed a 65% increase and select inpatient wards observed a 16% increase.

For CAUTIs (catheter-associated urinary tract infections), a 19% overall increase was observed in 2020Q4 with ICUs experiencing a 30% increase.

For VAE (ventilator-associated events), an overall increase of 45% was observed across all location types in 2020Q4 compared to 2019Q4.

The largest increase in VAE was observed in ICUs (44%), followed by the adult inpatient wards (35%).

2020 National and State Healthcare-Associated Infections Progress Report
The Decline in Pandemic Cleaning
In at least a few facilities in the U.S., COVID-related cleaning tasks experienced a spike early on, then a decline as information was gathered that demonstrated SARS-CoV-2 was airborne and did not regularly spread via contact, then a re-establishment of more holistic cleaning practices as facilities teams realized the transmission of other germs was increasing.
According to a recent interview published to Clorox Pro;
[...] the amount of attention put on enhanced cleaning in the early days of the pandemic can send the wrong message about the importance of this prevention strategy across the board.

[...] HAI prevention has always been a hurdle and the COVID-19 pandemic only exacerbated this issue.

[...] each year in the United States, there are 2.8 million antibiotic-resistant infections and as a result, 35,000 people die – we can't afford to forget about MDROs, even if we're in the midst of a pandemic.

While the focus on COVID-19 has moved to a more holistic approach that still incorporates daily cleaning and disinfecting, the over-correction we saw with COVID-19 prevention initially trickled into healthcare.

While we now know that COVID-19 is primarily spread through shared air, cleaning and disinfection remain important as part of the holistic prevention strategy.

The Importance of Cleaning and Disinfecting to Prevent HAIs Beyond COVID-19
Post-COVID HAI Prevention
Most infectious disease is susceptible to removal or termination via enhanced cleaning methods using commercial grade soap-based detergents applied with microfiber.
Disinfectant applications are typically only recommended for spot cleaning high-touchpoints outside of healthcare settings but should be liberally applied in patient areas and surgery centers.
A final step after terminal cleaning and disinfection is completed should include a robotic disinfection appliance capable of emitting targeted UV-C lighting to surfaces in patient rooms which current data suggests can significantly reduce the presence of incredibly difficult-to-kill HAIs like C. Auris.
Additional measures should include:
Service provider training, especially regarding handling of cleaning and disinfectant products and the disposal of wastewater.
Personal protective equipment use and training, and;
Strict adherence to handwashing requirements for all facility occupants.
Takeaway
Enhanced cleaning, terminal cleaning, and targeted disinfection declined in many facilities whose resources were consumed by efforts to arrest the spread of COVID-19, which is all but entirely airborne.
This decline almost certainly contributed to the increase in several deadly HAIs in healthcare facilities, including the incredibly deadly and difficult-to-kill HAI--C. Auris.
For many smaller hospitals, surgery centers, long-term care organizations, and other healthcare facilities, onboarding the necessary labor and material resources to facilitate routine high-impact enhanced cleaning and infection control measures is likely cost-prohibitive.
Outsourcing is a proven method for onboarding highly in-demand cleaning and disinfection services and experience for a fraction of the price of maintaining a similar service in-house.
If you would like more information regarding the effectiveness of high-performance infection prevention and control measures, or if you would like to schedule a free, no-obligation on-site assessment of your facility's custodial needs, contact us today for a free quote!
In Bakersfield, CA, call (661) 437-3253
In Fresno, CA, call (559) 206-1059
In Valencia, CA, or Santa Clarita, CA, call (661) 437-3253
In Palmdale, CA, or Lancaster, CA, call (661) 371-4756