Certain pathogens remain hazardous after disposal, even in treated waterways, often by attaching themselves to waste plastics, underscoring the increasing importance of moving to greener, sustainable lifestyles and business operations.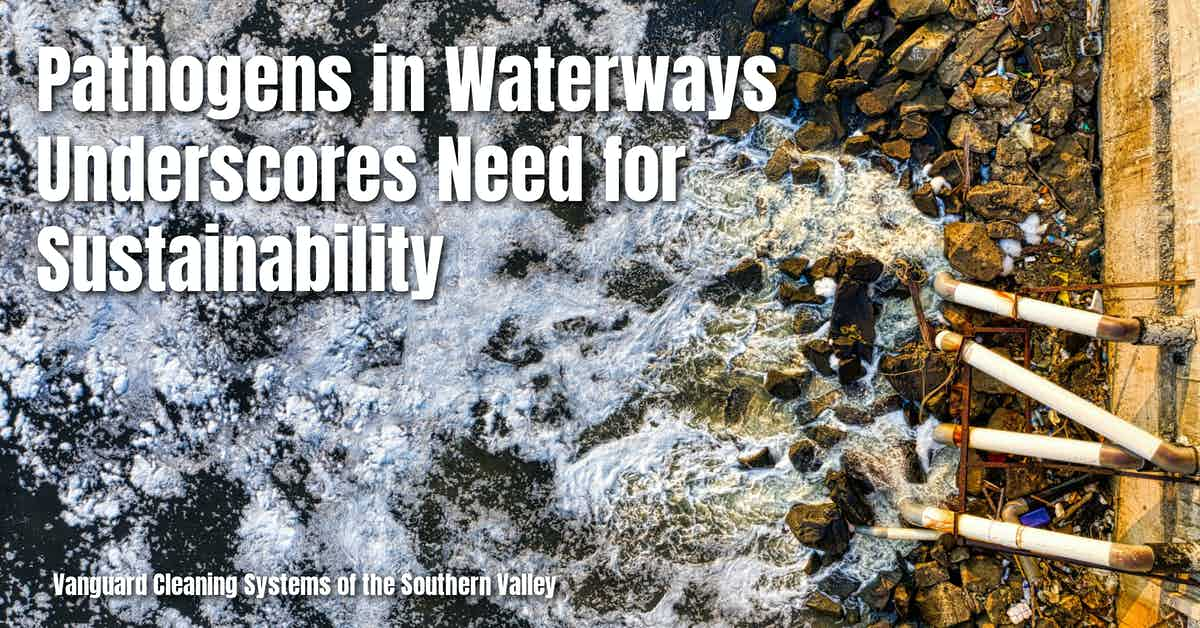 Pathogens and Plastics in the Waterways
A recent study conducted by the University of Stirling in Scotland found that non-lipid coated pathogens, such as norovirus and rotavirus, can survive facility cleaning, disposal, and water system waste treatment protocols by binding to microplastics in the waterways.
Per the study, the microplastics eventually make their way down river to estuaries and the ocean with the hitchhiking pathogens, which remain intact and infectious, and are either accidentally ingested or deposited into the natural environment.
According to the researchers;
Even if a wastewater treatment plant is doing everything it can to clean sewage waste, the water discharged still has microplastics in it, which are then transported down the river, into the estuary and end up on the beach.

We weren't sure how well viruses could survive by 'hitch-hiking' on plastic in the environment, but they do survive, and they do remain infectious.

Microplastics are so small that they could potentially be ingested by someone swimming, and sometimes they wash up on the beach as lentil-sized, brightly colored pellets called nurdles that children might pick up and put in their mouths.

It doesn't take many virus particles to make you sick.

And if the viruses then release themselves from the plastic into the water or the sand, their persistence in the environment is increased.

'Hitch-hiking' viruses can survive on microplastics in freshwater, new study finds
Other diseases commonly found in U.S. wastewater systems include:
Campylobacteriosis.
Cryptosporidiosis.
Escherichia coli Diarrhea.
Encephalitis.
Gastroenteritis.
Giardiasis.
Hepatitis A.
Leptospirosis.
Methaemoglobinaemia.
Poliomyelitis.
Salmonellosis.
Shigellosis.
Paratyphoid Fever.
Typhoid Fever, and;
Yersiniosis.
Transmission routes include consuming:
Contaminated water, juices made with water, or other beverages made with contaminated water or ice.
Food that is improperly handled by infected people or carriers.
Vegetables and fruits contaminated by irrigation with polluted water or fertilized with untreated sewage or sewage sludge.
Meat or drinking milk from animals that grazed on contaminated pasture or drank contaminated water.
Fish or shellfish grown, caught, or harvested in contaminated water, and;
Food exposed to flies or vermin that feed on or come into contact with sewage.
Addressing these health challenges will require adopting more robust facility resource reuse/recycle programs as part of broader green cleaning and sustainability initiatives.
Transitioning to Green Sustainable Operations
Transitioning from conventional cleaning methods and business operations will significantly reduce the consumption and disposal of single-use plastics that wind up in the waterways and, in addition to creating tons of hazardous waste pollution, function as a transmission medium for deadly diseases.
This can be accomplished by:
Drafting an implementation plan and green cleaning checklist.
Training service providers and facilities maintenance teams in high-impact green cleaning methods, including safe product and equipment use, handling, and maintenance.
Transparently communicating sustainability initiatives to facility and community stakeholders.
Mapping out and planning ahead for any special needs facility health requirements for vulnerable occupants, and;
Monitoring and reporting on the efficacy of green cleaning programs through ongoing ATP and IAQ testing.
Documented financial incentives for successfully implementing green cleaning programs in office buildings and multi-tenant facilities include:
3.7% higher rents in sustainable buildings vs. conventionally cleaned facilities.
Nearly 10% higher occupancy rates.
5.6% higher lease renewal rates.
Higher tenant satisfaction, and;
A 14% reduction in energy consumption per square foot when compared to similar buildings.
References & Resources
Takeaway
Green cleaning programs reduce environmental waste that contaminates the waterways and, as recent studies have shown, provide transmission media for pathogens to attach to and spread into the food supply.
Successful green cleaning and reuse and recycle programs require:
The proper tools and equipment.
Ongoing service provider training, and;
Transparent communication between all departments and stakeholders.
Onboarding and managing the requisite material and labor resources may prove cost-prohibitive for many organizations.
Outsourcing is a proven method for onboarding highly in-demand cleaning and disinfection services and experience for a fraction of the price of maintaining a similar service in-house.
If you would like more information regarding the effectiveness of high-performance infection prevention and control measures, or if you would like to schedule a free, no-obligation on-site assessment of your facility's custodial needs, contact us today for a free quote!
In Bakersfield, CA, call (661) 437-3253
In Fresno, CA, call (559) 206-1059
In Valencia, CA, or Santa Clarita, CA, call (661) 437-3253
In Palmdale, CA, or Lancaster, CA, call (661) 371-4756