Since the start of the COVID-19 pandemic and mainly since the return of office employees from their work-from-home status, new surface cleaning and occupant hygiene habits have been observed, for which employers should take note.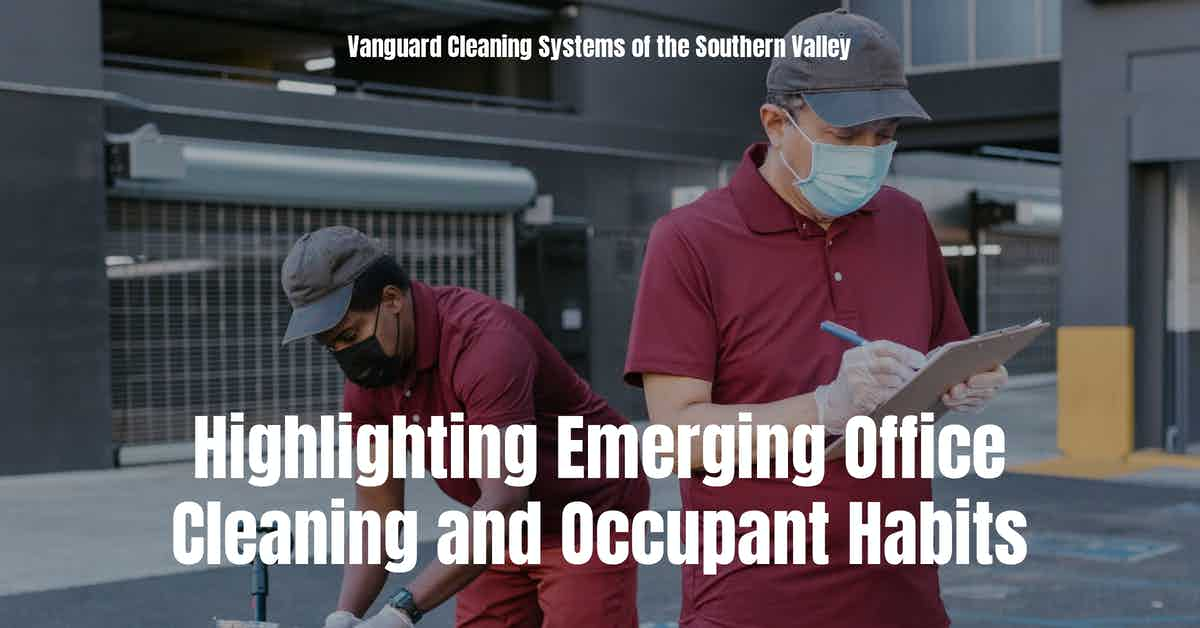 New Survey Takes Note of Emerging Occupant Cleaning and Hygiene Habits
Office worker stress and anxiety resulting from the fear surrounding a potential COVID-19 infection and returning to the workplace is a legitimate challenge business owners must recognize and address.
According to the U.S. Centers for Disease Control and Prevention (CDC);
Fear and anxiety about this new disease and other strong emotions can be overwhelming, and workplace stress can lead to burnout.

How you cope with these emotions and stress can affect your well-being, the well-being of the people you care about, your workplace, and your community.

During this pandemic, it is critical that you recognize what stress looks like, take steps to build your resilience and manage job stress, and know where to go if you need help.

Employees: How to Cope with Job Stress and Build Resilience During the COVID-19 Pandemic
As a result of this stress, several trends regarding office worker demands and desires for surface and personal hygiene have recently emerged.
A recent Healthy Handwashing survey conducted by the Bradley Corp assessed concerns regarding the coronavirus and the return to the workplace, in addition to the personal and workspace hygiene habits of 1,035 US adults.
Of those who responded, the study reported that:
86% bring a mask to work.
73% are fully vaccinated.
66% carry their own hand sanitizer.
39% have their own disinfectant wipes.
29% bring their own disinfectant spray.
73% worry about getting the coronavirus vs. 67% of the general population.
70% have maintained more rigorous handwashing habits vs. 59% of the general population.
51% avoid shaking hands.
42% social distance in meetings.
36% video conference instead of meeting in person.
66% stated they wash their hands more frequently since returning to the office.
50% said they wash their hands six or more times a day.
62% reported that their employers had made updates and changes to the restrooms, including more frequent cleanings.
79% underscored the importance of touchless fixtures in bathrooms.
66% said they use a paper towel to avoid touching restroom door handles, the toilet flusher, and faucet handles.
33% stated they use their foot to flush the toilet.
53% favored their employer's response to the pandemic and implementation of safety measures, stating it made them feel valued.
35% said such actions on the part of their employer made them feel more optimistic about the company.
Source:
Enhanced Cleaning Methods Address Emerging Office Employee Workspace and Hygiene Habits
The implementation of enhanced cleaning and targeted disinfection methods will help businesses address office workers' emerging concerns and habits.
Focus on practices that maintain or improve indoor air quality.
Start with a clean first approach by removing clutter, then dust, then clean.
Use a targeted and strategic approach to fomite disinfection.
Research and invest in Safer Choice products.
Where possible, leverage team cleaning over zone cleaning to increase efficacy and improve outcomes.
Maintain high levels of staff competency through ongoing training.
Implement porter services to disinfect fomites and maintain restroom cleanliness and functionality.
Install touchless restroom fixtures.
Implement high-performance entry and walkway matting.
Upgrade your floor care service, and;
Put up signs and send out emails detailing your efforts to office staff.
Takeaway
Implementing enhanced cleaning services with demonstrable, highly desirable outcomes is critical for not only addressing emerging office labor concerns and demands, but positioning your organization to succeed in the coming years.
The combination of vaccinations, social distancing, and other measures has slowly pushed the pandemic numbers down.
However, new variants continue to emerge, old threats such as influenza remain, and worker anxiety is not going anywhere soon.
Taking proactive steps to improve facility hygiene will help reduce occupant stress, increase workforce engagement, and, if done correctly, could significantly improve office worker output and your organization's financial outlook.
Outsourcing is a proven method for quickly onboarding highly in-demand custodial and facilities maintenance services at a fraction of the cost of managing a similar service in-house.
If you would like more information regarding the effectiveness of high-performance infection prevention and control measures, or if you would like to schedule a free, no-obligation onsite assessment of your facility's custodial needs, contact us today for a free quote!
In Bakersfield, CA, call (661) 437-3253
In Fresno, CA, call (559) 206-1059
In Valencia CA, or Santa Clarita CA, call (661) 437-3253
In Palmdale, CA or Lancaster, CA, call (661) 371-4756