Making your office cleaning procedures leaner and greener will not only save your organization time and money, but will also improve occupant health and performance.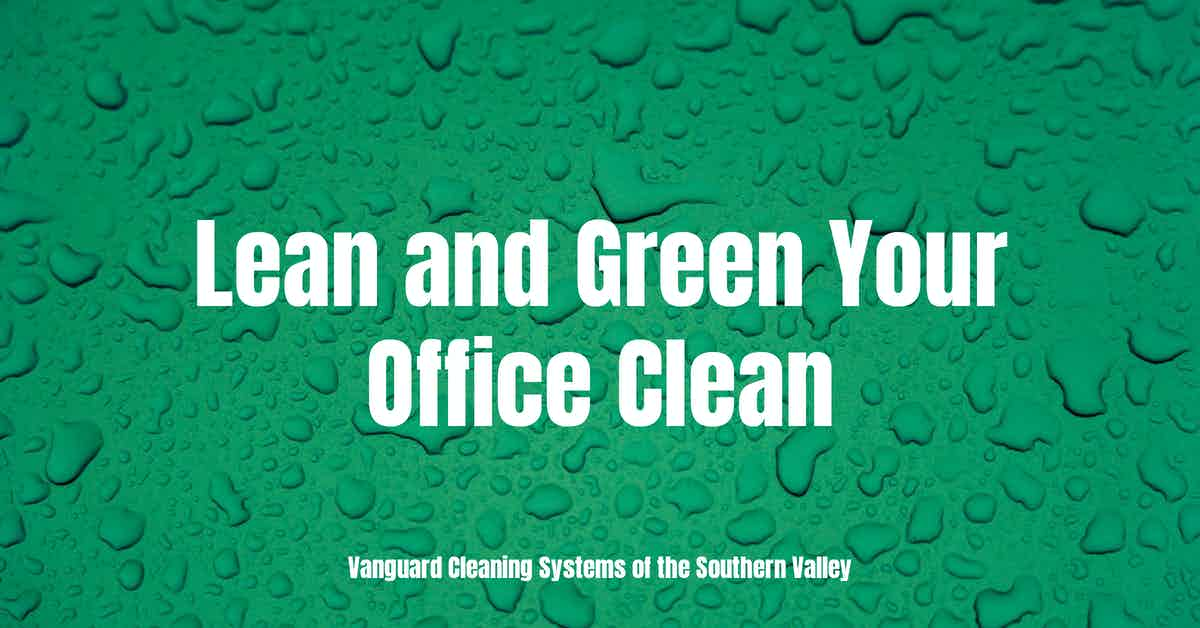 Lean Green Office Cleaning
Leaning up your office cleaning does not translate into barebones minimalism--it means refining processes to increase positive, health-focused outcomes that create higher value for facility occupants and organizational stakeholders.
Going lean is a proven method for increasing profits, workforce engagement, and occupant wellness--critical components necessary to navigate the shifting post-pandemic landscape.
According to Beekeeper;
No matter what type of business you run, cutting costs and operating more efficiently should be a top priority.

It's called lean operations, and it's a key strategy to improving internal functions, creating a productive and engaged workforce, and increasing profits.

As companies face increasing competition at home and abroad, finding better, faster, less expensive ways to operate is necessary to remain relevant and stay in business.

The concept of lean operations is a method company's have been using for almost a century.

The ROI of lean operations promises greater employee engagement and a bigger bottom line.
Green Cleaning is Critical to Lean Business Operations
It is difficult to imagine a comprehensive lean business plan that does not include green cleaning.
For any business to sustain itself, the organization should work on a clearly stated mission and vision statement.

Along with strong business leadership, manpower knowledge, and technology, organizations should delve into people-friendly products and services constantly.

The practice of Lean, Green, and clean activities, therefore, ensures that all processes, products, and manufacturing activities adequately address current environmental concerns while maintaining a profit.
Certified green cleaning and disinfectant products are shipped and stored in bulk, which means:
Less storage space is required to house the containers, which frees up floor space for other requirements.
The products last longer in storage and therefore don't have to be purchased as often, and;
Due to the product's longevity and ease of storage, shipping costs and associated management overhead is reduced.
Green cleaning methodologies focus on occupant health first, which means cleaning scientifically as opposed to just for appearance.
This approach complements lean business operations by focusing on cleaning and targeted disinfection as opposed to continuous widespread disinfectant applications, which are expensive, wasteful, potentially hazardous to occupant health, and directly tied to reductions in workforce performance and creativity.
Additionally, green cleaning practices focus on sustainability, which means:
Significantly reduced natural resource use and waste.
Little to no environmental damage.
Maximizing cleaning and disinfectant product use and applications through smart technologies, such as chemical management systems and automated floor scrubbers with built-in AI mapping software.
Affordable Tips to Lean Your Business Operations With Green Cleaning
There are several cost-effective measures your organization can adopt right now that will improve lean efficiency, reduce costs, improve workforce engagement, and increase profits.
Use products that meet the EPAs Safer Choice Standard.
Focus on targeted fomite disinfection.
Purchase products in bulk.
Purchase paper products manufactured from 100% recycled material.
Purchase and increase the use of cleaning equipment that leverages engineered water.
Focus on purchasing products from vendors with published sustainability commitments.
Provide ongoing training for custodial staff to ensure the most effective and efficient use of natural, purchased, and labor resources, and;
Implement team cleaning methods to maximize efficiency, effectiveness, and outcomes.
References & Resources
Takeaway
Adopting green cleaning methods and practices in alignment with lean business operations is a proven method for increasing the quality of workforce output, improving occupant health, reducing costs and overhead, and ensuring a profitable future.
The basics are relatively simple and straightforward for any school or business to adopt and see results.
However, a fully integrated and expertly designed and managed service will take your organization to the next level and all but guarantee its competitive edge as we traverse the post-pandemic and sustainable-focused world.
If you would like more information regarding the effectiveness of high-performance infection prevention and control measures, or if you would like to schedule a free, no-obligation onsite assessment of your facility's custodial needs, contact us today for a free quote!
In Bakersfield, CA, call (661) 437-3253
In Fresno, CA, call (559) 206-1059
In Valencia CA, or Santa Clarita CA, call (661) 437-3253
In Palmdale, CA or Lancaster, CA, call (661) 371-4756