Recent health reports show the rates of COVID Delta variant detections may be flattening, an increase in the number of logged cases of the potentially more transmissible MU variant, and a low rate of influenza-like illnesses being reported.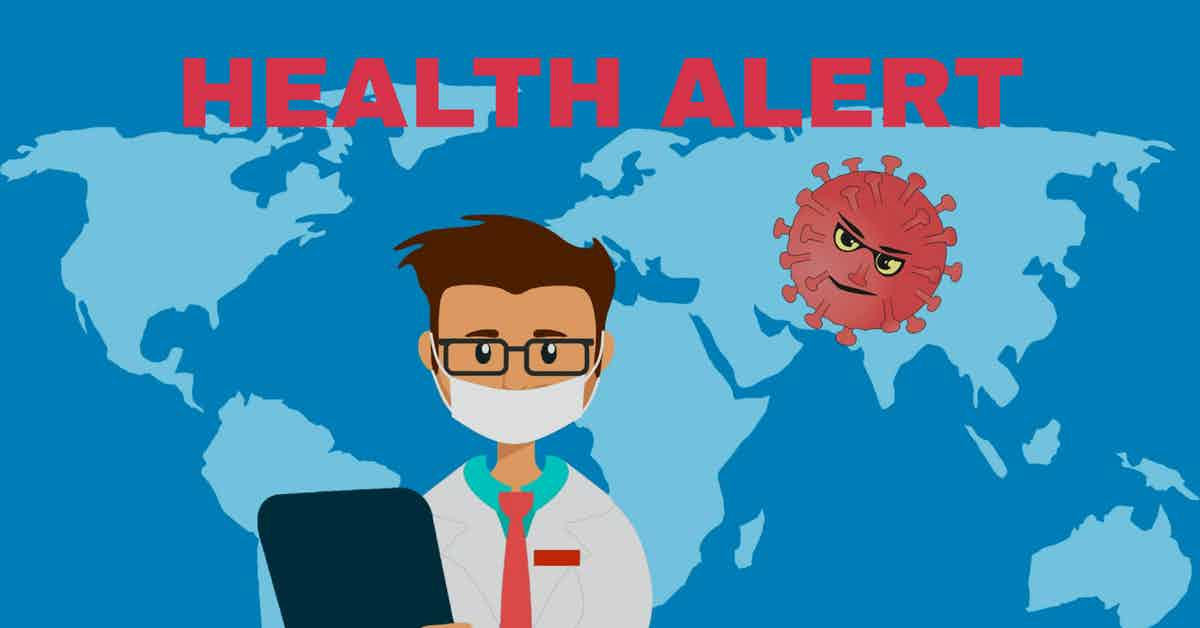 The Latest in Health-Related News for September 2021
In the latest round of health alerts, some relatively good news--reported cases of the SARS-CoV-2 virus in California are flattening, and the Delta variant surge appears to be slowing.
The state is currently reporting 11,800 new COVID cases per day over the last week.
That number is up 7% from last week, but far below the 30% jump in daily cases the week prior--a veritable nosedive from July when there was an 86% weekly increase--and far below the daily average of 45,000 new cases per day during the pandemic peak.
Further statistics show that 7,166 people are currently hospitalized with COVID-19, up 20% from the previous week--well down from the 50% weekly jump in July and far below the peak of 22,000 from last winter.
In related but less encouraging news, the MU variant--listed as a Variant of Interest (VOI) by the World Health Organization (WHO) due to its possible vaccination resistance--was reported in 49 states (all but Nebraska).
Presently, California leads the nation in logged detections of the potentially more transmissible MU variant.
According to Fox News;
The strain, also known as B.1.621, was first identified in Colombia in January and was added to the World Health Organization's (WHO) "variants of interest" list, however, 49 U.S. states and the District of Columbia have since detected the mu variant, with the exception of Nebraska, according to estimates compiled by Outbreak.info.

States with a higher estimated prevalence of the variant include Alaska and Hawaii, though nationwide the variant has been detected in less than 1% of samples.

California logged the highest number of samples containing the mu variant, with at least 384 cases, Newsweek reported, but the total translates to 0.2% of the state's sequenced samples.

As of Sept. 3, Los Angeles County health officials announced 167 mu variant cases sequenced between June and August, with the bulk of mu cases sequenced in July.
Finally, the US Centers for Disease Control and Preventions ILINet State Activity Indicator Map shows California's--and most of the nations--reported instances of influenza-like illnesses to be relatively low.
Nearby states indicate a range of reported activity--from minimal to high--underpinning concerns of a possible twindemic later this year and into 2022.
The CDC, which provides updating information with their "Weekly U.S. Influenza Report" rates jurisdictions on 6-tier scale: Very High, High, Moderate, Low, Minimal, and Insufficient data.

According to findings from Week 34 (ending Aug.28), zero jurisdictions were classified as "Very High", while just two states, New Mexico and Georgia, reported "High" levels of activity. Wyoming, Florida and Texas came in at "Moderate", while the remaining 50 jurisdictions either have "Low", "Minimal", or "Insufficient Data".

Due to a lack of immunity buildup from pandemic shutdowns, public health officials have expressed concern over the possibility of a "Twindemic" — in which the ongoing severity of COVID-19 could combine with a population that doesn't have the conventional immunity built up to combat influenza.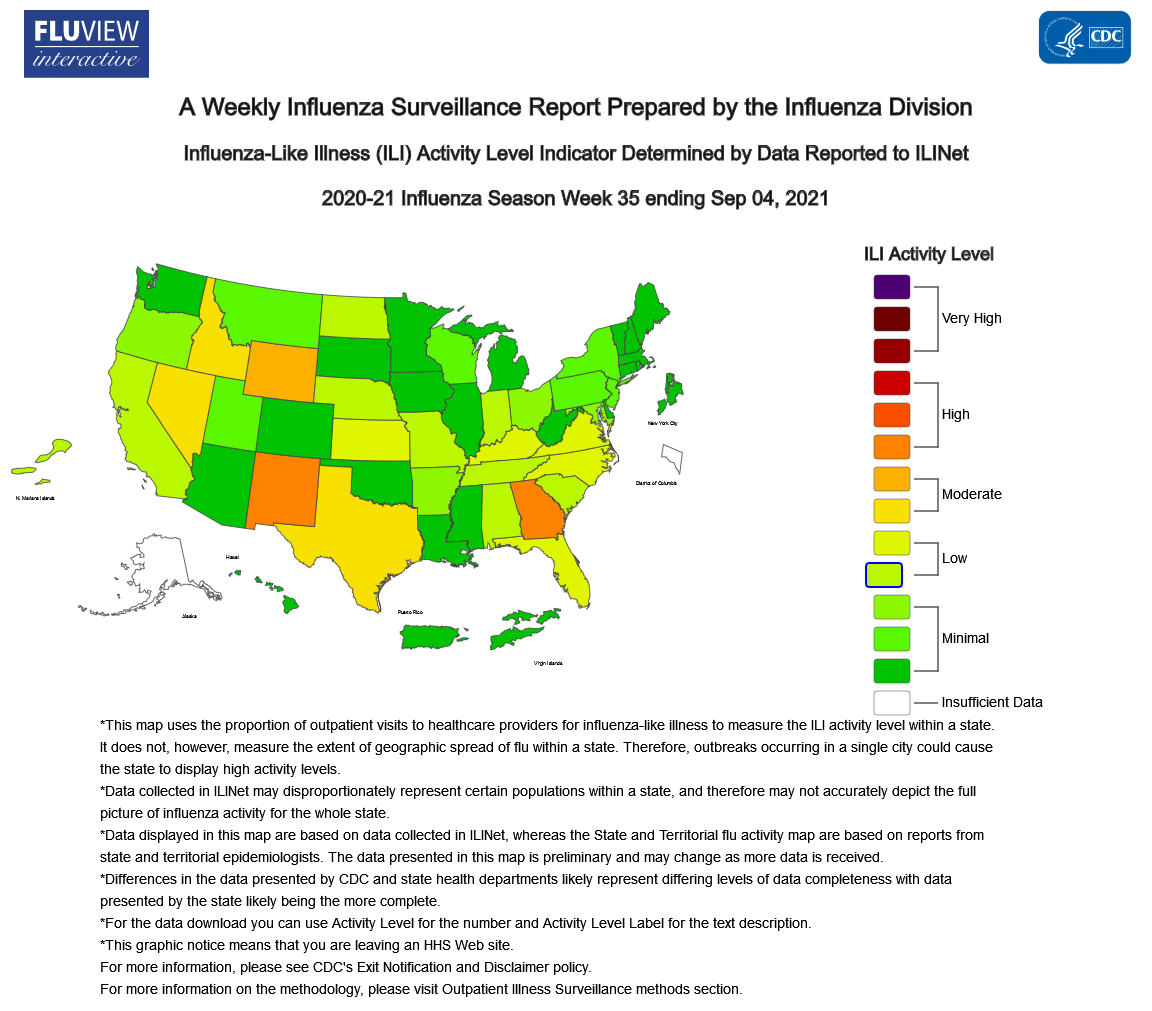 How to Respond
The best method for addressing the potential for a new round of COVID variants amidst an increase in influenza and ILI infections is to maintain the demonstrably effective enhanced cleaning and disinfection protocols, including:
Routinely targeted fomite disinfection and day porter cleaning services.
Daily cleaning of all occupied spaces.
Monitoring local health alerts and increasing the rate of cleaning and disinfection in accordance with community spread.
Deep cleaning and disinfecting with an electrostatic disinfection appliance at least once per week to address and prevent influenza outbreaks.
Installing commercial air cleaning systems.
Increasing the rate of airflow through your facility.
Only using disinfectants published on the Environmental Protection Agency's List-N database to kill SARS-CoV-2, and;
Upgrade restroom fixtures--toilets, urinals, sinks, and dispensers--to touchless systems.
Recent research has shown that employers who commit to these protocols have happier employees--a critical factor in productivity.
With office workers washing their hands more frequently, 62 percent report their employers have made changes or improvements to workplace restrooms in response to the pandemic, including more frequent cleanings.

And, in a sign of today's pandemic times, 79 percent of office workers believe touchless restroom fixtures are important.

Within the workspace, employers have added hand sanitizing stations and encouraged employees to stay home when sick.

Those actions haven't gone unnoticed or unappreciated by employees.

53 percent of office workers say their employer's response to the pandemic and implementation of safety measures makes them feel more valued and 35 percent say it makes them feel more positive about the company they work for.
References & Resources
Takeaway
Given the current transmission rates of both the SARS-CoV-2 virus, including its variants, and the influenza virus, now is the time to take action on a proactive, health-first cleaning and disinfection program that protects occupants and the business.
One key takeaway from the last two years that helped significantly reduce occupant anxiety about entering and staying in a building while increasing their trust in a facility and its management was visible signs of cleaning and disinfection.
Workers and shoppers now want to see the building and its facilities being cleaned while they are there.
They want those in charge to regularly communicate the steps they are taking to protect occupants in simple language.
Programs of that nature, on that level, can be cost-prohibitive for many organizations.
Outsourcing is a proven method for rapidly onboarding critical and in-demand protocols, skills, and tools at a fraction of the cost of implementing comparable in-house systems.
If you would like more information regarding the effectiveness of high-performance infection prevention and control measures, or if you would like to schedule a free, no-obligation onsite assessment of your facility's custodial needs, contact us today for a free quote!
In Bakersfield, CA, call (661) 437-3253
In Fresno, CA, call (559) 206-1059
In Valencia CA, or Santa Clarita CA, call (661) 437-3253
In Palmdale, CA or Lancaster, CA, call (661) 371-4756