Commonly touched surfaces in public facilities--referred to as fomites--are surprisingly difficult to keep clean for several reasons, all of which highlight the importance of regular cleaning and disinfection services to protect facility occupants from passing or acquiring an illness.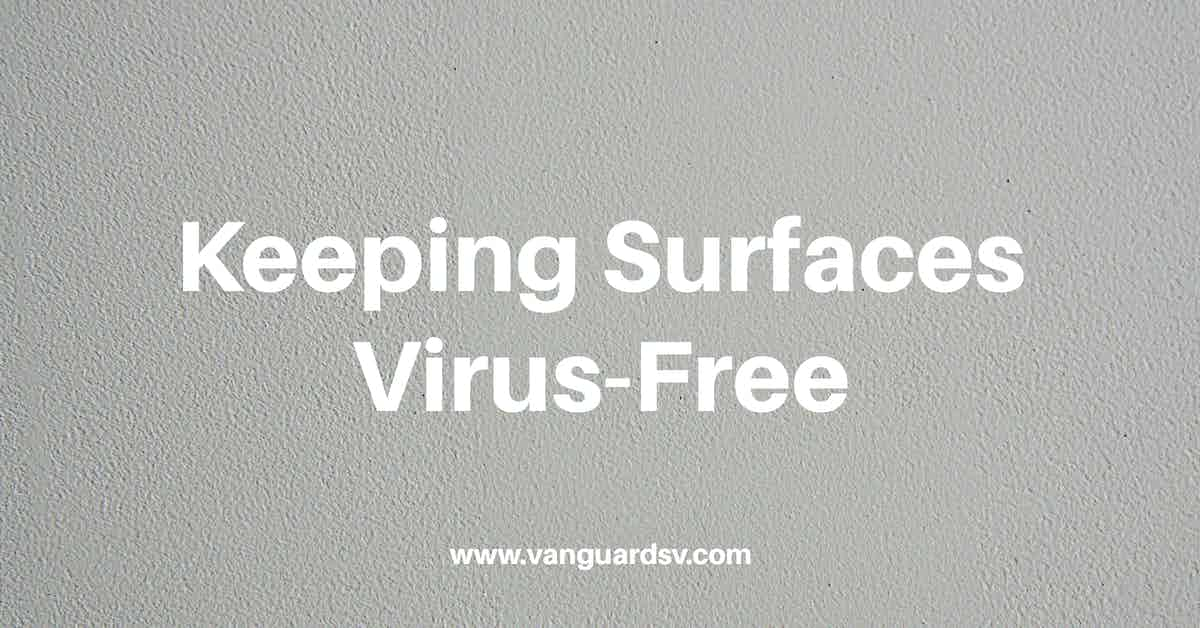 The Challenge of Maintaining Surface Cleanliness in Public Facilities
Maintaining surface hygiene in public facilities is subject to several challenges--primarily:
Insufficient cleaning and disinfection frequencies.
Poor occupant hand hygiene, and;
Low-quality cleaning standards and practices.
Take, for example, a recent study conducted by researchers from Ohio State University at a small veterinarian's office.
The researchers marked several surfaces with a fluorescent dye that was only visible under a black light and then checked around the office every 24 hours for 5 days.
According to the results of the study;
All in all, the results were rather concerning.

On average, only about half of the surfaces were sufficiently cleaned over the course of the study.

Moreover, surfaces often touched by humans, such as computers and keyboards, medical equipment, and dog leashes, were cleaned less often than other areas primarily touched by animals only.

Look, Don't Touch: Study Illustrates How Hard It Is To Keep Surfaces Virus-Free
Toilet Cleanliness and Public Safety
Germs enter a public facility in several ways, including:
Infected humans.
On the bottom of our shoes.
On our hands, and;
From the restroom.
That's right--a major conveyor of germs and bacteria come from facility restrooms, and toilet plumes are coming under increasing scrutiny as the likely culprit.
Computer simulations conducted by researchers at Yangzhou University in China found that toilet and urinal plumes rapidly spread clouds of water combined with germs, including SARS-CoV-2, bacteria, urine, and feces.
Researcher Xiangdong Liu says the particles coming from a urinal flush "manifests an external spread type, with more than 57% of the particles traveling away from the urinal."

The study author reveals this spray hits urinal users in the thigh in just 5.5 seconds.

Spray from a normal toilet reaches higher than the thigh, but it takes about 35 seconds to hit a person.

Wear a mask in the men's room: Urinals can spray you with viruses, including COVID-19, in 5 seconds!
Hands and Surface Hygiene
Clean hands save lives by stopping the spread of germs and bacteria.
As a result of the pandemic, handwashing compliance increased dramatically across the globe.
However, according to one study of 2,000 British adults, 1 in 8 of those surveyed reported that they aren't washing their hands after using the bathroom.
According to Family and Safety Health;
Although the majority of adults say they're washing their hands more often since the COVID-19 pandemic began, 12% report they don't wash their hands after using a public or private restroom, results of a recent survey out of the United Kingdom show.

Even amid pandemic, some people still not washing their hands, UK survey reveals
When combined with other negative behaviors, such as;
Taking your cellphone into the restroom with you;
Eating at your desk, and;
Putting your phone in your mouth;
It is easy to see how germs can spread so rapidly in any facility, especially one where cleaning and disinfection frequencies and practices fall short of the mark.
Tips for Maintaining Surface Hygiene in Public Facilities
Identify commonly touched spots throughout your facility.
Wipe down those locations with a disinfectant wipe multiple times per day.
Create a cleaning checklist that details how each area of a building should be cleaned, including the products and tools that should be used.
Institute team cleaning, and cross-train members according to their skills and aptitude.
Use signs to encourage occupant hand washing and personal hygiene practices.
Upgrade restrooms to touchless technologies and consider placing lids on toilets.
Supply occupants with hand sanitizer.
Restrict occupant dining to dedicated areas of a facility, and;
Provide occupants with disinfectant wipes to sanitize their electronic devices.
References & Resources
Takeaway
Facility hygiene is a public health and safety issue.
Poor occupant hygiene habits combined with insufficient cleaning practices and frequencies contribute to the spread of dangerous illnesses resulting in preventable deaths.
Instituting a high-performance cleaning program focused on occupant health and combining that with signage reminding occupants of the consequences of not washing their hands is a proven method for increasing facility sanitation and safety.
If you would like more information regarding the effectiveness of high-performance infection prevention and control measures, or if you would like to schedule a free, no-obligation onsite assessment of your facility's custodial needs, contact us today for a free quote!
In Bakersfield, CA, call (661) 437-3253
In Fresno, CA, call (559) 206-1059
In Valencia CA, or Santa Clarita CA, call (661) 437-3253
In Palmdale, CA or Lancaster, CA, call (661) 371-4756