After roughly a year of pandemic-fueled lockdowns, quarantines, and closures, the U.S.--due in large part to the efforts by and lessons from the custodial industry--is nearing a stage where reopening safely is possible and realistic on a large-scale.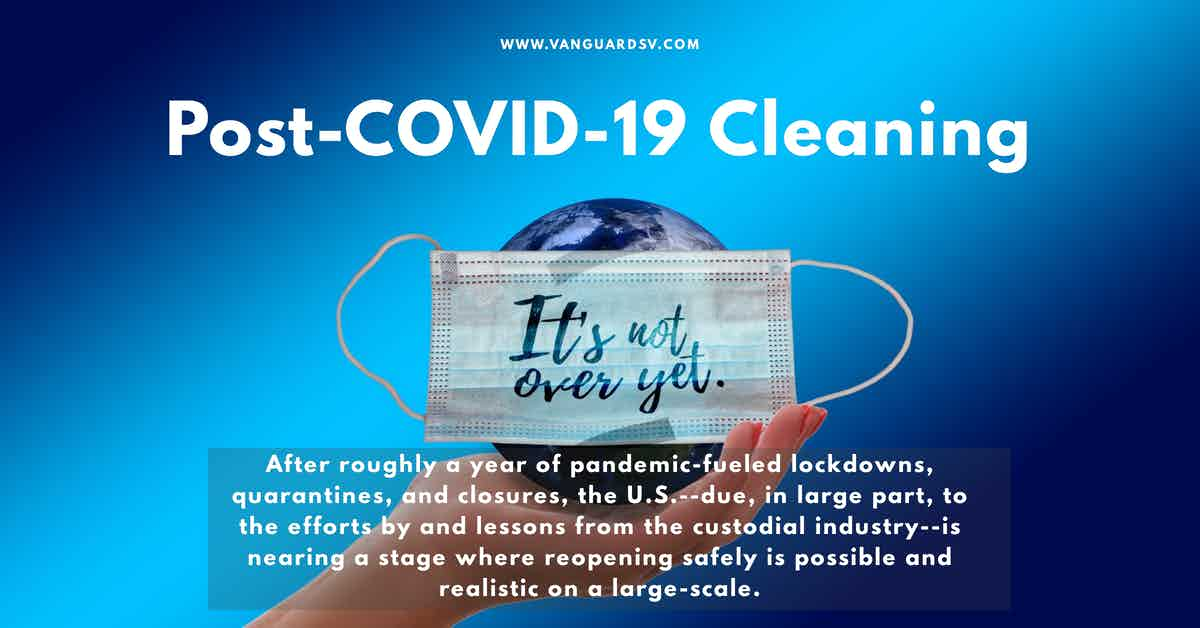 Commercial Cleaning Post-COVID-19
The SARS-CoV-2 outbreak has gone on for more than a year, and we have learned a great deal during that time.
One of the most valuable lessons, and one likely to stick with us for generations to come, is the value of cleaning for health and disease prevention over appearance.
In addition to lessons learned regarding the core focus of custodial activities, the methods and tools employed in the process have improved dramatically over the last year.
Ultimately, what we really see, is that the success of any cleaning intervention and infection prevention and control program will depend heavily on the training and retention of a skilled labor force combined with the cooperation of the facilities occupants.
Cleaning for Health
Before the pandemic, cleaning for health before facility appearance was a trending topic but not a mainstream concern.
It is the standard expected by pretty much everyone in any industry, with little to no exception.
But why is surface cleaning for infection prevention and control so important?
According to the American Cleaning Institute:
Germs are most often spread by hands through person-to-person contact.

Germs can enter our bodies through the mouth, nose, eyes, and breaks in the skin without our even knowing we've been infected.

Poor personal hygiene by food handlers is the second leading cause of foodborne illness.

Americans spend about $5 billion each year on their colds - about $3 billion on doctors' visits and $2 billion on treatments.

An estimated 60 million days of school and 50 million days of work are lost annually because of the common cold.

Some 5.5 million visits to doctors' offices each year are due to skin infections.

Germs can be transferred from inanimate surfaces to hands and vice-versa.

Some germs can live on dry surfaces (such as toys) for several hours and moist surfaces (like bathroom sinks) for up to three days.

Salmonella can survive freezing and can survive on dry surfaces for at least 24 hours.
The How and Why Behind Enhanced Cleaning and Targeted Disinfection
Enhanced cleaning and targeted disinfection aren't just fancy buzzwords coined by slick marketing teams to capture a captive audience.
They are terms that distinguish high-performance services from run-of-the-mill conventional cleaning methods that are increasingly tied to the spread of germs, dirt, and bacteria instead of their removal.
This approach includes applying the correct product for the right reason, as opposed to overapplying dangerous levels of bleach to every surface multiple times per day--a well-documented issue that resulted in numerous health and safety issues during the pandemic, especially where the U.S. Centers for Disease Control and Prevention stated clearly that increased wide-spread disinfection services were not necessary to combat SARS-CoV-2.
What is recommended, and what has proven highly-effective, is targeted disinfection of fomites--commonly touched inanimate objects that, due to the number of germs and bacteria typically found on a person's hand, tend to be highly contaminated and a major vehicle for pathogen and pathogenic bacteria transmission.
Training, Retention, and Cooperative Cleaning
It is no secret that the custodial industry faces major challenges regarding skilled labor retention.
One of the key requirements routinely cited for retaining a skilled and knowledgeable custodial labor force is regular ongoing training in modern tools and techniques.
Retaining a skilled custodial team ensures consistently high cleaning outcomes and occupant satisfaction--two criteria considered mandatory for a productive workplace.
Additionally, facility occupants' cooperation regarding trash and workstation clutter removal--commonly referred to as cooperative cleaning--simplifies cleaning tasks and goes further towards increasing high-level cleaning outcomes.
The process is relatively simple:
Occupants adhere to a clean desk policy.
Remove their office trash to a central location for disposal, and;
Wipe down their own communication and electronic devices with provided disinfectant wipes.
Takeaway
Moving onward and forward, post-COVID-19 will require a heavy emphasis on commercial cleaning practices and hygiene intervention strategies with a health-first focus.
Maintaining long-term targets with high-level outcomes will require organizations to retain a well-trained staff with access to the best cleaning and disinfection tools and products.
Larger corporations may be able to facilitate that requirement in-house.
Still, smaller organizations or businesses that have been hurt financially by the protracted lockdowns will benefit greatly by outsourcing to an experienced third-party with the personnel, skills, and equipment necessary to rapidly onboard vital cleaning and disinfection services.
If you would like more information regarding the effectiveness of high-performance infection prevention and control measures, or if you would like to schedule a free, no-obligation onsite assessment of your facility's custodial needs, contact us today for a free quote!
In Bakersfield, CA, call (661) 437-3253
In Fresno, CA, call (559) 206-1059
In Valencia CA, or Santa Clarita CA, call (661) 437-3253
In Palmdale, CA or Lancaster, CA, call (661) 371-4756