Due to the extraordinary measures undertaken by schools, businesses, consumers, and custodial workers, some medical professionals are issuing early predictions--somewhat validated--regarding a significantly reduced impact from the 2020-2021 influenza season.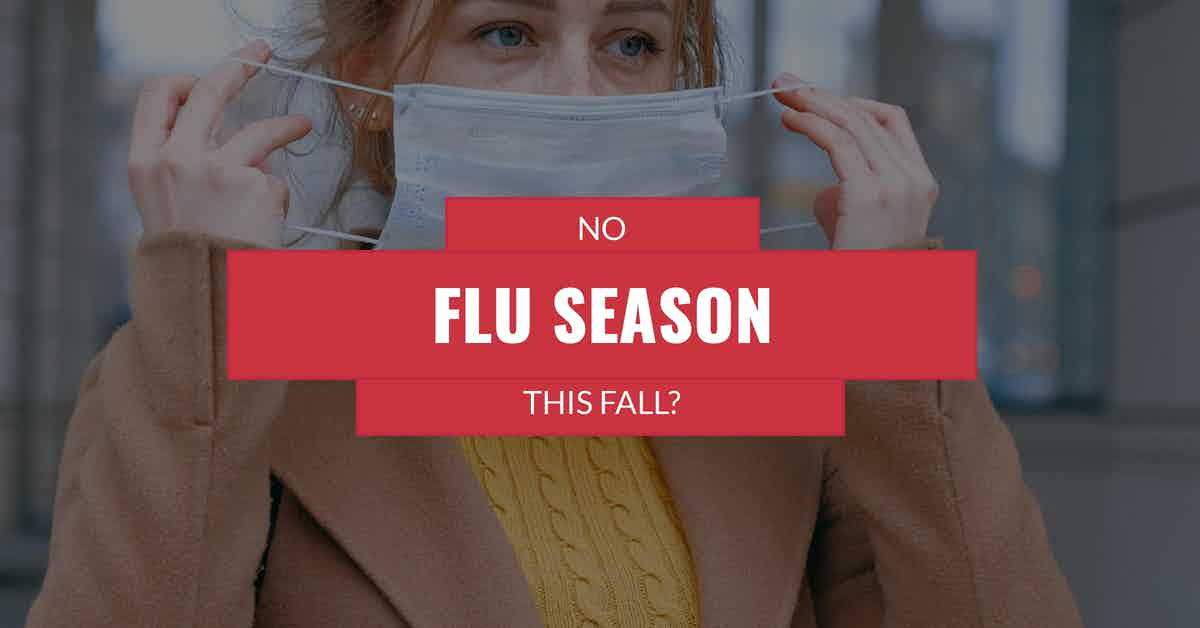 Will There Be A Flu Season This Fall?
In recent years, the cold and flu season in the U.S. had been devastating--breaking the threshold required to be classified as an epidemic for five consecutive seasons (the numbers for the 2019-2020 influenza season are, for obvious reasons, still not available).
According to the U.S. Centers for Disease Control and Prevention;
During the 2017-2018 season, the percentage of deaths attributed to pneumonia and influenza (P&I) was at or above the epidemic threshold for 16 consecutive weeks.

During the past five seasons, the average number of weeks this indicator was above threshold was 11 (range of 7 to 15 weeks).

Nationally, mortality attributed to P&I exceeded 10.0% for four consecutive weeks, peaking at 10.8% during the week ending January 20, 2018.

As it does for the numbers of flu cases, doctor's visits and hospitalizations, CDC also estimates deaths in the United States using mathematical modeling.

CDC estimates that from 2010-2011 to 2013-2014, influenza-associated deaths in the United States ranged from a low of 12,000 (during 2011-2012) to a high of 56,000 (during 2012-2013).
Estimates for the 2019-2020 influenza season, as of April 04, 2020, amounted to approximately:
39 million to 56 million hospitalizations.
18 million to 26 million influenza-related medical visits.
410 thousand to 740 thousand hospitalizations, and;
24 thousand to 64 thousand deaths.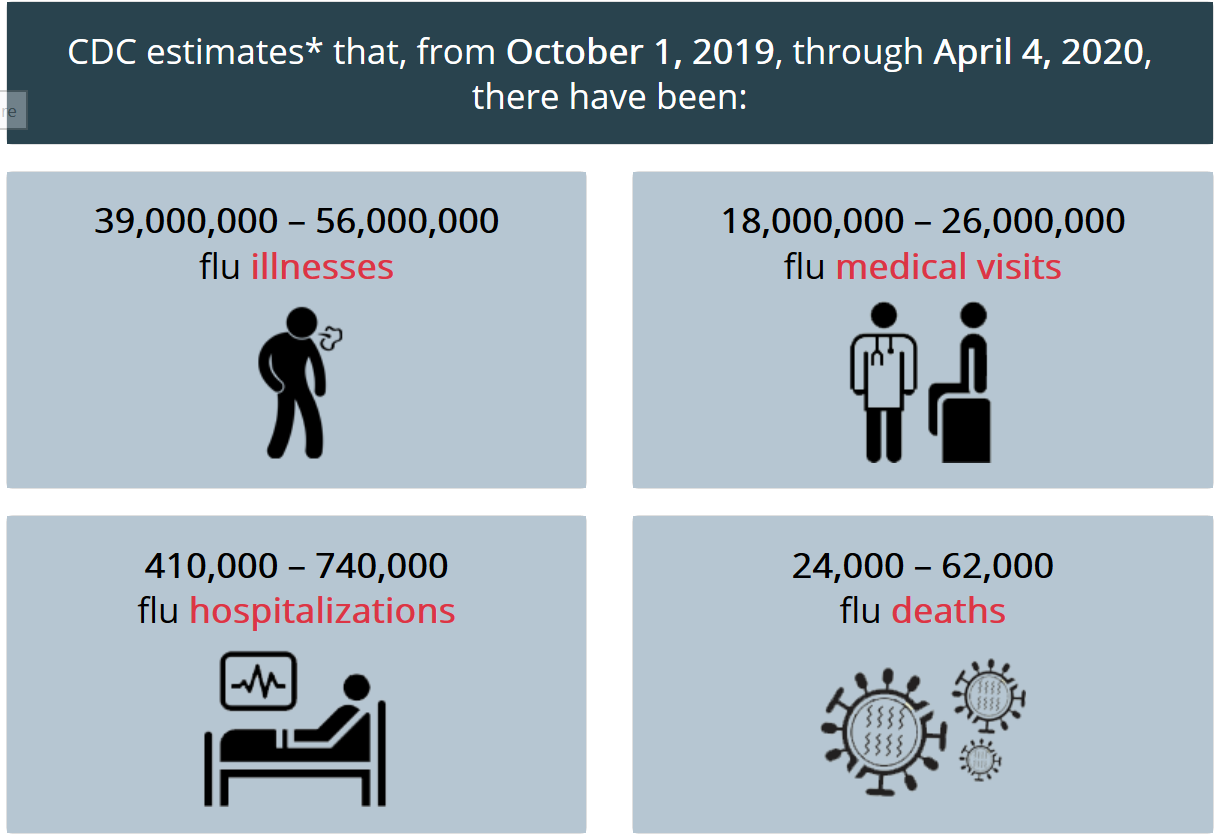 However, due to the widespread and extraordinary response to the COVID-19 pandemic, including:
Increased enhanced cleaning and touchpoint disinfection,
Improved hand hygiene and hand awareness,
Social distancing,
Mask wearing, and;
Remote working;
several medical professionals have begun to predict a near non-existent 2020-2021 influenza season.
The implementation of social distancing and improved infection control measures in the United States and around the globe due to COVID-19 is the reason why there could be a potential drop in flu cases during the 2020-2021 season.

Flu cases are already down in several countries.

Australia, which is right now in its winter season, is reporting significantly less hospital admissions due to the flu for this time of year.

Early reports of the flu are also down in South Korea, Canada, China and the United Kingdom.
However, as with all things 2020, the consequences of not having a typical influenza season could prove dire in the coming years.
Some experts worry a lack of flu infections this year could negatively impact immunity in future flu seasons.
According to Ben Marais, an infectious disease expert at the University of Sydney;
It may be that if we don't have infections this season there will be more vulnerable people next season, that is definitely something that we will have to carefully monitor.

Flu may be "nonexistent this fall" due to COVID-19 hygiene measures, doctor says
Protecting Occupant Health and Safety
The most extreme measures taken in response to the SARS-CoV-2 emergency aside, many precautions and recommendations, such as:
High levels of hand hygiene compliance,
Increased attention to hand placement awareness in public spaces,
Improved cleaning focused on occupant health,
Touchpoint disinfection based on occupancy and use as opposed to calendar schedules, and;
Allowing workforces to operate from home when ill to protect the health of other employees;
are the same precautions and recommendations health professionals have recommended for years to reduce the spread of influenza, norovirus, and rhinovirus during the fall and winter.
Combined with widespread influenza vaccinations, a reduction in pneumonia and influenza-related infections, hospitalizations, and deaths could become the new normal.
Takeaway
The widespread increase in enhanced cleaning and infection prevention and control measures undertaken nationwide has resulted in the likely reduction in influenza and influenza-related infections, hospitalizations, and deaths going into 2021.
The reduction--currently playing out in the southern hemisphere--has some healthcare professionals concerned about potential spikes in influenza-related challenges in subsequent years due to a possible decrease in immunity.
However, as any experienced and dedicated custodial service provider will tell you, many of the currently recommended social distancing and enhanced cleaning practices presently being employed in schools and businesses are essentially what is recommended during a typical cold and flu season by the WHO and CDC.
If you would like more information regarding the effectiveness of high-performance infection prevention and control measures, or if you would like to schedule a free, no-obligation onsite assessment of your facility's custodial needs, contact us today for a free quote!
In Bakersfield CA, call (661) 437-3253
In Fresno CA, call (559) 206-1059
In Valencia CA, or Santa Clarita CA, call (661) 437-3253
In Palmdale CA, or Lancaster CA, call (661) 371-4756