Recent evidence suggests the possibility that SARS-CoV-2 may spread through the air in an aerosolized form, potentially complicating the greatly anticipated reopening of schools and businesses.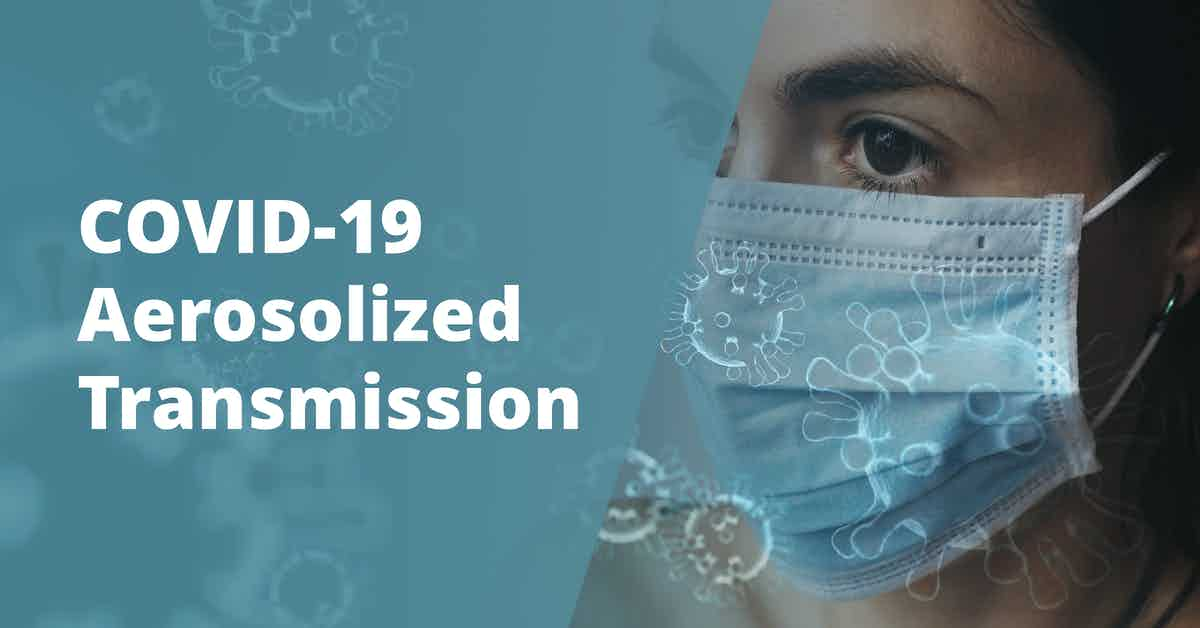 Addressing the Potential for the Airborne Transmission of SARS-CoV-2
First, before we begin, a point of note--all current studies and subsequent recommendations regarding COVID-19 are incomplete, will likely take years to unpack fully, and are intended by far and large to protect the public welfare.
By no means is the 'science unanimous' in any regard.
With that said, a letter accepted and published by Oxford Academic directed to the International Laboratory for Air Quality and Health, WHO Collaborating Centre and the Institute for Applied Environmental Health, University of Maryland School of Public Health--subsequently signed by more than 200 'experts' in the field--encouraged the World Health Organization to update its recommendations for dealing with SARS-CoV-2 to include advice regarding the seemingly probably airborne transmission of the pathogen over several meters.
In brief, the letter states;
We appeal to the medical community and to the relevant national and international bodies to recognize the potential for airborne spread of COVID-19.

There is significant potential for inhalation exposure to viruses in microscopic respiratory droplets (microdroplets) at short to medium distances (up to several meters, or room-scale), and we are advocating for the use of preventive measures to mitigate this route of airborne transmission.

This problem is especially acute in indoor or enclosed environments, particularly those that are crowded and have inadequate ventilation relative to the number of occupants and extended exposure periods.

The measures that should be taken to mitigate airborne transmission risk include:

Provide sufficient and effective ventilation (supply clean outdoor air, minimize recirculating air), particularly in public buildings, workplace environments, schools, hospitals, and aged care homes.

Supplement general ventilation with airborne infection controls such as local exhaust, high-efficiency air filtration, and germicidal ultraviolet lights.

Avoid overcrowding, particularly in public transport and public buildings.
Methods of COVID-19 Transmission
Presently, there are three known, or believed to be known, methods of transmission of the SARS-CoV-2 virus:
Fomite - Contact with a contaminated surface, which can be countered with enhanced cleaning, increased touchpoint disinfection, and high levels of hand hygiene compliance.
Droplets - Particles ranging in size from 5-10 microns thick are expelled from a contaminated individual through a cough or sneeze, then inhaled by others within 1 or fewer meters' distance, and is commonly combatted via social distancing and the age-old adage of 'if you're sick or have symptoms, stay home,' and;
Airborne - Droplet nuclei smaller than 5 microns in diameter that are light enough to be carried on air currents and spread from a contagious person to others via inhalation.  Presently there are no official recommendations from the WHO, but the U.S. Centers for Disease Control and Prevention already recommends increased ventilation via HVAC systems and commercial-grade HEPA filtered air cleaners.
Practical Safety Precautions
Clean regularly with soap-based detergents and water following high-performance cleaning methods, which include cross-contamination prevention.
Wipe down fomites--high-contact touchpoint surfaces--with a disinfectant according to your facility's occupancy and use, making certain to follow all health, safety, and handling guidelines.
Test your facility's ventilation system to ensure it is adequate to support a healthy workplace or learning environment--if not, take steps to remediate that issue immediately.
Avoid large gatherings inside of facilities with low-quality ventilation systems.
Wash your hands regularly with soap and water, using hand sanitizer sparingly, and pay attention to what you touch in public spaces.
References & Resources
Takeaway
As the pandemic progresses and more studies are completed and data is analyzed, it appears that COVID-19 behaves exactly like any other pathogen in its method of transmission and can be combatted through common-sense cleaning, personal hygiene, and avoiding large crowds of people inside poorly ventilated spaces.
These recommendations are not new and not specific to SARS-CoV-2.
Given the volume of information going around, ranging from ineffective to wildly dangerous, we highly recommend consulting with and outsourcing your facility's cleaning and infection prevention services to a qualified service provider.
If you would like more information regarding the effectiveness of high-performance infection prevention and control measures, or if you would like to schedule a free, no-obligation onsite assessment of your facility's custodial needs, contact us today for a free quote!
In Bakersfield CA, call (661) 437-3253
In Fresno CA, call (559) 206-1059
In Valencia CA, or Santa Clarita CA, call (661) 437-3253
In Palmdale CA, or Lancaster CA, call (661) 371-4756