Cleaning elementary schools is challenging under the best of circumstances, but with virulent outbreaks stacking up on top of each other and schools closing left and right, stepping up the quality and frequency of school cleaning, as well as infection prevention and control services, is more critical than ever.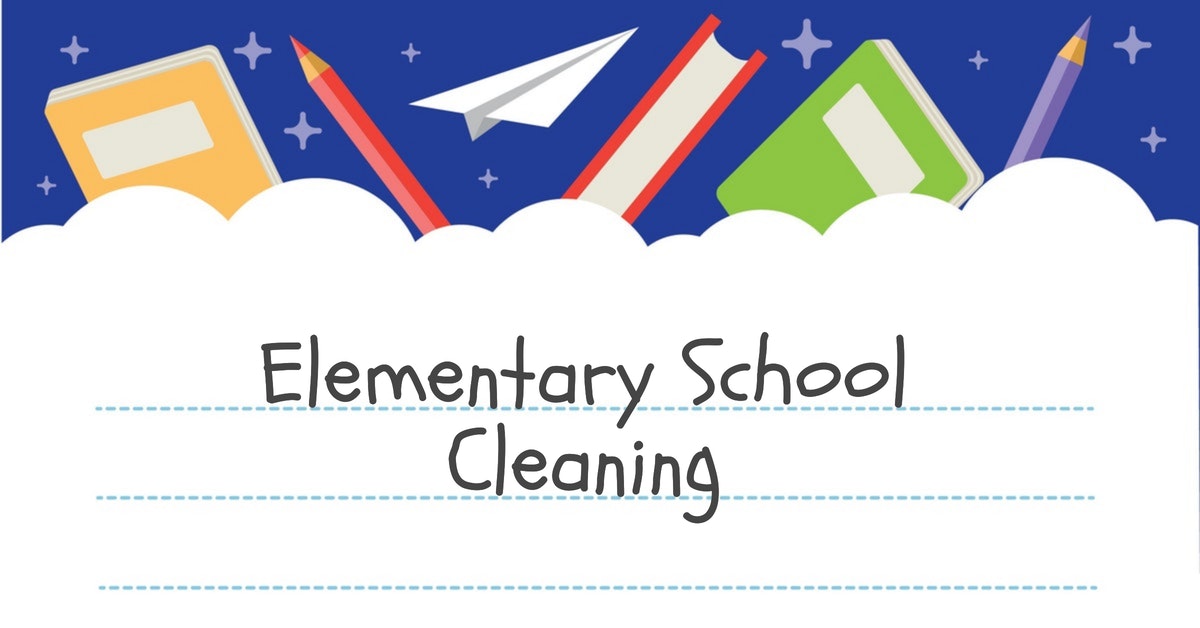 Elementary School Cleaning Services
Due to recent coronavirus outbreaks, many schools across America are closed for several weeks to ensure social distancing and to facilitate deep cleaning and disinfection services.
COVID-19 aside, every year students are hit with a barrage of colds and flu-like illness, leading to a high number of absences and costing billions per year in lost funding.
According to the Educational Facilities Clearinghouse;

Nearly 22 million school days are lost annually to the common cold.

Thirty-eight million days are lost each school year to influenza.

Elementary students contract 8 to 10 bouts of colds or flu each school year.

Student absences lead to a higher number of dropouts.

[...] teacher absences cost school districts an estimated $4 billion a year.

[...] state information indicates that localities lose billions and billions to student absences because most state funding formulas are based on student attendance.
One of the most commonly cited reasons for the ongoing challenge of classroom-acquired illness is the absence of needed cleaning services personnel, training, and equipment, resulting in classes covered in deadly germs, such as E.coli and MRSA--ultimately being dubbed the 'Germiest Buildings in America.'
Every weekday nearly 60 million Americans - one-fifth of the entire population - spend eight hours trapped inside what some experts consider the "Germiest" place in America.

Trapped inside this building with them are millions of invisible enemies, seeking to make them ill or, sometimes, kill them.
Elementary Classroom Cleaning for Health
Cleaning elementary classrooms and school facilities to ensure student health requires attention to three general areas--floors, touchpoints, and restrooms.
Floor Maintenance
General floor care and maintenance should be performed every day during the regular school session, and include:
Sweeping and dust mopping hard floors, and;
Vacuuming carpets, rugs, and floor mats.
Hard floors should be wet mopped at least once per week, more depending on traffic and soiling, and restroom floors should be scrubbed--preferably with a vacuum scrubber.
At the end of the year, carpeted floors should be professionally sanitized--either shampooed or steam cleaned.
Hard floors should be stripped, waxed, or refinished, depending on the surface.
Restroom Maintenance
Restrooms should be cleaned every day, including;
Urinals.
Toilets.
Floors.
Stalls.
Trash cans.
Sinks, and;
Counters.
An all-purpose cleaner with microfiber can typically get the job done for daily maintenance, but for heavy-traffic facilities, high-pressure no-touch systems generally are the best route.
Touchpoint Cleaning
Touchpoints--often referred to as fomites or germ hot spots--are the most crucial component of any cleaning for health program and should be wiped down at least once per day while class is in session.
The most common touchpoints in a classroom include:
Desks.
Mice and keyboards.
Countertops.
Tables.
Chair backs, and;
Faucet buttons and spigots.
References & Resources
Takeaway
Maintaining the health and hygiene of elementary school classrooms and facilities is vital for the safety of students and faculty, more so now than in the recent past due to increasingly erratic influenza and norovirus outbreaks and increasing instances of adenovirus outbreaks, as well as mounting concerns regarding the spread of COVID-19 virus.
Proactive cleaning for health measures should start before the outbreak season and progress until the spring break, which is typically used for deep cleaning services before the end of the school session, where summer cleaning services go into full swing.
While budget constraints can hamper day-to-day cleaning operations, a combination of touchpoint cleaning in the classroom and outsourcing deep cleaning and infection prevention and control services to a highly-trained and experienced service provider can help increase attendance and reverse the course of cash hemorrhaging out of the district due to increased school absences.
If you would like more information regarding the effectiveness of high-performance infection prevention and control measures, or if you would like to schedule a free, no-obligation onsite assessment of your facility's custodial needs, contact us today for a free quote!
In Bakersfield CA, call (661) 437-3253
In Fresno CA, call (559) 206-1059
In Valencia CA, or Santa Clarita CA, call (661) 437-3253
In Palmdale CA, or Lancaster CA, call (661) 371-4756