The standardization of cleaning tools, products, and processes ensures quality and safety, eliminates waste, and helps identify areas of concern to occupants and guests.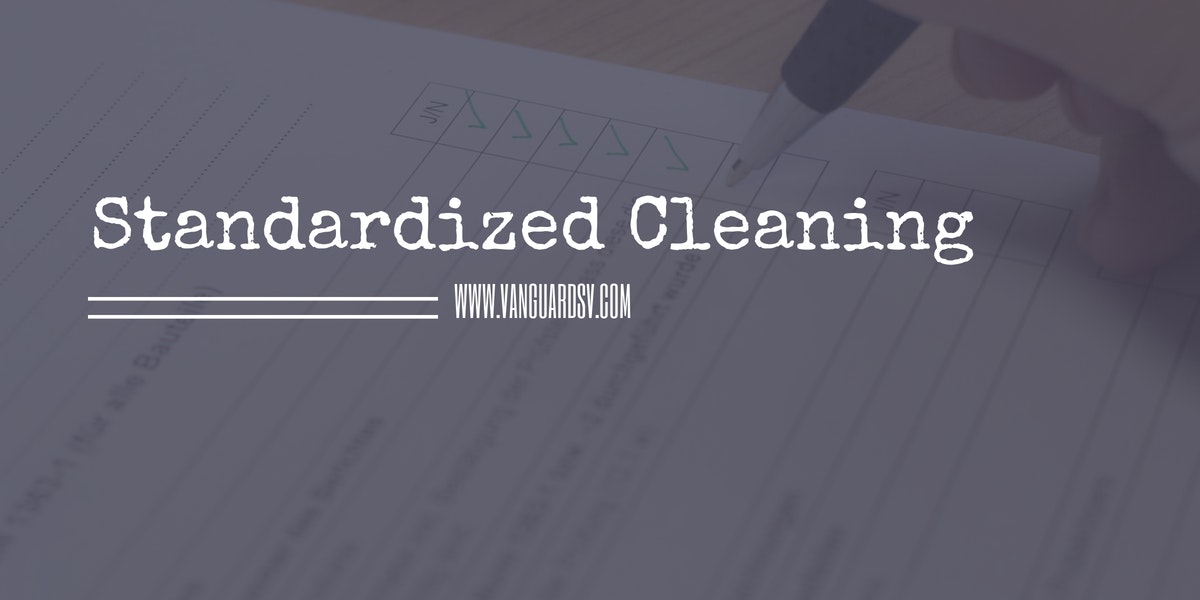 The Importance of Standardized Cleaning Services
The standardization of tools, products, and practices is a common method used by businesses to:
Streamline processes.
Identify gaps in service delivery and training, and;
Ensure the safety of workers as well as those benefitting from their services.
The commercial cleaning industry, once plagued by antiquated practices and toxic chemicals, is currently experiencing a type of renaissance with the emergence of new technologies and cleaning products promising to eliminate waste and the exposure to hazardous chemicals while addressing the rise in antibiotic-resistant superbugs.
While this news has been well met for the most part, it is vital for business owners and facilities managers to determine the best course of action for their unique facility needs and standardize service delivery upon that premise to avoid wasting time, human capital, and financial resources.
Efficiency
In regards to cleaning, efficiency pertains to:
Maximizing human resources, specifically eliminating unproductive time going back and forth to refill or dump cleaning buckets or retrieve tools or products from a cleaning closet.
Eliminating waste, both in product and natural resource consumption and disposal, and;
Reducing the amount of time required to deep clean and fully disinfect any given area of a facility.
What Isn't Getting Done, and Why
Process standardization will quickly identify areas of a facility that are being missed or are not receiving the level of attention required by occupants or other mandates.
Cleaning checklists are a commonly used method for implementing process standardization and can easily be updated or adjusted based on occupant feedback, ensuring spaces meet the standards of those using them.
Process standardization, combined with occupant feedback, also allows managers to identify areas where additional training can benefit building service personnel, specifically where areas are routinely missed or creating potentially hazardous situations.
Safety
Commercial cleaning is a dangerous job.
Improperly mixing chemicals can, and has, led to the needless deaths and hospitalization of custodial workers, building occupants, and often those unfortunate enough to be in the vicinity when a significant gas cloud is produced.
Additionally, custodial workers are notoriously susceptible to repetitive motion injuries, which often result in long-term physical disabilities and worker compensation claims.
A key area of concern is the prevention of slip and fall accidents, which can result from inadequately applied cleaning products, tools being left out, and poorly serviced walkways or matting, as well as ice and deicing agents.
Standardizing on safety processes helps eliminate these dangerous situations and can quickly identify behaviors that may potentially lead to long-term health issues.
Training & Documentation
The two most critical components of a successful standardization process are training and documentation.
Regular ongoing training for building service personnel ensures that:
Proper tool handling, use, safety, and storage are understood.  This will help reduce the cost of replacement or maintenance from damage as a result of mishandling, as well as injuries resulting from improper use.
Toxic chemicals are handled in the safest possible manner with little to no possibility of an accidental mixture with other cleaning products--think bleach and ammonia.
Building service personnel understand where all of their tools are located, what products need to be used where and when, and what their cleaning cart must be supplied with to prevent time being wasted going back and forth to cleaning closets, and;
Each space is thoroughly cleaned and disinfected from top to bottom and that any potential chance for cross-contamination has been eliminated through the use of color-coded microfiber and other tools.
Documentation ensures that:
Standardized processes can be followed by new staff with relatively little oversight, especially for basic tasks.
Gaps in understanding or service delivery or quality can be addressed quickly and easily added to the routine service process.
Confusion about service delivery can be addressed without escalation by cross-referencing the documentation with any occupant complaints or issues.
The dangers of and safety precautions required for toxic chemical handling are spelled out in simple language and immediately accessible by all service personnel, and;
Assigned routes are easily discernible, eliminating guesswork and inefficient time spent retracing steps over likely already cleaned surfaces.
References & Resources
Takeaway
Cleaning process standardization is a method for maximizing your organization's investment in custodial services while ensuring the health and safety of workers and building occupants.
New tools and products are available to facilitate these processes, but require highly trained personnel to manage and implement.
Given the low retention rate of in-house custodial and building service staff, a superior alternative is to outsource to an experienced service provider.
If you would like more information regarding the effectiveness of high-performance infection prevention and control measures, or if you would like to schedule a free, no-obligation onsite assessment of your facility's custodial needs, contact us today for a free quote!
In Bakersfield CA, call (661) 437-3253
In Fresno CA, call (559) 206-1059
In Valencia CA, or Santa Clarita CA, call (661) 437-3253
In Palmdale CA, or Lancaster CA, call (661) 371-4756