Nail salons are home to numerous germs and bacteria that, in the absence of routine cleaning and disinfection procedures, will cause serious harm to salon workers and customers.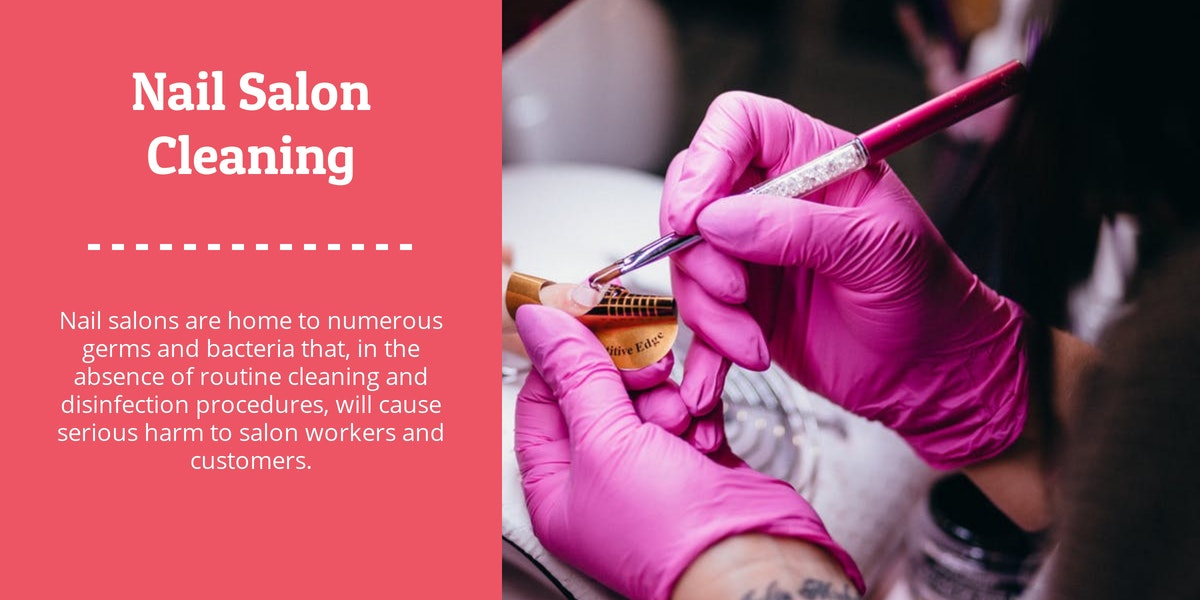 Nail Salon Germs & Bacteria
Due to the numerous and harmful germs and bacteria commonly present, a relaxing trip to a nail salon can quickly become a nightmare.
Everything from the tubs, tools, brushes, and floors are often covered in dangerous infectious disease, including:
Methicillin-Resistant Staphylococcus Aureus (MRSA).
Conjunctivitis.
Human Immunodeficiency Virus (HIV).
Herpes.
Hepatitis C.
Trichomoniasis.
Dermatophyte Fungus.
Human Papillomavirus (HPV).
H1N1, or Swine Flu, and;
Mycobacterium Fortuitum.
Other health concerns, specifically pertaining to skin infections, and often resulting from the use of shared tools or other poor hygienic practices include:
Acne.
Warts.
Rashes.
Dryness.
Molluscum Contagiosum.
Folliculitis.
Paronychia.
Ingrown Hairs, and;
Nail Fungus.
Additionally, exposure to the numerous chemicals, including formaldehyde, used in salons can lead to:
Headaches.
Allergic Reactions, and;
Breathing Problems.
In rare cases, the exposure to these conditions has led to the deaths of several individuals.
Death by Pedicure
Just the tiniest of cuts can expose a person to dangerous skin infections, as well as deadly viruses and bacteria.
According to Dayton Podiatry;
A pretty pedicure can be accompanied by a take-home surprise: hepatitis, cutaneous herpes, warts, HIV, bacterial and fungal infections.

These can be deadly, especially if the client is diabetic or has a compromised immune system.

A 43-year-old San Jose, California woman had a small cut on her toe that led to her death from a skin infection in 2004.

A 46-year-old Ft Worth, Texas mother left the pedicure salon with a small abrasion on her heel from a pumice stone in July 2005 and died of a staph related illness.

Her family is still embroiled in a wrongful death lawsuit.
In another incident;
In August, Diana Mears filed a wrongful death suit against a Mountain View, Calif., nail salon alleging that her daughter, Jessica, died as the result of a bacterial infection she contracted during a 2004 pedicure.

[...] Mears claims that her daughter — who suffered from the chronic immune deficiency disease lupus — developed a Mycobacterium fortuitum infection that grew into a 4" x 6" lesion on her left calf after she received a pedicure at Top Hair and Nails Salon in November 2004.

Mears' attorney said the infection never completely healed and caused her a lot of pain until her death on June 20 of this year.
Commonly Contaminated Surfaces in Nail Salons
While germs and bacteria can thrive almost anywhere, the most common areas to keep an eye on are:
Coffee services items, including cups, carafes, and brewers.
Books and magazines.
Door handles.
Telephones.
Pens and pencils.
Paper money.
Computer keyboards, mice, and monitors.
Credit card machines, especially the touchscreen variety.
Pedicure thrones.
Polish bottles and other retail items.
Nail files and other tools.
Nail-stylist tables.
Towels, and;
Everywhere in the bathroom.
Client Safety Precautions
There are several safety precautions salon clients can implement to reduce the risk of exposure to these dangers, including:
Bring your own tools.
Don't shave or wax before going.
Schedule your appointment early in the morning.
Don't cut your cuticles.
Insist that your stylist wear gloves, and;
Keep an eye out for tell-tale signs of poor cleanliness and hygiene.
References & Resources
Takeaway
Trips to the nail salon should be enjoyable, but all too often result in painful or embarrassing skin infections, if not worse.
These infections are typically the result of low-quality cleaning and disinfection practices, the buildup of clutter, and little to no focus on safety and hygiene.
Implementing a high-performance, no-touch cleaning and disinfection service for the floors, walls, furniture, restrooms, and other high-contact surfaces will eliminate the vast majority of these risks.
Combining those services with UV sterilization of tools and other implements, ensuring service personnel wear the proper safety equipment, and thoroughly disinfecting foot spas after each use will provide your stylists and customers with a safe and hygienic environment.
If you would like more information regarding the effectiveness of high-performance infection prevention and control measures, or if you would like to schedule a free, no-obligation onsite assessment of your facility's custodial needs, contact us today for a free quote!
In Bakersfield CA, call (661) 437-3253
In Fresno CA, call (559) 206-1059
In Valencia CA, or Santa Clarita CA, call (661) 437-3253
In Palmdale CA, or Lancaster CA, call (661) 371-4756