Developing and encouraging high-quality cleaning and personal hygiene habits aids in the establishment and maintenance of a healthy facility, while ensuring the safety and productivity of all building occupants.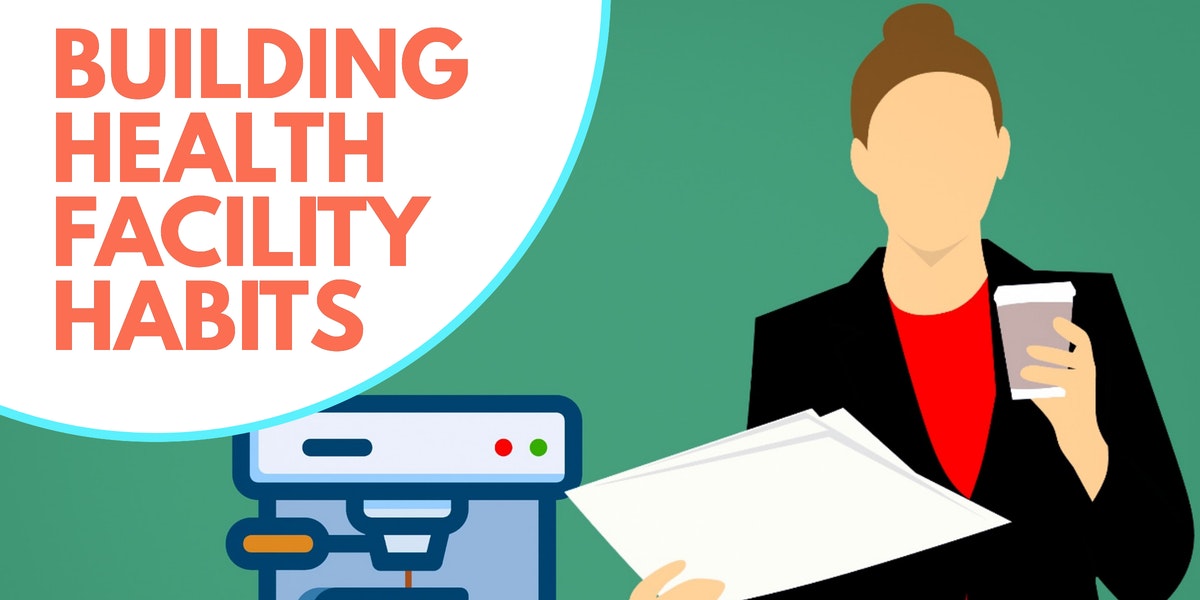 The Importance of Developing Healthy Facility Habits
Establishing high-performance habits in our personal lives is all the rage these days.
We actively seek out and engage with everything from life-hacks to mentorship, conventions, and week-long retreats to develop methods for increasing productivity and happiness.
Perhaps, unsurprisingly, we may have missed the forest for the trees when it comes to personal health, wellness, and productivity.
A clean workplace and personal hygiene practices can do wonders for the quality of our lives and work.
Workplace cleanliness isn't just necessary for sanitation purposes.

The truth of the matter is that cleanliness in the workplace has a large effect on the overall productivity of employees and work-related projects.

Perhaps the biggest way in which workplace cleanliness promotes productivity is by cutting down on the number of sick days that employees take.
Fortunately, the development of these habits has a great deal in common with many of the hacks and productivity tips taught in self-improvement classes.
How to Develop Healthy Facility Habits
Developing a good habit requires three fundamental steps:
Cue.
Routine.
Reward.
Establishing an exercise routine is one of the most commonly employed analogies.
Cue - Place workout clothes by the door, so you see them first thing in the morning.
Routine - Exercise for 30 minutes every day.
Reward - This can range from endorphin rushes, to how you feel about the way you look, fitting into a specific set of clothes, or buying yourself a treat.
Repeating this process creates a healthy habit.
Now, let's employ the same process for establishing a critical personal hygiene habit--hand washing.
Cue - A sign that encourages occupants to wash their hands with a reminder of the consequences of failing to do so, such as acquiring or spreading illness.
Routine - Occupant scrubs their hands for 20 to 30 seconds after using the restroom.
Reward - The occupant's health and productivity are increased over time.
Establishing this behavior as a routine habit will have a significant impact on the overall health and productivity of everyone within a facility--be that a university or business.
Reasons to Establish Healthy Facility Habits
Let's set aside, for the moment, the mountains of scientific evidence establishing a direct link between workplace cleanliness and personal hygiene and the health and productivity of the workforce, and focus on recent events that have hit the news.
The first involves an ongoing outbreak of adenovirus, which has been tied to the deaths of several children in more than one healthcare facility and has now struck several universities in Wisconsin.
According to the Milwaukee Journal Sentinel;
State health officials are investigating an outbreak of a common respiratory virus that has appeared on three college campuses across Wisconsin.

Adenovirus, an infection that causes respiratory symptoms ranging from cold and flu-like symptoms to bronchitis and pneumonia, has been confirmed at the University of Wisconsin campuses in Madison, La Crosse, and Oshkosh.

Other symptoms can include diarrhea and pink eye.

Health officials warn college students: Wash your hands, stop adenovirus.
The second is the increasingly erratic behavior of the seasonal influenza outbreaks, resulting in an increasing number of deaths and hospitalization.
The 2019-2020 flu season is continuing its fast start, as the number of states either reporting regional or widespread flu activity increased by eight in just one week.

One of the key findings in the CDC's latest weekly report is that the influenza B strain is the cause of most of the flu or flu-like activity.

The CDC says it's unusual that influenza B is this present this time of year.

The CDC's data also shows that an estimated 1,300 death have been caused by the flu this season.
In both instances, the adoption of widespread hand hygiene and awareness habits can significantly reduce the spread and rate of infection of either virus.
Combined with high-performance cleaning habits, the outbreaks could be all but halted.
Developing High-Performance Facility Cleaning Habits
Developing and maintaining facility cleaning habits is much the same as any other habit.
Cue - Time of day, alert from occupant or IoT system, or noticing an area that needs immediate attention.
Routine - The facility maintenance and cleaning checklist.
Reward - A safe and healthy facility to work and learn in that occupants will take pride in.
While the reward may sound a little corny, there is evidence to support its merit, specifically in schools.
Studies show that pride in a facility can help to lower absence levels and increase student morale.

This drives improvements in both student performance and teacher retention.

There's even data showing that the right school environment fosters a sense of student ownership for building appearance.
References & Resources
Takeaway
Establishing a few basic cleaning and personal hygiene habits in dorms, classrooms, and office spaces will have an immediate impact on the health and productivity of all facility occupants.
Studies have demonstrated that a small investment in basic tools, such as microfiber, hand sanitizer, and no-touch disinfecting appliances can significantly reduce costs associated with sick students and absent, or present but ill workforce.
Outsourcing your facilities routine cleaning requirements to an experienced service provider will ensure the program is implemented quickly and at a cost, far lower, than attempting to achieve the same service level in-house.
If you would like more information regarding the effectiveness of high-performance infection prevention and control measures, or if you would like to schedule a free, no-obligation onsite assessment of your facility's custodial needs, contact us today for a free quote!
In Bakersfield CA, call (661) 437-3253
In Fresno CA, call (559) 206-1059
In Valencia CA, or Santa Clarita CA, call (661) 437-3253
In Palmdale CA, or Lancaster CA, call (661) 371-4756