Outsourced janitorial services are a cost-effective method for addressing the ongoing challenges of cleaning and sanitizing busy stadium restrooms.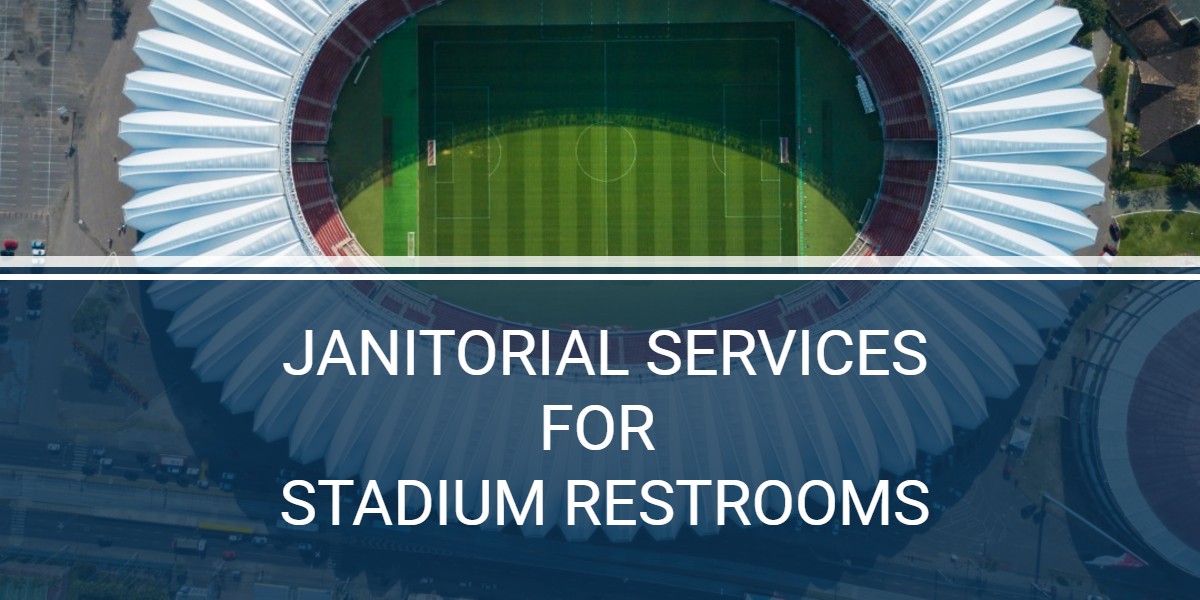 Outsourced Janitorial Services Keep Busy Stadium Restrooms Safe and Clean
Unhygienic restrooms are a problem for stadium facilities managers.
According to a recent survey published by the European Cleaning Journal, 47 percent of US citizens who responded reported unclean restrooms as the number one issue negatively affecting their experience.
Only in the US did unhygienic washrooms slip down to second place with 47 per cent of respondents citing them as a problem compared with 53 per cent who felt traffic congestion to and from the event to be a bigger issue.

The survey also revealed a negative washroom experience could colour one's whole impression of an occasion.

This was particularly true of American respondents with 53 per cent claiming that a poor washroom visit had had a negative effect on their overall enjoyment while 20 per cent said it had actually ruined their experience completely.

Almost 40 per cent of guests went on to tell a friend or family member about it while a few even posted on social media

American visitors were even more likely to "share" their experiences on the net with around 13 per cent of US respondents claiming to have posted about their washroom visit.
Addressing the Challenges of Line Queues in Stadium Restrooms
An issue that was repeatedly mentioned in the survey was long lines into the restroom, as well as for the various stalls, sinks, and sanitation services.
Oddly, there was no real correlation between the number of available stalls or sinks.
However, a parallel was found between the length of the line, the amount of time a person had to wait, and the availability of soap, paper towels, and toilet paper.
The issue is self-explanatory--if there is no toilet paper available in an otherwise functioning stall, a more prolonged queue and wait time can be expected for the remaining stalls.
The same is true of sinks without soap, or empty paper towel dispensers, and can be exacerbated in restrooms which only offer air hand dryers--an inefficient and unhygienic system that can significantly increase the amount of time necessary for any one person to use the bathroom and wash their hands, leading to an excessive amount of wait time and a miserable experience for everyone.
As opposed to spending a significant amount of time and money expanding or adding additional restrooms or worse, adding port-a-potties, consider upgrading the following in your current facilities:
High-capacity toilet paper, paper towel, and liquid foaming soap dispensers, and;
IoT monitoring systems to alert maintenance staff when supplies are low, as well as measure foot traffic to notify the janitorial staff that the facilities likely require a quick clean up.
Green Cleaning Tips
In addition to addressing the long lines which have led stadium guests to relieve themselves in very unsanitary places, implement the following best practices:
Thoroughly clean the restrooms top to bottom, paying particular attention to high-contact surfaces, with certified green cleaning products and an EPA approved Category IV disinfectant, before and after the event.
Assign staff to periodically check and tidy up the restrooms to avoid trash overflow and messes that negatively impact event-goer experiences, and potentially future business.
Use a vacuum floor scrubber to clean all floors thoroughly after the event.
Consider changing out toilets and faucets with self-cleaning upgrades, as well as touchless urinals, paper towel, and soap dispensers to improve the customer experience.
Employ microfiber towels and mops when cleaning the facilities to reduce cost and waste while improving the health and safety of the bathrooms.
Takeaway
Unsanitary bathrooms have a negative impact on the event-goers experience, causing many of them to forego the use of the facilities, often shortening their stay, or pay extra to use premium facilities, which carries its own challenges--the premium facilities had better be spotless and well-stocked, or the customers will complain.
Long lines and wait times, often due to poorly stocked restrooms, have led event-goers to relieve themselves outside of the bathrooms, creating a nightmare for cleanup crews, as well as potential public health issues.
Outsourcing your events stadium and restroom cleanup duties is a cost-effective method to improve customer satisfaction.
Combining the outsourcing with certified green cleaning will help further reduce costs and waste, as well as increase event appeal.
If you would like to learn more about how outsourcing your stadium's restroom janitorial services can cost-effectively benefit your organization, contact us today for a free quote!
In Bakersfield CA, call (661) 437-3253
In Fresno CA, call (559) 206-1059
In Valencia CA, or Santa Clarita CA, call (661) 437-3253