Outsourcing your facilities' janitorial services is a cost-effective method for reducing the expense of installing baby diaper changing stations in men's public restrooms to comply with California Assembly Bill No. 1127.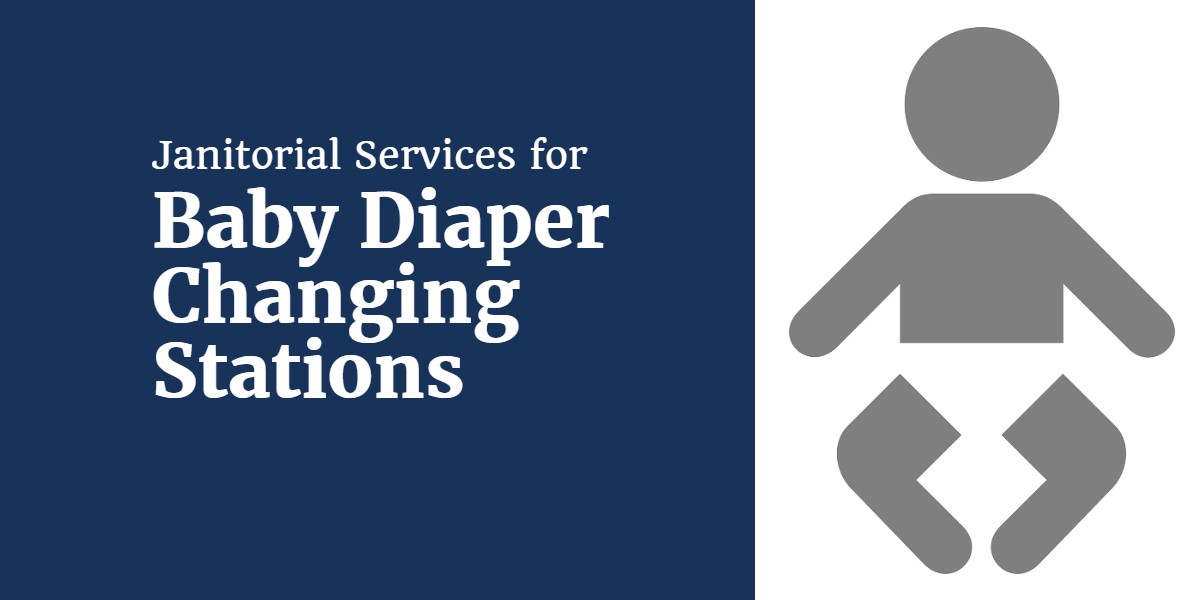 Outsourcing Janitorial Services to Address Assembly Bill No. 1127
In October of 2017, California Governor Jerry Brown approved Assembly Bill No. 1127.
According to the new addition to the California Health and Safety Code;
This bill would require new construction or renovation of a public building, as specified, that is owned by a state or a local agency, or a portion of a building that is owned by a state or local agency and includes at least one restroom that is open to the public, to provide at least one safe, sanitary, convenient, and publicly accessible baby diaper changing station, as specified.

The bill would require each station to be maintained, repaired, and replaced as necessary to ensure safety and ease of use, and to be cleaned with the same frequency as the restroom in which it is located.

By imposing a higher level of service on local agencies, the bill would impose a state-mandated local program.
Additionally,
This bill would require various facilities, including a theater, sports arena, or library, to install and maintain at least one baby diaper changing station if the facility is open to the public, as specified.
Health Challenges Associated With Baby Diaper Changing Stations
Baby diaper changing stations are commonly considered a nightmare for custodial teams, and with good reason.
Recent studies have confirmed parents' worst fears--changing tables and disposable changing pads are, with few exceptions, covered in germs and bacteria, including:
Chloroforms - A strong indicator of the presence of fecal matter.
Salmonella - A common cause of diarrhea and food poisoning, and;
Shigella - A bacteria that causes dysentery and shigellosis.
For More Information:
If that weren't bad enough, researchers in the U.K. found cocaine on more than 9 out of 10 public changing tables.
According to The Telegraph,
More than nine in 10 baby-changing units in the North West have tested positive for traces of cocaine.

The tests, carried out by using specialist wipes, found that 92 per cent of the 100-plus units examined carried traces of the class A substance.

They included facilities based in public toilets in shopping centres, hospitals, police stations, courts and churches.
Compounding the issue are children's heightened sensitivity to cleaning products, specifically the pH balance of the soap, and the concentration of the disinfectant.
Green Cleaning Tips
There are several steps facilities managers can take to ensure the changing tables are clean and safe for use.
Clean the tables every day with soap that has a neutral pH balance (7).
Disinfect with a diluted EPA certified disinfectant; or, better yet, an EPA Category IV disinfectant.
Wait the prescribed lay-time for the disinfectant, and then wipe down every inch of the table with a microfiber cloth.
Consider adding certified green sanitizing wipes for parents' use before and after changing their child.
Regularly test the contamination levels of the tables to ensure proper cleaning and disinfection.
Parents can also take steps to protect themselves and their children.
Avoid the use of the disposable changing pads, as studies have shown they are covered in the same germs coating the table.  Use an antimicrobial changing pad instead.
Keep certified green cleaning wipes handy, and wipe down the tables before and after use.
Make sure to wash and dry your hands thoroughly when done, and;
We strongly recommend the use of liquid hand sanitizer after exiting the restroom.
References & Resources
Takeaway
California's new law will require at least one baby changing table added to men's public restrooms in large facilities.
While the cost of installation is subsidized by the State, the ongoing cost of additional cleaning and maintenance can quickly add up.
Adding to the challenge are the well-documented germs and other toxic materials--including Schedule 1 narcotics--commonly found on public diaper changing stations.
Compounding the challenge even further, children are extremely sensitive to cleaning products and disinfectants.
However, implementing cost-effective green cleaning products and practices and outsourcing the daily cleaning duties to a local vendor can significantly reduce the expense of ongoing maintenance, as well as endear your organization to its guests and customers.
If you would like to learn more about the benefits of outsourced janitorial services and how it can help you affordably comply with California Assembly Bill No. 1127--requiring large facilities with public restrooms to install and maintain baby changing stations in men's restrooms--contact us today for a free quote!
In Bakersfield CA, call (661) 437-3253
In Fresno CA, call (559) 206-1059
In Valencia CA, or Santa Clarita CA, call (661) 437-3253