Cleaning services for theme parks require an experienced team of professional custodial staff possessing a broad range of skills and specialties.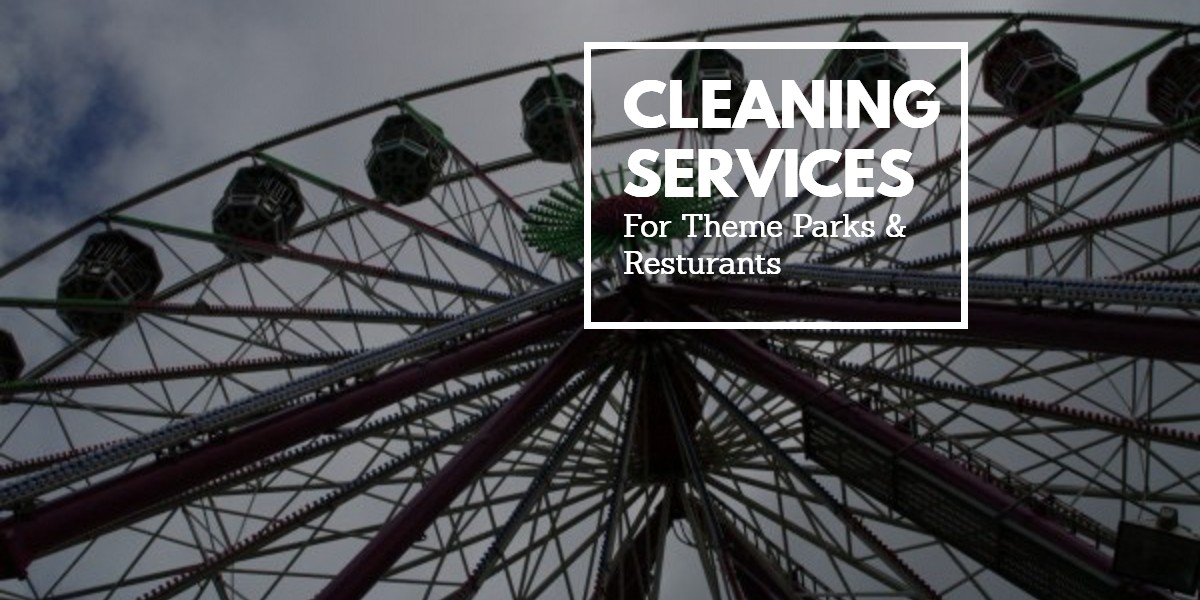 Cleaning Services for Theme Parks and Restaurants
Due to the diverse nature of guests attending theme parks and restaurants throughout Southern California, stringent, ongoing cleaning services are necessary to maintain a healthy environment that facilitates a positive and memorable experience for everyone.
Amusement parks and theme restaurants must also confront the wide range of germs and personal hygiene habits of their guests to protect other attraction goers, especially young children who have an unfortunate habit of touching everything, then stick their hands in their mouths.
The need for thorough cleaning and sanitation throughout the many parks was underscored by the measles outbreak originating from the countries second most popular park, which cost taxpayers millions, led to highly controversial legislation, and the hospitalization of over 100 people throughout the U.S., Canada, and Mexico.
According to the U.S. Centers for Disease Control and Prevention (CDC);
After an uncharacteristically high number of measles cases in late 2014, the highly publicized California measles outbreak hit the media early this year.

Linked to Disneyland Resort Theme Parks in California the outbreak quickly became a multi-state public health incident that resulted in a total of 147 cases.

Cases related to this outbreak were identified in seven states in the U.S., as well as Mexico and Canada.

Attention to this outbreak was further fueled by the interest surrounding vaccinations.

Among the reported measles cases, the majority of patients were unvaccinated or had an unknown or undocumented vaccination status.
Large guest volumes typically disallow anything but basic custodial duties during operational hours, leaving the vital sanitation duties to overnight crews responsible for several key locations, including:
Park rides.
Concession stands and dining areas, and;
Restrooms.
Park Rides & Attractions
High-contact surfaces, such as:
Video game arcades, controls, and ticket machines.
Rails, seats, and handholds on rides.
Turnstile rails, and;
Water rides, slides, and pools.
Can host numerous germs and bacteria that can spread potentially deadly diseases to park goers.
The most significant and pervasive concerns are water rides.
According to the CDC;
Recreational water illnesses (RWIs) are caused by germs and chemicals found in the water we swim in.

They are spread by swallowing, breathing in mists or aerosols of, or having contact with contaminated water in swimming pools, hot tubs, water parks, water play areas, interactive fountains, lakes, rivers, or oceans.

RWIs can also be caused by chemicals in the water or chemicals that turn into gas in the air and cause air quality problems at indoor aquatic facilities.
Concession and Dining Areas
Coming in as a very close second to the concerns and challenges faced providing safe cleaning services for water rides are concession and dining areas, where food is enjoyed, and every germ from every park-goer is deposited and potentially ingested.
Hand-to-mouth contact is the most common way humans are infected several common, and occasionally deadly, foodborne illnesses, such as the norovirus, or listeria.
While these illnesses can take several days to manifest symptoms, and even longer to completely overcome, the longest-lasting damage is to the park or restaurants profits and stock price.
As reported by CNBC, a recent norovirus outbreak has pushed down the stock price of the beleaguered chain restaurant, Chipotle.
So far eight cases between July 14 and July 17 were reported to iwaspoisoned.com, a website that allows users to report when they get sick after eating at a restaurant.
Business Insider was alerted to the issues at the restaurant by the site and then published a story. Customers reported symptoms such as vomiting, severe stomach pains, diarrhea, dehydration and, in some cases, hospitalization.
Customers reported symptoms such as vomiting, severe stomach pains, diarrhea, dehydration and, in some cases, hospitalization.
The company's shares plummeted more than 5 percent after reports of the incident surfaced.
Chipotle shares plummet following report of norovirus at Virginia restaurant
Restrooms
Restrooms are an ongoing challenge that requires ongoing service and maintenance throughout the day.
Standard and emergency tasks, such as restocking services, or cleanups after accidents, are typically handled by the day custodial staff.
However, a daily deep cleaning is necessary to remove the numerous germs and bacteria, ever present in public restrooms, especially in the hot summer months where high moisture and heat can contribute to the rapid growth of infectious bacteria and disease.
According to NPR, citing a 2014 study published in Applied and Environmental Microbiology;
Within one hour of sterilization, the bathrooms were completely recolonized with microbes — just as plants rapidly arrive and populate a newly emerged island. Fecal bacteria dominated, including on toilet seats and on soap dispensers — about 45 percent of the bacteria there were of fecal origin.

In all, the scientists found genetic traces of more than 77,000 distinct types of bacteria and viruses. (At least some of those species were likely dead or dormant, the scientists add; genetic testing detects them all, whatever their status.)
Green Cleaning Tips
Employ the Two-Bucked Method in combination with color-coded microfiber cloths and mops to clean and disinfect surfaces, while conserving water, reduce waste, and eliminating the potential for cross-contamination.
Keep restrooms stocked with liquid foaming soap and clean paper towels.
Place liquid hand sanitizer in convenient locations wherever food is consumed.
Employ electrostatic cleaning appliances to cost-effectively disinfect three-dimensional, high-contact surfaces, such as rides, rails, vending machines, arcade games, as well as chairs and tables.
Use a vacuum scrubber to sanitize restroom floors, and ensure air filters are cleaned regularly to combat the spread of germs through the air when toilets are flushed.
References & Resources
Takeaway
Theme parks and restaurants cater to a wide demographic, underscoring the importance of providing the highest standards of cleanliness to prevent the potential for financially damaging illnesses being acquired by guests.
While it may never be possible to completely avoid the presence or transfer of germs, technological advancements over the last few years have made the challenge less complicated, and less expensive, especially when partnered with an experienced outsourced commercial cleaning vendor specializing in green and sustainable practices.
If you would like to learn more about the advantages of outsourced cleaning services for your theme park or restaurant, contact us today for a free quote!
In Bakersfield CA, call (661) 437-3253
In Fresno CA, call (559) 206-1059
In Valencia CA, or Santa Clarita CA, call (661) 437-3253