As cleaning services continue to strongly trend in favor of greener, safer chemicals, technological advancements are leading the charge in modern, sustainable facilities maintenance and property management.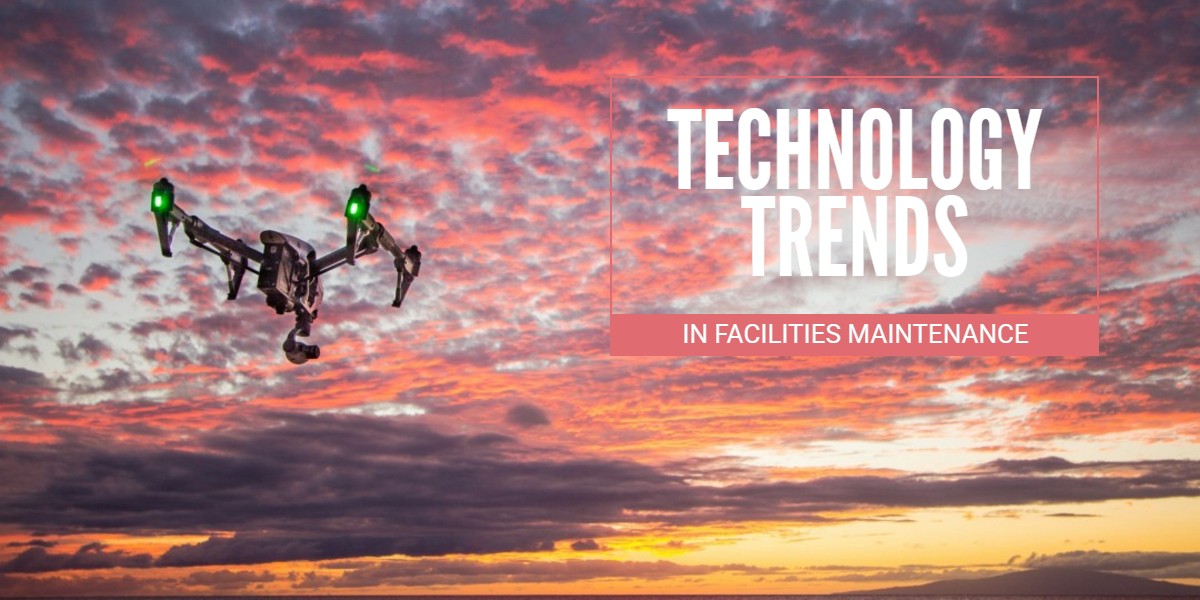 Cleaning Services and Technology Trends for Facilities Maintenance and Property Management
Green cleaning and sustainable facilities maintenance has emerged as the dominant trend in cost-effective property and facilities management.
According to AkitaBox:
Over 70% of new construction today is building using BIM, otherwise referred to as Building Information Modeling.
However, challenges remain.
Buildings are approximately 58% larger today than the buildings that were built prior to 1960.

With larger buildings comes more intricacies and larger systems.

Building Automation Systems (BAS) and other facility management tech becomes more intense to manage.
Building age is also problematic;
More than 50% of the buildings within the United States are more than 32 years old.
Current popular trends include:
Software and internet integration.
Chemical free cleaning, and;
Drones.
The key to rapid onboarding and success is simplicity--most efficiently accomplished by an outsourced vendor possessing the tools and expertise to ramp up your organization's custodial management plan, as well as the knowledge and experience required to navigate, often complicated integration processes.
Software and Internet Integration
The adoption of Internet-based technologies has become a necessity for cost-effective property management.
According to a recent study published by Schneider Electric:
63 percent of facility managers show interest in implementing analytics to better monitor their building systems, yet barriers still exist.

[The} majority of respondents predict digitization and IoT will impact their building and maintenance policies within the next year.

Almost half of facility managers expect technology investments will address IoT more than last year.

89 percent of respondents indicating they expect to achieve a return on their IoT investments within three years.

70 percent of respondents expect the IoT will impact their building and maintenance policies within the next year.

90 percent of respondents thought connecting systems to the internet will ensure smart, productive, profitable operations and allow service providers to deliver better value and maximize energy and sustainability.

15 percent of respondents reported that they fully utilize predictive maintenance tools

35 percent indicated they are proactive in their approach to maintaining building systems by conducting regular preventative maintenance on equipment.

42 percent of respondents expressing they are very interested in utilizing an analytics managed service to gain insight into their buildings and plan more effectively.
Chemical Free Cleaning
As technology advances, cleaning is being swept up by more environmentally friendly approaches.

Advances in science have made it easier to clean without having to resort to those abrasive bleaches and cleansers.

Consumers demanding greener practices have pushed cleaning service vendors to take a look at what they offer, and how they offer it, to make cleaning go green.
Cleaning With Just Water
Reducing or eliminating toxic chemical cleaning products has been a priority of green cleaning regimens for homes, schools, hospitals, and businesses for years.
Modern advancements in technology have followed suit with the consumer and commercial adoption of:
Microfiber - Microfiber is a well established, yet underutilized, technology that significantly reduces the need for toxic chemical use, as well as water and gas--to heat hot water--consumption.
Dry Steam - Dry steam systems utilize highly efficient heating components to super heat water to a temperature that effectively dislodges dirt embedded in or on hard surfaces, including stainless steel.
Activated/Electrolyzed Water - Activated water leverages the electro chemical reaction between water and salt as it passes through a small electrical charge, creating a solution of hypochlorous acid and sodium hydroxide.
See Also:
Drone Use for Building Maintenance
Drone technology is ideally suited for facilities and infrastructure inspection--a time consuming and costly process that often goes undone, due to the numerous challenges.
Using infrared and other technologies, drones can access areas of your property that would be difficult or dangerous for a human and perform a detailed examination, in a few hours, that would take a team of people days.
The readings give building and property managers a full 3D view of their buildings, including the roof, HVAC systems, as well as pipes and conduit going in and out of the building.
This process significantly reduces the amount of time required to safely complete a full grounds and infrastructure inspection, and identify cracks, leaks, or other damage that is likely costing your organization a fortune in wasted energy and other resources.
For More Information:
References & Resources
Takeaway
Technological advancements are changing the way facilities and property managers and staff view the challenges they face.
Lessons learned from the recession have taught us that lean, economically and environmentally sound business practices are the only practical path forward.
The trend towards scientifically backed, 'cleaning for health' agendas exist for a financially sound purpose, and schools and businesses ignoring this trend will soon find themselves at a disadvantage.
If you would like to learn more about the advantages of outsourced cleaning services and facilities maintenance using the latest in technology, contact us today for a free quote!
In Bakersfield CA, call (661) 437-3253
In Fresno CA, call (559) 206-1059
In Valencia CA, or Santa Clarita CA, call (661) 437-3253