Professional janitorial services tips and advice for introducing green cleaning practices into your surgery center.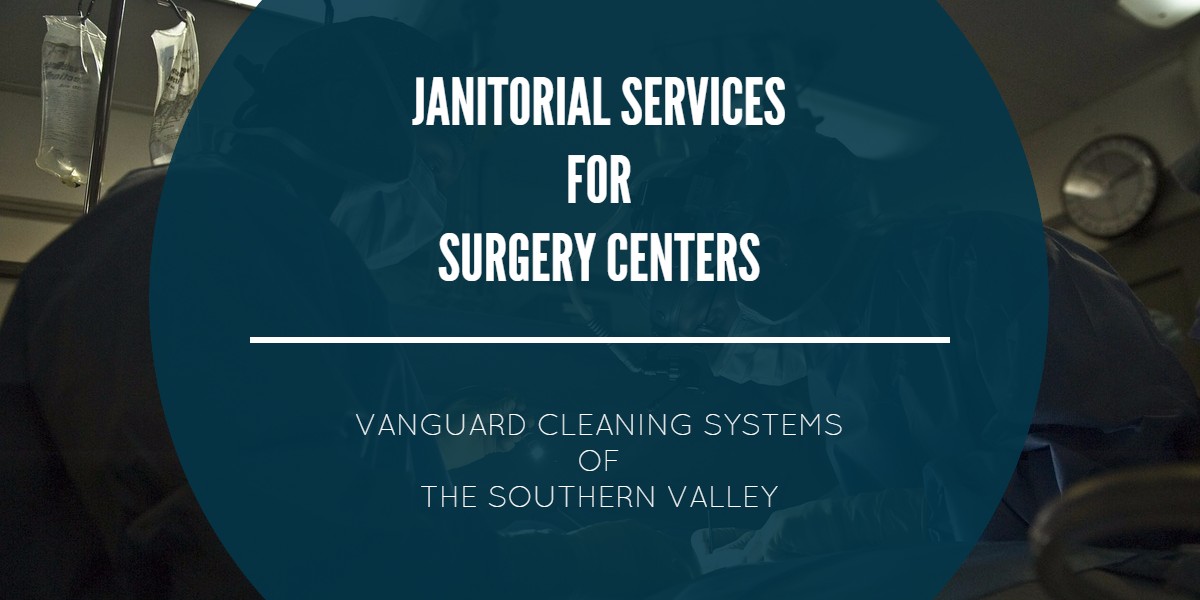 Green Janitorial Services Tips and Advice for Surgery Centers
The two most prominent cleaning challenges facing surgical centers is the effectiveness of the cleaning program and the overall costs associated with the service.
Surgical centers tend to have fewer resources available than hospitals and, due to the typical outpatient procedures being performed, tend to see more patients in a day than operating and emergency rooms, placing a heavy emphasis on rapid procedure room turnover to maintain profitability.
To address these challenges, surgical centers must have a proven, efficient green cleaning practice in place to maintain the overall health of patient waiting rooms and staff work and break areas, as a type of base disinfection that allows for the full, top to bottom clean required in surgical rooms.
Tips to Maintain a Base Clean in Common Areas
For this discussion, we will define common areas as any place where patients and their families are present, as well as staff work zones.
For example:
Front and back offices.
Waiting rooms & lounges, and;
Staff kitchens and break areas.
To maintain the health and safety of common areas, in particular for workers who are more exposed to the environment over a longer period, focus your efforts on:
Indoor Air Quality
Long-term exposure to low-quality indoor air has been shown, in multiple studies, to have an adverse effect on worker cognitive function.
Depending on the chemical compounds used to clean your building, additional Volatile Organic Compounds can be released into the air, which may trigger or exacerbate issues in patients with already compromised immune systems.
Additionally, the use of scented air fresheners and cleaners containing limonene in poorly ventilated rooms can lead to the chemical formation of formaldehyde in the air.
See Also:
Floors
You rarely see carpeted doctor's offices or surgical center waiting rooms anymore; which is simultaneously practical and problematic.
Hard floors are less expensive to disinfect, but they do not have carpets ability to absorb airborne microbes--meaning particles can be knocked back into the air by passersby--contributing to indoor air quality problems.
Studies have shown that more than 80% of dirt inside is tracked in on shoes from the outside.
Entrance and walkway matting is a proven way to absorb nearly all dirt and microbes before they are introduced into the air flow, or contaminate floors.
See Also:
High-Contact Surfaces
Studies have shown that one contagious person touching a high-contact, flat, non-porous surface can infect half the occupants of a building within about four hours.
The most commonly cited reason for this is poor hand sanitation practices.
The issue of contaminated high-touch surfaces is exacerbated with and in children, due primarily to the amount of time they spend on the floor, and their tendency to place their hands in their mouths.
Of further concern is the possibility of viral infection occurring before a patient scrubs up for surgery by coming into contact with a contaminated surface.
See Also:
Green Cleaning Tips
Eliminate the use of all scented cleaners and air fresheners--they cause more harm than good.
Ensure all common areas are routinely sterilized throughout the day.  A good rule of thumb is to wipe down waiting rooms during low-volume periods, and restrooms several times a day, as needed.
Provide employees with EPA approved, and Green Seal certified disinfectant wipes for their desk, computer equipment, and phones.
Assign and enforce an employee kitchen and breakroom cleaning chore list, especially for coffee pots and cups, sinks--specifically the handles--and anywhere food is consumed.
Clean all walkway mats daily with a HEPA filtered vacuum.
Mop floors daily with a Microfiber mop, and scrub weekly to monthly, depending on footfall volume.
Check and clean air ducts twice a year, and regularly replace HEPA filters.
Tips for an Effective Green Cleaning Program in Surgical Centers
As mentioned; surgical centers are a business and must maintain a cash-forward outlook.
To accomplish this, the availability and preparedness of prep and surgical rooms are vital.
Oddly, the knowledge that these rooms must be thoroughly cleaned and disinfected has not aligned with the reality that most of them are not, leading to Hospital Acquired, and Surgical Site Infections.
A 2014 study published by the Department of Veteran Affairs Office of the Inspector General found that;
Terminal cleaning procedures in the OR are not performed appropriately.

Environmental Management Services (EMS) has insufficient staff resources
assigned to the OR.

EMS staff do not utilize standard operating procedures (SOPs) or checklists for
cleaning that are consistent with recognized industry standards.

Patients with infectious diseases who may require special precautions are scheduled
for surgical procedures throughout the day along with patients who are not
infectious.

OR staff are not always made aware of an infectious patient's precaution status prior
to the arrival of the patient.

-Environment of Care Deficiencies in the Operating Room VA Connecticut Healthcare System West Haven, Connecticut
The ongoing challenge facing surgical centers is straightforward in the definition; how to efficiently disinfect patient procedure rooms safely and cost-effectively.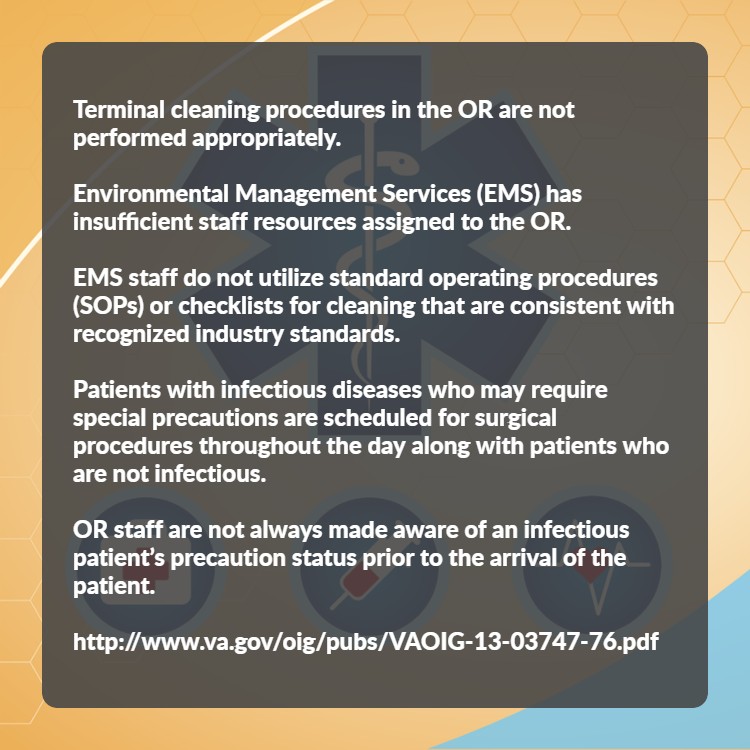 Green Cleaning Tips
Use EPA and Green Seal certified cleaning products.  They can be purchased and stored in bulk, which will save on purchasing costs.
Purchase and implement a Chemical Management System (CMS) to properly dilute cleaning products.  This will cut down on time and resource waste.
Use triclosan-coated microfiber on all surfaces.  This will improve the effectiveness of most cleaners, reduce water waste and, if implemented correctly, will prevent cross-contamination.
Contract an outsourced vendor experienced in facilities management and certified in green cleaning procedures specific to operating and surgical rooms.  This will reduce the number of workers needed to maintain a productive operational flow and free up staff for business-critical duties.
Takeaway
Many surgery centers have made the commitment to socially and ecologically responsible business practices; chief among them are janitorial services and commitments to green building practices.
Those commitments have been shown to have a positive impact on employee performance and health, as well as the safety of highly-vulnerable surgical patients.
The single most economical decision a surgery center can make in this regard is to outsource to an experienced vendor capable of handling all aspects of the specialized service, including;
Facilities Management.
Purchasing.
Certified Red Bag Services.
Onsite/On-Call Emergency Services, and;
Training.
If you would like to learn more about the benefits of green cleaning services for your surgery center, contact us today for a free quote!
In Bakersfield CA, call (661) 395-3009
In Fresno CA, call (559) 473-1790