Green cleaning services can improve or restore the professional look, safety, and overall productivity of your warehouse.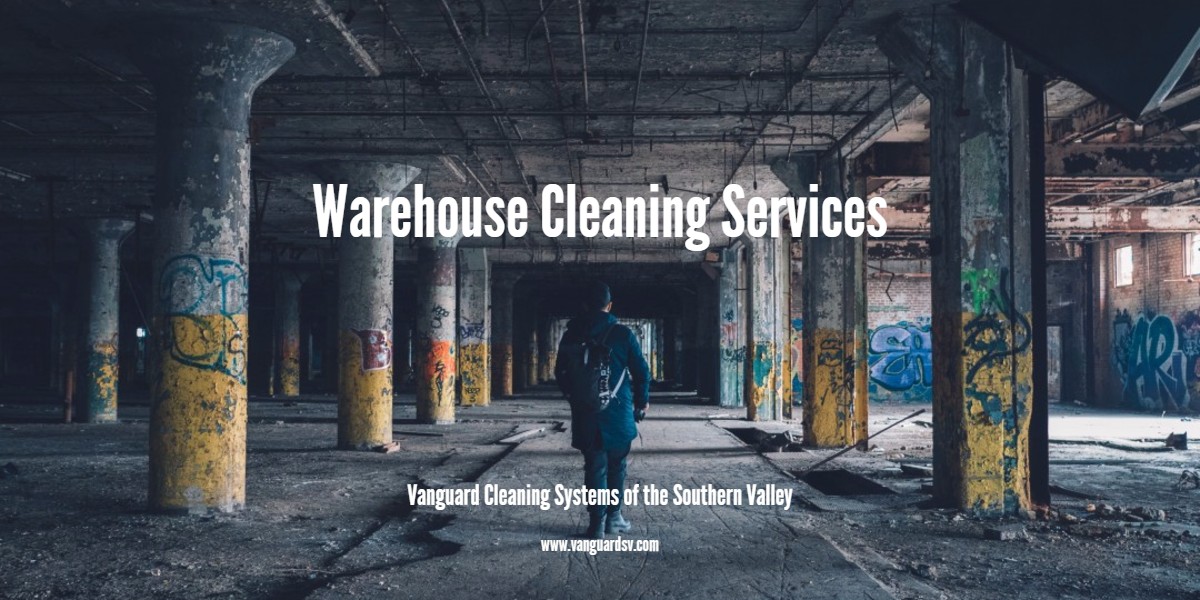 For large product-based businesses, warehouses are a cornerstone of your operation, especially for the e-commerce industry.
Product manufacturers and inspectors routinely check the condition of whole and reseller warehouses to ensure they are kept up to standard to avoid damaging or compromising the manufacturer's merchandise.
A poorly cleaned warehouse can cost the organization lost sales opportunities by failing to impress prospective vendors and buyers, create safety issues that can lead to dangerous slips and falls and can present an obstacle to efficient performance.
Appearance
A clean warehouse presents a professional appearance necessary to impress investors, as well as current and prospective customers.
Key areas to consider:
Ceilings & Rafters - Excessive dust creates an unattractive appearance, hampers working conditions, and represents a fire hazard that could result in fines.
Light Covers & Fixtures - Again, excessive dust diminishes working conditions and could be a fire hazard.
Walls & Windows - Grease and dirt buildup from forklifts can contribute to respiratory issues and block out natural sunlight, which has been proven to affect worker health and performance, as well as significantly diminishing the warehouse appearance.
Offices - The front and shipping offices will be one of the first things your customers see and the first thing they judge you by.  Additionally, chemicals from forklift fuel, maintenance, and emissions can cause health issues if left untreated.
HVAC Systems - Accumulated dust in air ducts is a health and safety risk and could lead to long-term health issues in employees.
Driveways & Parking Lots - Clean driveways and parking lots add to the curbside appeal and are the very first thing customers, and investors see.
Warehouse & Showroom Floor - A filthy showroom or warehouse floor is more than a health and safety hazard; it detracts from the appeal of your business and brand and indicates how prospective manufacturer products will be cared for.
Safety
A poorly cleaned warehouse is a dangerous place to work.
Trash left on the ground can lead to forklift accidents and damage to equipment, merchandise, and employees.
Slips and falls are a serious concern, particularly when forklift fumes and fluids have spilled onto the ground, but were inadequately cleaned up, and can result in a severe financial loss.
According to HSP Supply, Inc;
According to the 2006 Liberty Mutual Workplace Safety Index, the annual direct cost of disabling occupational injuries due to slips, trips and falls is estimated to exceed $11 billion.

The Index reports that falls on the same level are the second most costly occupational injury (estimated annual cost of $6.7 billion), just behind overexertion.

It also shows that bodily reaction, which comprises injuries from slipping or tripping, is the third highest injury category, followed by falls to a lower level (4.6 billion).
As mentioned, dust on rafters, light structures, and HVAC systems are a potential fire hazard, as well as diminishes working conditions by circulating low-quality air and reducing available lighting.
These areas should be thoroughly inspected on a quarterly basis; more, depending on the size and traffic in and around your warehouse.
See Also:
Productivity
A safe and healthy working environment leads to more productive employees and more profitable business.
According to OSHA;
[sic]...when your workers know you take their safety seriously, they are more likely to give you their best, each day on the job.

Daily maintenance of a healthy work environment prevents such delay, and ensures efficient, productive work throughout the year.
Inadequate or insufficient lighting from windows and light fixtures will affect employee vision, creating health hazards, and reduce performance.
Combined with low indoor air quality from dirty HVAC vents and inadequately sanitized high contact surfaces, as well as the various chemicals on the ground or those used to service machinery, your warehouse is now a powder keg for accidents and work-acquired illnesses.
See Also:
Takeaway
A clean warehouse and showroom floor will lead to a more professional appearance and a safer, more productive workplace.
Green cleaning chemicals and tools can provide the service your business needs to maintain compliance, as well as protect your employees and your customer's merchandise at a significantly lower price point than managing the service in-house, or with more conventional cleaning practices.
If you would like to learn more about the benefits of green cleaning services warehouse or showroom, contact us today for a free quote!
In Bakersfield CA, call (661) 395-3009
In Fresno CA, call (559) 473-1790