Professional commercial cleaning services for businesses throughout Bakersfield CA and Kern County.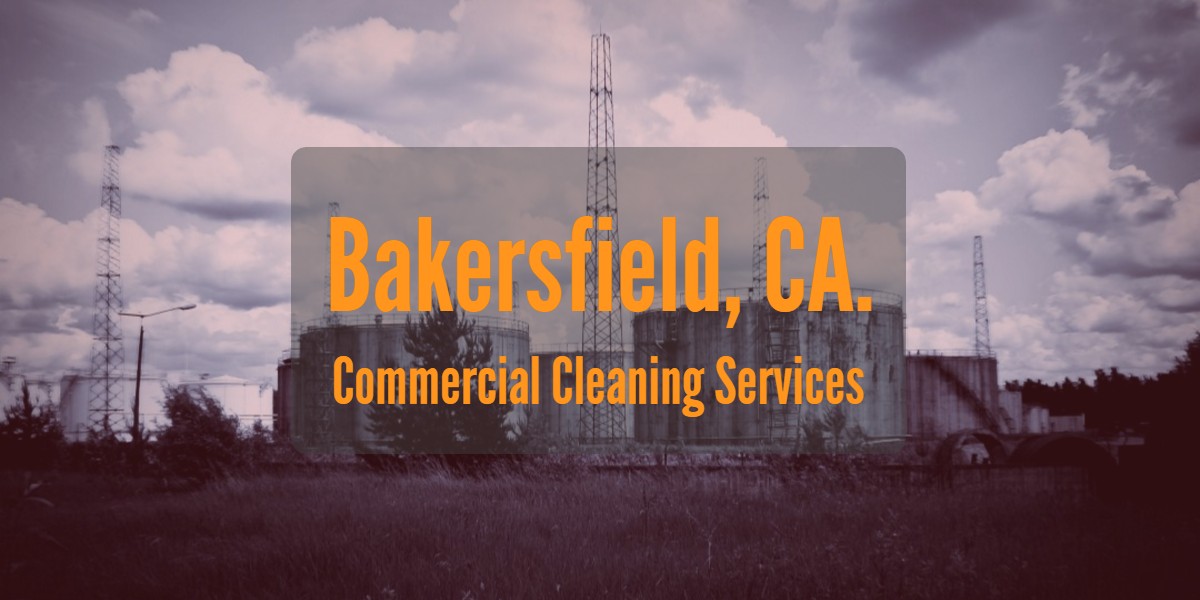 Commercial Cleaning Services Experts for Bakersfield CA Businesses
Bakersfield boasts a broad range of businesses, from Ag to Oil, and all of the support services in between.
Unfortunately, Bakersfield also has a significant dust problem, contributing to its #78 position on the Top 100 Worst US Cities for People with Allergies.
Bakersfield was also ranked #2 on Forbes' America's 10 Most Toxic Cities list due, in large part, to the higher-than-average use of industrial chemicals.
Compounding the problem, Coccidioides; otherwise known as San Joaquin Valley Fever.
San Joaquin Valley Fever
Valley Fever is caused by a fungus, called Coccidiodes, that grows in the soil, almost exclusively, in the Southwestern  United States.
The fungus spores are knocked into the air by local construction and farm labor and infect the host via the respiratory system.
Symptoms can range from something as benign as a fever and cough to something as serious as Meningitis and death.
Construction and farm workers, while at higher risk, are not alone in their potential for exposure to the spores.
Coccidiodes spores can travel hundreds of miles, carried by the Valley winds.
One of the most cost-effective strategies for protecting office workers from accidental exposure is the implementation of HEPA based cleaning and filtration systems.
For More Information:
The High Cost of Getting Sick
There is currently no FDA-approved vaccine for Valley Fever, which is unfortunate, as the cost of becoming ill can be financially crippling.
It is estimated that, over a person's lifetime, a non-complicated case of Valley Fever will cost, in the vicinity of, $18,800.00 while a disseminated case (Meningitis) can range up to as high as $87,000.00.
That can cause a significant hit to a businesses health care plan.
Absorbing the costs, as ever, are the California taxpayers--to the tune of approximately $221 Million annually.
For More Information:
Bad Indoor Air Quality is Bad for Business
Bad indoor air quality, more precisely, poor indoor air quality controls, can lead to 2 to 5 times higher level of pollutants inside than outside.
Low-quality indoor air can present significant business challenges as well.
Health-related issues among employees, resulting in excessive paid leave, absenteeism, and reduced engagement at work.
Reduced professional appearance and appeal, leading to higher employee and customer churn, as well as lower profits.
Increased health care costs.
Unfortunately, conventional cleaning methods that rely heavily on harsh chemical cleaning products can contribute to the indoor air pollutant problem instead of addressing it.
That contribution comes in the form of Volatile Organic Compounds (VOC's); asbestos, lead, and other banned compounds still present in many older office buildings.
A VOC well known to oil field workers traveling between Kern, Ventura, San Luis Obispo, and Santa Barbara counties is Radon; the second leading cause of lung cancer.
VOC's and Coccidiosis spores don't just travel through the air; they are on the ground where they hitch a ride on the bottom of the worker's shoes and head straight into your office at the end of the day.
The spores and toxic particles are then trapped by carpets, rugs, upholstery, and fabric curtains where they wait to be knocked into the air and the respiratory system by boots, and conventional, non-filtered vacuums, straight into the lungs of unwary staff.
Fortunately, there is a healthier, safer alternative.
Green Commercial Cleaning
Several steps can be undertaken to improve the overall health and wellbeing of your office staff and customers--each varying in time and financial investment.
Do It Yourself
A few things you can do yourself for next to nothing are:
Install HEPA air filters throughout the office.
Place live plants around the office.
Put heavy duty door mats on the inside and outside of doorways.  Make sure to clean the mats a regular basis.
Clean your office daily.
Facilities Maintenance Managers
Tasks you should seriously consider, but are better left to facilities maintenance managers are:
Install and provide routine maintenance for HEPA filtered air flow systems.
Remove carpeting and upholstery from high traffic areas where field workers routinely come and go.
Regulate or eliminate the use of chemical cleaners and pesticides in and around the building.
Leave it to the Professionals
There are certain tasks best left to professionals:
Regular cleaning services using color-coded microfiber to avoid cross contamination.
Green cleaning products that do not contribute VOC's to the indoor environment as well as requiring less water.
Deep carpet extraction cleaning on a regular basis.
Vacuum floors and rugs daily and upholstery weekly to monthly, depending on placement and use, with a HEPA-filtered vacuum.
Dust everything often, daily if needed.
References
Takeaway
Bakersfield businesses are filled with hardworking individuals that deserve to have a company that looks out for them and their health.
While life here will always be filled with dust and hot summers, significant gains have been made towards maintaining indoor air quality and decreasing water use.
If you would like to learn more about the benefits of commercial cleaning services for your business, contact us today for a free quote!
In Bakersfield CA, call (661) 395-3009
In Fresno CA, call (559) 473-1790