Citrus-based cleaning solutions have become increasingly popular in recent years, as they are often seen as a more environmentally friendly and safer alternative to traditional cleaning and disinfection products.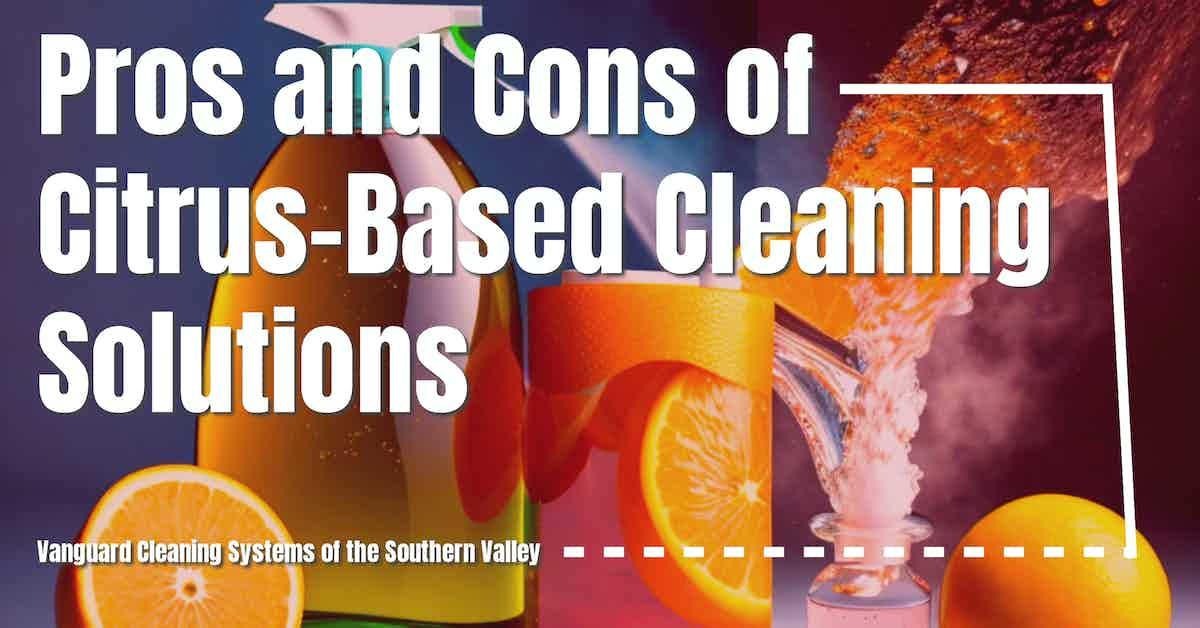 What Are Citrus-Based Cleaning Solutions?
Citrus-based cleaning solutions are cleaning products that use natural or synthetic citrus extracts, such as those derived from oranges, lemons, limes, or grapefruits, as their primary active ingredient.
These products can be found in various forms, including sprays, concentrates, and wipes, are available for commercial and household use, and are commonly employed as degreasers, all-purpose cleaners, and disinfectants.
Pros
Effective cleaning: Citrus-based cleaners remove dirt, grime, and surface stains.
Pleasant scent: These cleaners often have a pleasant citrus scent, which can be more pleasant than the chemical odors of other cleaning products.
Environmentally friendly: Citrus-based cleaners are often made from natural, biodegradable ingredients and are considered more environmentally friendly than traditional cleaners.
Non-toxic: These cleaners are generally considered safer and less toxic than other cleaning products. This is particularly important in environments where people may have sensitivities or allergies to harsh chemicals.
Cons
Cost: Citrus-based cleaners may be more expensive than traditional cleaners, which can be a significant downside for businesses or organizations with tight budgets.
Limited effectiveness: While these cleaners can be effective for general cleaning, they may be less effective at removing tough stains or grime as more powerful chemical cleaners.
Potential for damage: Citrus-based cleaners can damage certain surfaces, such as natural stone or granite, if misused. It is essential to check the manufacturer's instructions and test a small area before using the product on a larger scale.
Allergy risk: While citrus-based cleaners are generally considered safer than other cleaning products, they can still cause allergic reactions in some people. It is essential to be aware of this potential risk and to use the product with caution if you or anyone in your workplace or classroom has allergies or sensitivities.
Are Citrus-Based Cleaning Solutions Environmentally Friendly?
To be considered environmentally friendly by the EPA, a cleaning product must meet specific criteria:
The product must be made from non-toxic, biodegradable ingredients with low environmental impact.
The product must not contain ozone-depleting substances like chlorofluorocarbons (CFCs).
The product must not contain volatile organic compounds (VOCs) contributing to air pollution.
The product must be packaged in recyclable or biodegradable materials.
Citrus-based cleaning solutions can meet these criteria, as they are often made from natural or synthetic citrus extracts that are biodegradable and have a low environmental impact.
Additionally, citrus-based cleaning solutions often have a fresh, pleasant scent and are free of harsh chemicals and VOCs.
However, not all citrus-based cleaning solutions meet the EPA's environmentally friendly or green standards.
To ensure that a cleaning product is truly eco-friendly, it is essential to look for products certified by third-party organizations, such as the EPA's Safer Choice program or Green Seal.
Takeaway
Citrus-based cleaning solutions can be an effective and environmentally friendly alternative to traditional cleaning products.
However, they may only be suitable for some cleaning needs, and it is essential to weigh the pros and cons before deciding whether to use them in a workplace or classroom setting.
Proper training and planning are required to ensure optimal cleaning outcomes while preventing accidents and cross-contamination.
Onboarding and managing the requisite labor and material resources necessary to ensure the highest standards of cleanliness are achieved and maintained may prove cost-prohibitive for many organizations.
Outsourcing is a proven method for onboarding highly in-demand cleaning and disinfection services and experience for a fraction of the price of maintaining a similar service in-house.
If you would like more information regarding the effectiveness of high-performance infection prevention and control measures, or if you would like to schedule a free, no-obligation on-site assessment of your facility's custodial needs, contact us today for a free quote!
In Bakersfield, CA, call (661) 437-3253
In Fresno, CA, call (559) 206-1059
In Valencia, CA, or Santa Clarita, CA, call (661) 437-3253
In Palmdale, CA, or Lancaster, CA, call (661) 371-4756