School is in session, Fall is just around the corner, and that means it's time for the annual round of influenza, rhinovirus, and norovirus--right on the tail of the COVID-19 pandemic finally winding down, which could potentially overwhelm overtaxed healthcare facilities, though that presently appears unlikely.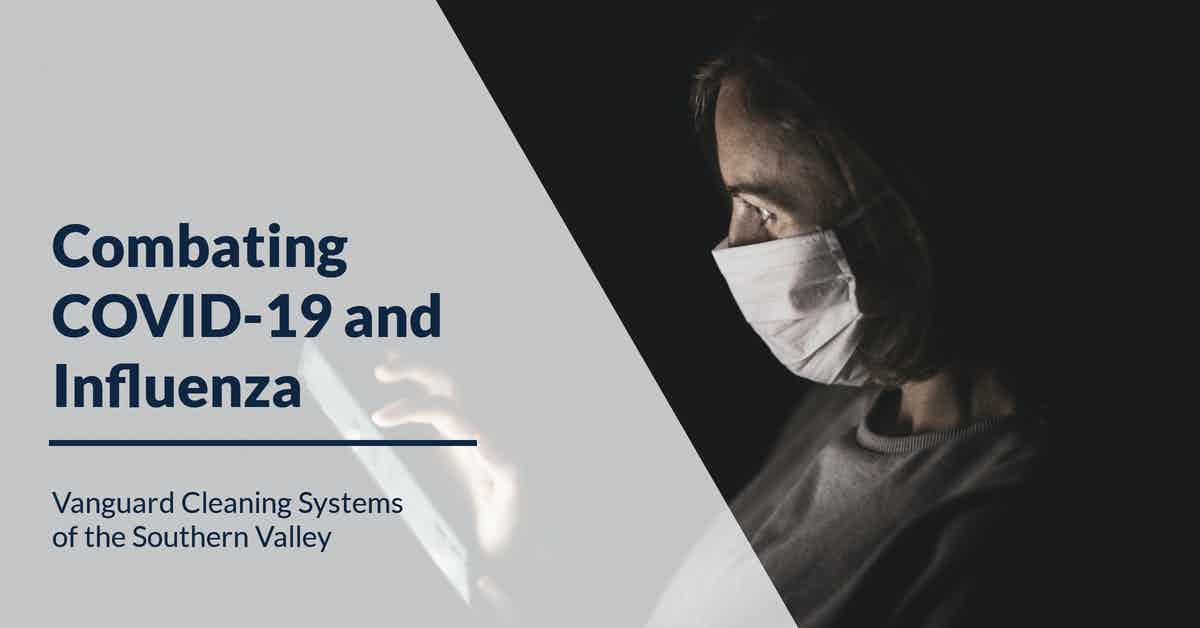 Combating the Cold and Flu Season in the Time of COVID-19
Today, it seems like the dangers of infection are everywhere, regardless of the cleaning and disinfection protocols enacted, or other safety precautions.
COVID-19 took a pretty heavy toll on the U.S. population this year, and now we're heading into a historically challenging time of year in regards to colds and the flu.
According to Infection Control Today;
As of August 15, the United States has seen a total of 5,285,546 cases of COVID-19, with 167,546 deaths.

The 2019-2020 US flu season data reported on April 17, 2020, showed that the number of flu illnesses reported was between 39,000,000 and 56,000,000, with between 24,000 and 62,000 flu deaths occurring from October 1, 2019, to April 4, 2020.

This was a total of 7 months.

When deaths from influenza are compared with deaths from COVID-19, there have been fewer cases of COVID-19 than influenza, but there have been more than double the number of deaths from COVID-19 than from influenza.

Infection Preventionist Guide for Dealing With Flu and COVID-19
Some medical experts have predicted a historically mild or nearly non-existent influenza season based, in part, on data coming out of several countries presently in the throes of their annual influenza season.
According to Reuters;
Canada's flu surveillance system also reported "exceptionally low levels" of influenza in a recent report, as did other countries that report weekly flu surveillance statistics including the UK and Australia.

In its most recent weekly report, South Korea's infectious disease portal reported an 83% decrease in cases from the same period a year earlier.

Seasonal flu reports hit record lows amid global social distancing
The reduction in reported cases of influenza are currently attributed to measures taken to combat SARS-CoV-2 outbreaks, especially:
Enhanced cleaning.
Touchpoint disinfection.
Increased hand-hygiene, and;
The social distancing of individuals with symptoms from vulnerable demographics.
These protocols align with recommendations from previous years to prevent the spread of pathogens in any environment, so it is safe to assume, at least for the moment, that the wide-scale adoption of the recommended best practices not only contributed to the current reduction in COVID and influenza cases but that the process is repeatable.
Infection Prevention in a Post-COVID World
Safely preventing the spread of pathogens and bacteria in enclosed facilities should be the primary focus of facility managers and custodial workers across the country during any season.
Real-world examples of what this looks like and the benefits, as well as the dangers, are present all around us every day.
Some things to keep in mind:
Effective disinfection requires a surface to be thoroughly cleaned with soap and water first.
Not every disinfectant claims that it can kill specific molds, fungi, bacteria, and viruses, so you must research what you're using and how to apply it beforehand.
Disinfectants have laytimes, whereby the surface must remain wet and completely covered for a specific amount of time to meet the manufacturer's claims of kill ability.
Incorrectly mixing, consuming, or over-applying various disinfectant products is dangerous and leads to the deaths of thousands of people each year.
There are several disinfectant products considered safer for use than others, meaning they are less likely to cause long-term health issues due to exposure.
Outdated cleaning tools and janitorial practices contribute to surface cross-contamination and nullify any cleaning and disinfection protocols.
Staying home when you're sick or experiencing symptoms of illness has always been at the top of public health recommendations, well before the onset of SARS-CoV-2, and;
Regularly washing your hands with soap and water, especially after using the restroom, is the single best method--second only to inoculation--to prevent the spread of germs.
References & Resources
Takeaway
Between the rapid decline in reported cases of COVID-19 and the apparent, nearly non-existent influenza season currently underway in many countries, it is evident that following essential health and safety precautions year-round reduces the spread of disease.
However, during the pandemic, something else became glaringly obvious--the lack of health and safety information regarding the use, handling, and disposal of dangerously toxic disinfectant products.
Many commercially available, and even some consumer-facing disinfectants are deadly if misused, and to avoid any unnecessary loss of life or further burdening our beleaguered healthcare system, it is highly advisable to seek the advice and assistance of professional custodial service providers when applying these products, especially in extensive facilities with vulnerable occupant demographics, such as children, the ill, and the elderly.
If you would like more information regarding the effectiveness of high-performance infection prevention and control measures, or if you would like to schedule a free, no-obligation onsite assessment of your facility's custodial needs, contact us today for a free quote!
In Bakersfield CA, call (661) 437-3253
In Fresno CA, call (559) 206-1059
In Valencia CA, or Santa Clarita CA, call (661) 437-3253
In Palmdale CA, or Lancaster CA, call (661) 371-4756