Cleaning the air inside classrooms and businesses is a recommended precaution in the fight against SARS-CoV-2 and other airborne pathogens and diseases.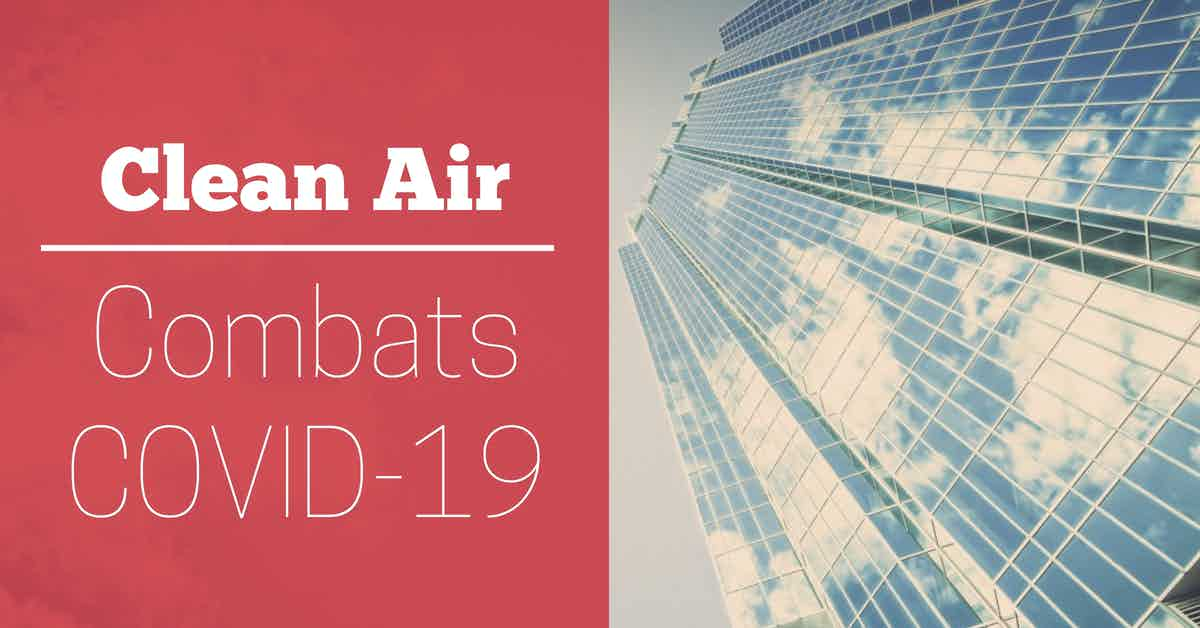 Clearing the Air Regarding the Spread of COVID-19
COVID-19 has underscored a significant gap in the manner in which we clean and disinfect occupied spaces to prevent the spread of germs--aerosolized propagation and transmission.
Viral aerosolization occurs when the liquid surrounding a pathogen--typically sputum or water vapor from speaking or breathing--evaporates, allowing the much smaller and lighter viral payload to travel over 13 feet.
To determine [the] distribution of severe acute respiratory syndrome coronavirus 2 in hospital wards in Wuhan, China, we tested air and surface samples.

Contamination was greater in intensive care units than general wards.

[The virus was widely distributed on floors, computer mice, trash cans, and sickbed handrails and was detected in air ≈4 m from patients.

Aerosol and Surface Distribution of Severe Acute Respiratory Syndrome Coronavirus 2 in Hospital Wards, Wuhan, China, 2020
Additional studies have reported that aerosolized COVID-19 remained viable for at least 3 hours in the air, and 72 hours on surfaces common in schools and offices, specifically plastic and stainless steel.
According to the New England Journal of Medicine;
SARS-CoV-2 remained viable in aerosols throughout the duration of our experiment (3 hours).

This reduction was similar to that observed with SARS-CoV-1.

SARS-CoV-2 was more stable on plastic and stainless steel than on copper and cardboard, and viable virus was detected up to 72 hours after application to these surfaces, although the virus titer was greatly reduced after 72 hours on plastic and after 48 hours on stainless steel).

Aerosol and Surface Stability of SARS-CoV-2 as Compared with SARS-CoV-1
That study is supported by findings from the University of Nebraska Medical Center, which found that the aerosolization of COVID-19 led to the viable contamination of surrounding surfaces and contributed to pathogens spread via both direct and indirect methods, including:
Person to person.
Surface to person, and;
Airborne transmission.
During the initial isolation of 13 individuals with COVID-19 at the University of Nebraska Medical Center, we collected air and surface samples to examine viral shedding from isolated individuals.

We detected viral contamination among all samples, indicating that SARS-CoV-2 may spread through both direct (droplet and person-to-person) as well as indirect mechanisms (contaminated objects and airborne transmission).

Taken together, these findings support the use of airborne isolation precautions when caring for COVID-19 patients.
What this translates into is the requirement for a three-pronged battle plan consisting of:
Routine high-performance cleaning services.
Regular occupant hand washing, and;
Commercial-grade air cleaning systems.
Recommended Guidelines
Ensuring occupant health and safety during this transmission period and any pathogen outbreak requires the following steps be consistently applied:
Enhanced zone-based cleaning focusing on touchpoint disinfection and cross-contamination prevention.
Maximum hand-hygiene compliance consisting of the thorough (wrists, the web between fingers, fingernails, palms, and back of hands) scrubbing of occupant's hands for 20 to 30 seconds with soap and water, and;
HEPA HVAC filtration systems combined with commercial-grade air cleaners with HEPA filters.
This process will help reduce pathogens in the air, thereby limiting their spread throughout a facility.
When combined with enhanced cleaning, touchpoint disinfection, high-levels of hand-hygiene compliance, and the U.S. Centers for Disease Control and Preventions well-published guidelines for social distancing, occupant health and safety can be assured at a relatively high level.
References & Resources
Takeaway
The reopening of schools and businesses requires an adjustment to how facilities managers and custodial teams approach cleaning, specifically during viral outbreaks.
To speed recovery, ensure public safety, and protect facility occupants, all avenues of transmission must be addressed to reduce the probability of contact with SARS-CoV-2, Influenza, and other airborne pathogens that wreak havoc on our economy and general populations every year.
Outsourcing your facilities' enhanced cleaning, touchpoint disinfection, and air cleaning services to an experienced service provider is a proven method for ensuring the highest standards of cleanliness and safety while controlling costs and reducing operational overhead.
If you would like more information regarding the effectiveness of high-performance infection prevention and control measures, or if you would like to schedule a free, no-obligation onsite assessment of your facility's custodial needs, contact us today for a free quote!
In Bakersfield CA, call (661) 437-3253
In Fresno CA, call (559) 206-1059
In Valencia CA, or Santa Clarita CA, call (661) 437-3253
In Palmdale CA, or Lancaster CA, call (661) 371-4756