In the wake of a devastating succession of cold and flu seasons combined with an ongoing COVID-19 pandemic, it is vital for schools and businesses to understand the process of and difference between cleaning and disinfecting.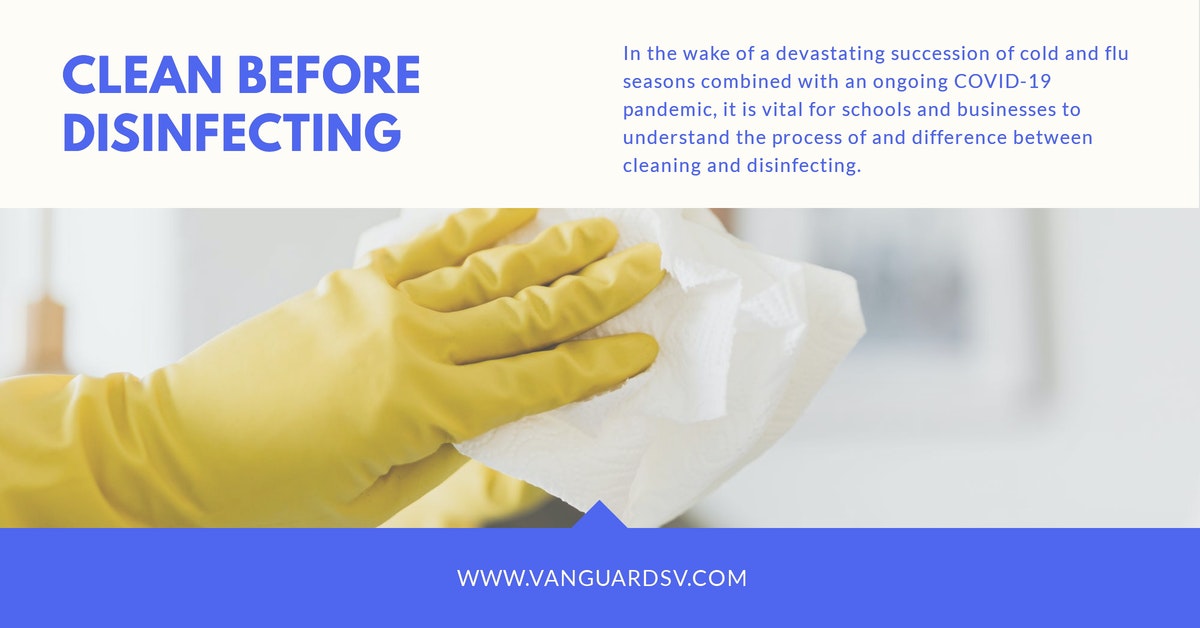 Clean First, Then Disinfect
Cleaning and disinfecting are two of the most valuable tools for preventing the spread of pathogens and illness-causing bacteria between occupants and surfaces.
However, how a surface is treated is almost as important as that it is cleaned and disinfected at all.
For example:
Cleaning without sanitizing or disinfecting will leave a surface covered in mold, mildew, certain bacteria, and most pathogens.
Sanitizing or disinfecting without first cleaning is just a waste of time and money because the dirt and oils present on the surface, which are removed during the cleaning process, significantly impact the efficacy of the sanitizing or disinfectant product, and;
Disinfecting without allowing the product to remain wet on the surface for the manufacturer recommended dwell time is pointless and serves the same purpose as not applying any disinfectant at all.
The Meaning of Cleaning
In the custodial industry, the definition of cleaning is a bit ambiguous, but for our purposes, we will define it as the removal of unwanted material.
Cleaning typically involves:
Sweeping.
Dusting.
Wiping, and;
Scrubbing.
Commercial cleaning products are diluted in water and intended to break up and assist with the removal of dirt and oil from various surfaces.
Additionally, certain types of bacteria and germs, such as COVID-19, are highly susceptible to the chemical interaction between soap-based cleaning detergents and are inactivated and removed during this process.
The issue with cleaning products is that, while considered safer for occupants and the environment than sanitizers and disinfectants, they are ineffective at killing pathogens, mold, and mildew.
The Purpose of Disinfection
Disinfectant products are used to kill mold, mildew, bacteria, and pathogens at a rate of at least 99.99%.
They are not effective as cleaning products, and will not work as stated by the manufacturer if applied to a dirty surface, or if the dwell time is not observed.
Not all disinfectant products are suited for every surface, nor is every product capable of removing every type of germ, mold, or bacteria.
In fact, disinfectants are only designed for specific circumstances, such as the cleanup of bodily fluids, or considered suitable for regular use on specific objects and surfaces--commonly referred to as fomites--including:
Doorknobs.
Light switches.
Phones.
Keyboards and mice.
Toilet and urinal flushers.
Sink faucets and handles, and;
Stairway rails.
However, in reality, that is not how disinfectants are commonly used, and their overuse is considered a severe public health issue.
According to the Toxic Use Reduction Institute;
Disinfectants have been linked to acute and chronic health issues.

Ingredients such as acids, ammonia, bleach, and disinfectants are asthma irritants.

Emerging science links certain disinfectants to reproductive issues.

Residues of disinfectants washed down the drain may be triggering the growth of disinfectant-resistant microbes.

Resistant bacteria created in wastewater treatment sludge can result in antibiotic-resistant diseases.
Cleaning While Disinfecting
While it is true there are products on the market that make the EPA-registered claim to clean and disinfect, any heavily soiled surface will still require a cycle of pre-cleaning prior to applying the multipurpose product.
Other tools, such as:
Microfiber.
Steam cleaning machines, and;
Spray-and-vac systems;
come very close to functioning as cleaning and disinfection products and are considered safer for long-term use, occupant health, and environmental safety.
References & Resources
Takeaway
In the new normal of ongoing pandemics, social distancing, and uncertainty, enhanced cleaning and disinfection services can provide a layer of occupant security that will ensure reduced stress levels for consumers, students, and office workers--all of which is critical for us to return to a pre-pandemic state of normalcy.
Using in-house staff to double down on cleaning duties is not recommended--both for their own health, as well as the wellness and safety of facility occupants.
Outsourcing to an experienced service provider will ensure these vital services are onboarded quickly with minimal management overhead or training while maintaining strict cost controls.
If you would like more information regarding the effectiveness of high-performance infection prevention and control measures, or if you would like to schedule a free, no-obligation onsite assessment of your facility's custodial needs, contact us today for a free quote!
In Bakersfield CA, call (661) 437-3253
In Fresno CA, call (559) 206-1059
In Valencia CA, or Santa Clarita CA, call (661) 437-3253
In Palmdale CA, or Lancaster CA, call (661) 371-4756