Dirty school restrooms aren't just a health and safety hazard--according to new research, they send a clear message that the school does not care about its students.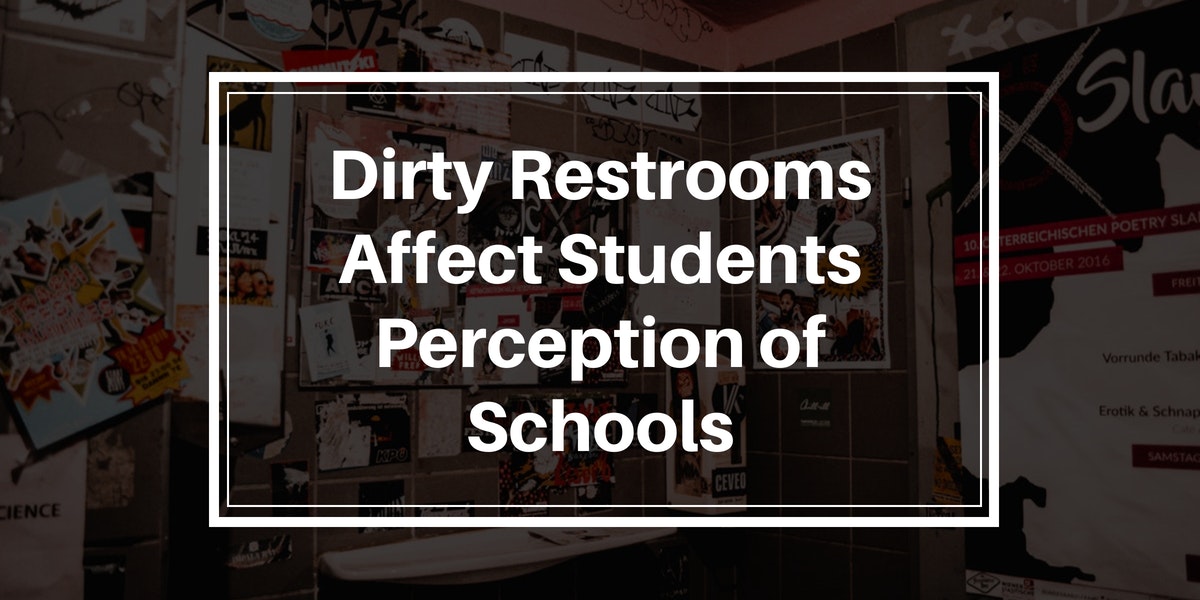 The Impact of Dirty School Restrooms on Students
Regardless of intent, inadequately maintained school restrooms have sent a clear message to students that no facilities manager or district supervisor would be proud of.
According to a recent survey of 630 highschool students, conducted by Bradley Corp.;
68% of respondents stated restrooms that are inadequately maintained or unclean show the school doesn't care about its students, reflect poor management, and lower their overall opinion of the facility, and;

Roughly 50% of the students queried described the condition of their school restrooms as poor or fair.

19% claimed to never frequent it in part because they're dirty, smelly, or have broken or old toilets, sinks, and doors.
According to Bradley Corp. Director of Strategy, Jon Dommisse;
The negative impact of poorly maintained school restrooms is clearly significant and spreads beyond the bathroom doors to the entire school.

Female students are even more inclined to be negatively influenced by run-down school restrooms.

Survey Finds Dirty Restrooms Impact Students' Perception of School
Poorly maintained restrooms are unhygienic and unsafe, likely harboring several common diseases which contribute to the epidemic levels of student absenteeism, including:
E.coli
Norovirus, and;
Influenza.
Avoiding the restroom altogether also carries serious health consequences.
According to pediatric urologist, Dr. Steve Hodges, M.D.;
[...] students must be allowed to use the restroom when the urge arises—not 10 or 20 or 60 minutes later.

It's a health issue, and it's no joke.

Suppressing the urge to pee can damage a growing bladder, thickening and aggravating the bladder wall and increasing a child's risk for accidents, bedwetting, and urinary tract infections.

Ignoring the urge to poop wreaks even more havoc.

Stool piles up, stretching the rectum and pressing against the bladder.

Constipation, epidemic among U.S. children, causes increased urinary frequency and urgency and is the direct cause of virtually all bedwetting as well as daytime accidents.

Some of these accidents occur in the classroom or on the gym floor.
All of these factors contribute to unnecessary challenges that distract students from focusing on their studies, negatively impacting their performance and grades, and resulting in the waste of hundreds of millions of dollars each year in taxpayer money.
Fortunately, in regards to the health and sanitation of the facilities' restrooms, there is a simple, cost-effective solution.
High-Performance Green Cleaning Services for School Restrooms
Student restrooms, especially in highschools, tend to see a lot of foot traffic.
Studies have shown that daily cleaning and disinfection of regularly traversed facilities have a positive impact on student attendance, which correlates directly to performance and grades.
Cleaning and disinfecting every student restroom at every school in a district, top to bottom, every day with conventional cleaning tools and products is cost-prohibitive, which is likely the reason the bathrooms sit in the current state of disrepair we are not witnessing.
Implementing high-performance tools, such as microfiber, vacuum floor scrubbers, and electrostatic disinfection appliances, will significantly reduce the amount of time required to clean and disinfect each bathroom, floor to ceiling.
Combining those tools with green cleaning and disinfection products will also cut down on costs associated with storage, shipping, and natural resource use, as well as eliminate the release of toxic chemicals into the local environment that contributes to student and faculty illness and performance issues.
References & Resources
Takeaway
Each year, new stories are published by local news agencies reporting on the depreciated and deplorable state of some schools' restrooms that lead to, what must be, significant health code violations, and school administrators ultimately deciding to bar access.
Typically, the reason given for the lack of service to these demonstrably vital facilities is the inadequacy of trained and qualified staff to clean on a regular basis--almost exclusively due to budget cutbacks.
Outsourcing cleaning and disinfection services is a proven method for reducing management overhead and costs, especially the expensive variable costs of training and retaining custodial staff in a position with relatively little advancement potential.
If you would like more information regarding the impact of high-performance green cleaning and no-touch disinfection services for your school or district, or would like to schedule a free, no-obligation on-site assessment of all your facilities' infection prevention and control requirements, contact us today for a free quote!
In Bakersfield CA, call (661) 437-3253
In Fresno CA, call (559) 206-1059
In Valencia CA, or Santa Clarita CA, call (661) 437-3253