Color coding your cleaning closet and assigning each color to a specific area will significantly reduce the potential for cross-contamination between rooms and surfaces.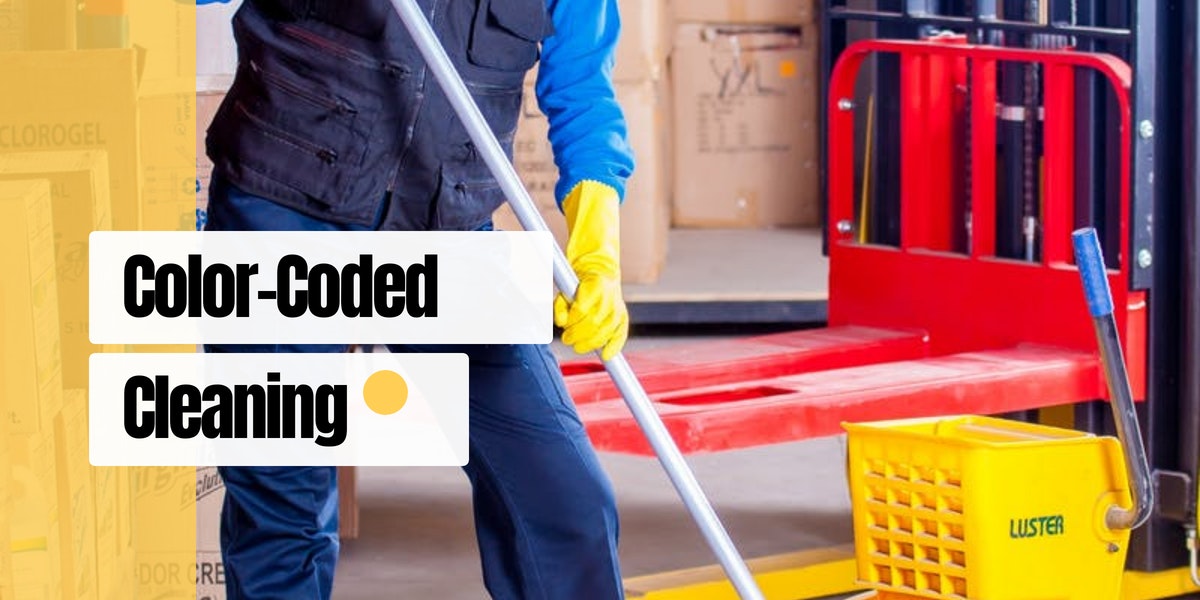 Prevent Cross-Contamination With Color-Coded Cleaning
Color coding cleaning equipment serves a similar function across every industry and business type:
Prevent cross-contamination.
Control infection.
Simplify training.
Bridge language barriers, and;
Differentiate materials for specific cleaning tasks.
Put simply, color coding helps prevent the accidental use of equipment that is/was used to clean high-risk areas, such as toilets and urinals, in other critical areas, including office desks and food preparation areas.
Additionally, color coding cleaning equipment helps meet specific federal regulations, including:
The FDA Food Safety Modernization Act (FSMA), and;
The Current Good Manufacturing Practices (CGMPs)
Cross-Contamination Control Challenges & Benefits
Just how severe are the risks of cross-contamination?
According to research by Dr. Charles Gerba of the University of Arizona, 80% of commonly acquired illness is spread by hand to mouth, nose, and eye contact, resulting in $15 Billion in lost productivity for U.S. businesses each year.
Conversely, the benefits of implementing a thorough color coding system for cleaning equipment can result in a substantial reduction in transmitted diseases, as well as their associated costs.
A study of Rush-Copley Medical Center's efforts to eliminate C.diff found that;
These colour-coded systems and one-per-room methodologies can make a real and quantifiable difference.

Among success stories, one hospital was able to reduce to zero its surgical unit's rate of Clostridium difficile (C. difficile) infection5 by making colour-coding a part of a multimodal, collaborative intervention-type solution.
How to Implement a Color-Coded Cleaning System
Color coding cleaning equipment is a relatively straight forward process.
The first step for most businesses is to assign a color to a specific surface or area of the facility.
A typical color coding assignment looks like this:
Red - High-risk areas, such as toilets, urinals, and bathroom floors.
Yellow - Remaining surfaces in restrooms, including sinks, counters, and faucets, as well as soap and paper towel dispensers.
Blue - General office areas, including windows, desks, and electronic equipment, and;
Green - Food preparation areas and bar cleanup, as well as non-food prep areas, such as lunch and breakrooms.
At a minimum, the equipment that should be color-coded includes:
Microfiber cloths, brooms, and mop heads.
Buckets containing water or cleaning product.
Dust pans and brushes, and;
Trigger spray bottles.
Color Coding Best Practices
To ensure a continuous, high-quality outcome from your organizations color-coded cleaning plan:
Create and post a series of charts in the area being cleaned, as well as the assigned cleaning closet that clearly outlines what color is assigned to each surface and use crystal clear, easy to disseminate images to communicate that message.
Routinely train all facilities and custodial staff on the color assignments and safe handling procedures.
Transport and store clean microfiber cloths in plastic bags to prevent potential cross-contamination.
Place used microfiber cloths in a designated laundry basket and launder according to the U.S. Centers for Disease Control and Prevention's (CDCs) Blood Borne Pathogen Standards--additionally, regularly launder or replace the laundry basket.
Sanitize your cleaning equipment, including mop and broom handles, dust pans, and buckets on a regular basis to prevent cross-contamination.
If possible, store cleaning equipment and chemicals in assigned locations, i.e., a closet for each individual color assigned to each area.
References & Resources
Takeaway
Cross-contamination is a significant challenge facing schools, businesses, healthcare facilities, food manufacturing, and restaurant facilities.
Color-coded cleaning helps eliminate the custodial team as a likely source of cross-contamination by implementing a simple-to-understand, easy-to-follow method for selecting the correct cleaning equipment for each area or surface.
The key to a successful program is regular ongoing training of all facility maintenance and custodial staff.
A significantly less expensive route is to outsource all of your cleaning and infection control needs to an experienced service provider who brings and leaves with all the required equipment.
Outsourcing in this manner will reduce the costs associated with purchasing, storage, training, and equipment maintenance.
If you would like more information regarding the benefits of color-coded cleaning and cross-contamination prevention, or if you would like to schedule a free, no-obligation assessment of your facilities infection prevention and control requirements, contact us today for a free quote!
In Bakersfield CA, call (661) 437-3253
In Fresno CA, call (559) 206-1059
In Valencia CA, or Santa Clarita CA, call (661) 437-3253