Student absenteeism represents a significant challenge for teachers, school administrators, students, and parents.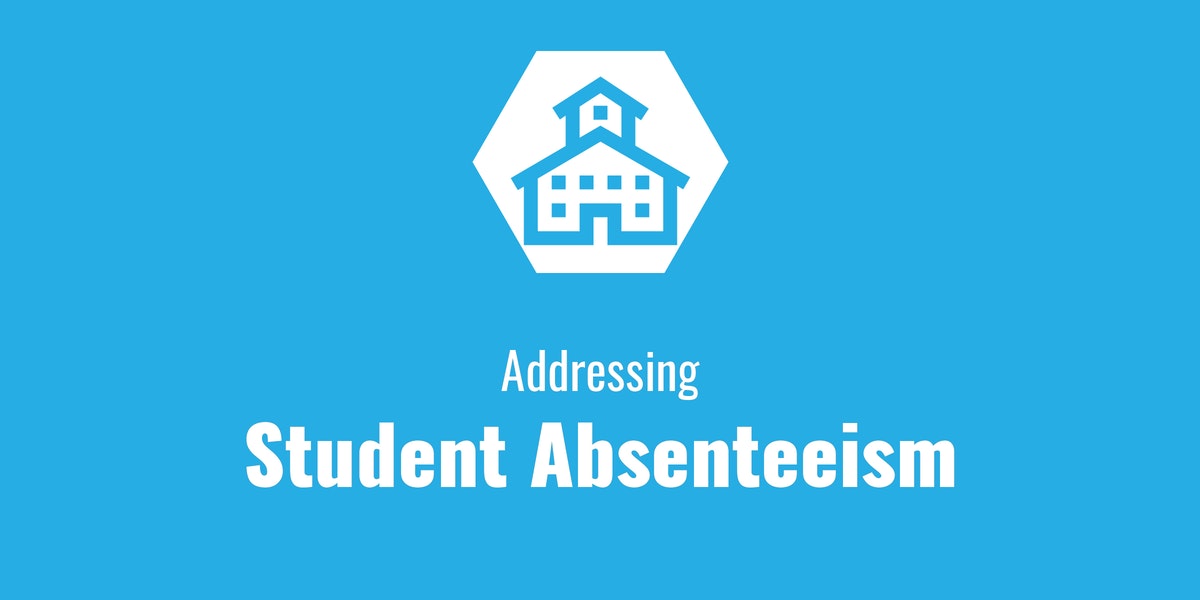 Student Absenteeism by the Numbers
Student absenteeism is a major problem in the United States.
According to the U.S. Department of Education:
One in six students--more than 7 million, or 16 percent of the U.S. population--was absent three or more weeks during the 2015-16 school year, totaling more than 100 million lost days.
Chronic absenteeism can prevent children from achieving early developmental milestones.
Irregular attendance is a better indicator than test scores when determining a child's likelihood of dropping out of high school.
Frequent absences can negatively impact outcomes in adulthood.
Approximately one in five high school students are chronically absent.
Source:
Chronic absenteeism also impacts other students in the form of budgets and available school resources.
According to The Classroom:
Excessive absenteeism also places an extreme strain on the school's budget, and allocated finances in each school district.

Average daily attendance, or ADA, is the average attendance rate of students in a school year.

States utilize a school district's ADA to determine the allocated funding it will receive.

Schools may encounter a decrease in funding due to a loss of full-time students.

This limited budget due to excessive absences causes a lack of educational resources and materials for the all the students in the school.
While several critical factors influence student attendance, including safety and transportation--student health represents a significant hurdle that can be addressed at the school level and within the classroom through proactive infection prevention and control procedures, as well as hand hygiene.
Reducing Student Absenteeism Through Proactive Cleaning and Hygiene Programs
Reducing student absenteeism through proactive measures in the classroom requires school administrators to address three critical areas:
Surface cleaning and disinfection.
Indoor air quality, and;
Handwashing.
Cleaning & Disinfection
In the past, full surface disinfection was extremely difficult to achieve due to the complexities involved in cleaning and sanitizing three-dimensional furniture--desks, computers, tables, counters, and chairs.
Currently, the widespread availability of electrostatic disinfection appliances, which provide full 360-degree surface coverage and fully disinfect any surface within a few minutes, represents a significant leap forward in low cost, high production infection control.
Additionally, microfiber mops and towels, when used properly, can substantially reduce surface germs and bacteria while eliminating potential issues with surface cross-contamination, and help reduce the instances of airborne particles.
Indoor Air Quality
High-quality indoor air can be maintained through a combination of humidity controls, environmentally-friendly cleaning products, and air filtration.
If the humidity in a room is too low, the air becomes dry and allows for the rapid spread of viruses--conversely, too much humidity encourages the spread of bacteria and mold.
High-performance air filtration systems trap airborne particles that can lead to respiratory ailments, including asthma.
Environmentally-safe cleaning products release far fewer volatile organic compounds into the air, making them safer for use when compared to conventional commercial cleaning products.
Handwashing
By itself, consistent hand hygiene could eliminate more than half of student absences.
The CDC says handwashing cuts respiratory illness by 16-21%.

Research shows 51% less student absenteeism is possible with student access to disinfecting soap and hand sanitizer.
The availability of hand hygiene products is only the first step.
Students must be educated and encouraged to wash their hands thoroughly and before or after critical events, including:
Eating.
Restroom use, and;
Coughing or sneezing.
Takeaway
Chronic student absenteeism affects everyone in the community, even after the child has graduated, and well into adulthood.
While social and infrastructure issues do play a part in contributing to the current epidemic, classroom health and hygiene is something within the immediate control of school administrators and teachers, and can translate into positive gains for everyone quickly and at minimal expense.
Outsourcing routine cleaning and infection control or response procedures is a cost-effective method for addressing these challenges.
If you would like to learn more about the benefits of proactive cleaning and infection control procedures for your school, or if you would like to schedule a free, no-obligation onsite assessment of your facilities needs, contact us today for a free quote!
In Bakersfield CA, call (661) 437-3253
In Fresno CA, call (559) 206-1059
In Valencia CA, or Santa Clarita CA, call (661) 437-3253