Outsourcing your organization's cleaning and infection control requirements to a professional service provider has several benefits, including demonstrable increases in productivity and occupant health.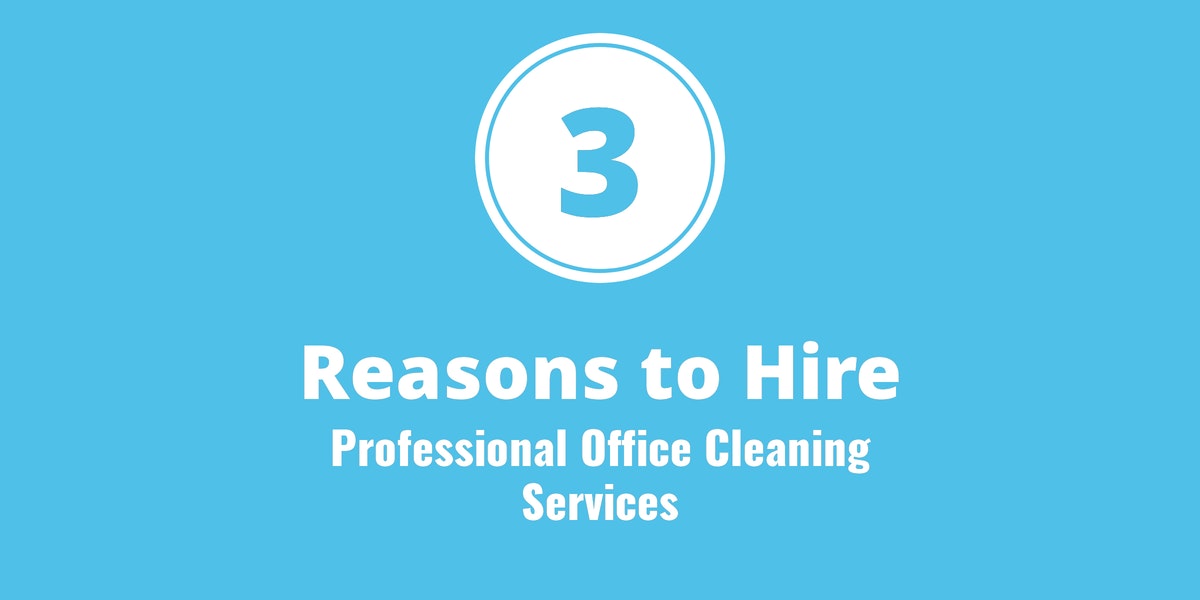 Why Your Business Needs Professional Office Cleaning Services
A truly dedicated team of custodial workers are, more often than not, the unsung heroes behind the success of many businesses--providing vital services that, not only maintain the look and functionality of the facilities we use daily but protect the health and safety of every person who enters the complex.
Additionally, many organizations have begun incorporating the cleanliness of their workplace into their marketing efforts--specifically the adoption of green cleaning and sustainable business practices--to attract new talent and increase the perception of their brand with the public.
However, there are significant differences between the performance and output between in-house and outsourced service providers which can have a tremendous impact on the health and safety of building occupants, as well as their productivity and a businesses bottom line.
The Difference Between In-House and Outsourced Cleaning Teams
The difference between in-house and outsourced/franchise cleaning services are easily discernible when retention and turnover numbers are reviewed.
Typical in-house custodial teams turnover at an average rate of 200% annually--meaning the entire team is typically replaced twice per year, if not more.
In stark contrast, the average turnover rate for franchise businesses in the U.S. is approximately 10%.
There are numerous reasons behind these numbers, but the results of long-term retention speak for themselves, especially when considering the importance of training and long-term experience.
Cleaning & Sanitation
Despite the apparent simplicity, professionally cleaning and disinfecting a workplace is a highly technical task requiring a significant amount of training and experience, not possible with high department turnover rates.
For example:
To ensure the ideal efficacy of disinfection products, each surface must first be cleaned to remove dirt and other debris before application, and the disinfectant must be allowed to 'lay' for a specified period before being wiped up.
Walls should, perhaps counterintuitively, be cleaned from the bottom up to avoid streaking and damaging the paint or finish.
Electrical equipment must be adequately maintained and serviced at regular intervals and require a substantial amount of training before use to avoid damaging customer facilities, and;
Chemical dilution requirements differ between products and must be adhered to, to prevent the buildup of toxic fumes, or a completely ineffective application resulting in the accumulation of dangerous germs and bacteria.
Worker Productivity
A mistake often made by smaller businesses is the application of the 'other duties as assigned' stipulation in employment contracts to leverage office staff for cleaning tasks in excess of keeping their workspace tidy and washing their dishes.
Given the appalling workplace engagement numbers reported by Gartner for U.S. employees, combined with the inherent dangers of unintentionally exposing office workers to toxic chemicals, this practice is ill-advised.
Additionally, the lack of training and experience on the part of the office staff, or the (likely) inexperienced in-house custodian, when compared to a professional service provider, as previously mentioned, will likely lead to the buildup and spread of germs and bacteria that will absolutely make everyone in the building sick--something utterly counterintuitive to an efficient and productive workforce.
Conversely, a professional custodial team trained in sustainable business practices and armed with certified green products will make quick work of any cleaning task, ensuring the safe occupation of all facility spaces and, according to multiple studies, actually increase the productivity of office staff resulting in increased profits for the business.
Cross-Contamination
Cross-contamination is the bain of clean and hygienic office.
Dirt and germs are brought indoors on the feet and hands of everyone who enters the building and spread from surface to surface--throughout most of the facility--in a matter of hours.
The worst kind of cross-contamination happens during cleaning, whereby inexperienced custodial staff use rags that were previously used to clean, let's say the bathroom, to wipe down surfaces in the kitchen or break rooms.
Pretty gross, right?
A careful practice requiring well-trained and highly dedicated staff stipulates:
The use of color-coded microfiber assigned to rooms and specific surfaces which are not to be used elsewhere.
The use of two buckets--one for the diluted cleaning product, and one to wring out the dirty water--to avoid contaminating the clean water with debris and germs, and;
Cleaning and disinfecting while backing out of the space and not re-entering until after the disinfectant lay-time has passed.
Takeaway
Mastering the art and science of commercial office cleaning takes time, dedication, and extensive training.
Though designed with the user in mind, machines like floor scrubbers and buffers can cause significant damage to customer property if handled carelessly or by an inexperienced operator.
Additionally, even green cleaning products can lead to potential health and safety issues if the dilution, handling, and disposal recommendations are not adhered to.
Outsourcing to a highly trained and experienced service provider is a proven method for safely and cost-effectively, ensuring the health and productivity of your employees and customers.
If you would like more information regarding the benefits of outsourcing your organizations cleaning and infection control needs to a professional office cleaning service provider, or if you would like to schedule a free, no-obligation onsite assessment of your facilities requirements, contact us today for a free quote!
In Bakersfield CA, call (661) 437-3253
In Fresno CA, call (559) 206-1059
In Valencia CA, or Santa Clarita CA, call (661) 437-3253