Clean or dirty, when guests come to visit you at your office, the cleanliness and appearance will leave a lasting impression that can have a profound impact on the profitability of your organization.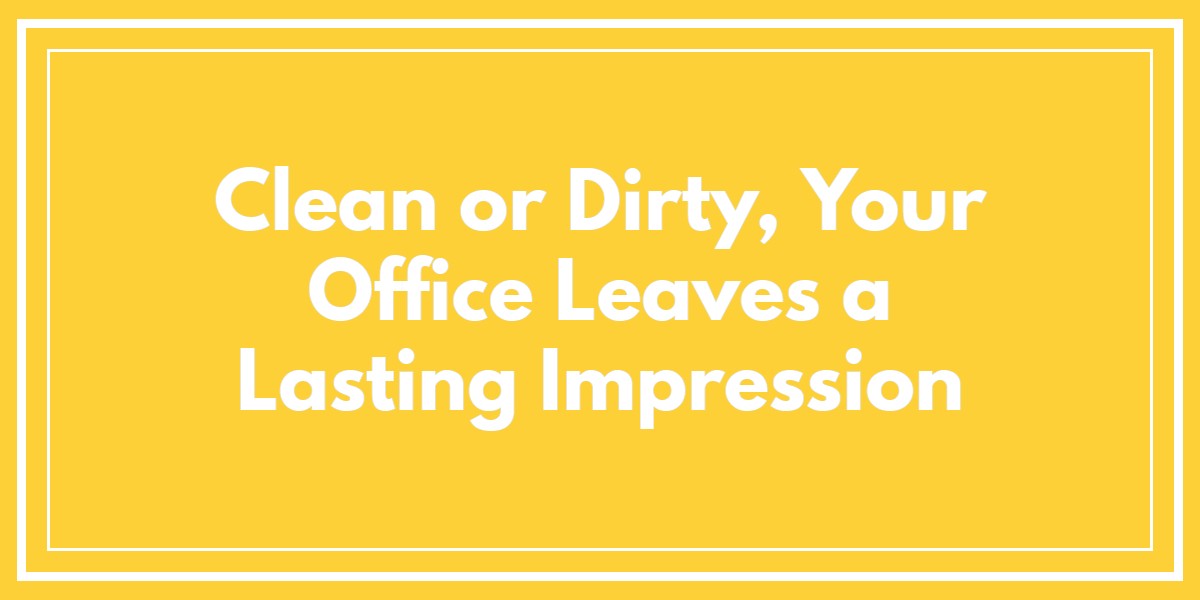 What Kind of Message Does Your Office Convey to Visitors?
A recent article published by Business Matters outlined five critical elements to leave a lasting positive first impression on guests that visit your business.
Topping the list is presenting a clean and healthy office.
Imagine the following scenario: someone walks into a dirty or unhygienic workplace. The place is not covered in mud, but still.

When they see in what condition the office is in, the client will immediately disappear.

You do not have to be a genius to understand that a dirty workplace scares away visitors.

People will be too afraid to take a foot inside the building out of fear that they will contact an illness.

Want to impress clients visiting your office? This is what to do
Engaging in-house staff to maintain a tidy workspace, such as desks, dining areas, and breakrooms is a good start.
However, according to CleanLink, the real advantages of an office that is focused on a 'clean for health first' approach can only be achieved through contracted janitorial services.
While staff members can be asked to keep their desks tidy, they probably won't have time for much else. It's really up to the contract cleaner or in-house cleaning department to provide a clean environment — and a great lasting first impression.
Areas That Matter Most
While you'll obviously want to maintain a clean and healthy working environment year around, there are several critical areas that we recommend be addressed and reviewed regularly, especially if you know you have important visitors coming, to ensure a great and lasting first impression.
Outside, Entrance, & Main Lobby
The outside of your building, especially near the entrance, but including sidewalks, walkways, and the entryway need to be swept and free of garbage, especially cigarette butts.
The main entry point into the lobby should be free of all slip or trip and fall hazards, and preferably be covered by a walkway mat.
The main lobby should be immaculate, as this is one of the areas that will leave a lasting impression.
The windows should be crystal clear, the floor swept and highly polished, the furniture clean and sanitized, walkway mats thoroughly vacuumed, lights and other fixtures clear of dust, and desks and counters cleaned, disinfected, and clutter free.
Restrooms
Restrooms are a big deal, and not just for restaurants.
Numerous surveys and studies have established that visitors to a business harshly judge the competency of management and how much they care about their employees and customers based on the state of cleanliness of their restrooms.
Make absolutely certain that your restrooms are:
Stink free, including the harsh smell of chemical cleaning products.
Free of trash on the floor, stalls, urinals, and countertops.
Well-stocked with paper towels and soap, and;
Clean and disinfected from top to bottom.
For bonus points, place hand sanitizer at the restroom entrance/exit.
Conference Room & Main Working Area
The conference room where you will be sitting down with your guests, as well as the main working area, will leave your visitors and potential customers with a lasting impression of what they can expect from your organization as far as service quality delivery.
It is absolutely vital that employee working areas be immaculate and clutter-free.
Additionally, conference room tables should be highly polished, and any electronic equipment should be properly sanitized and disinfected to avoid the revulsion stemming from the knowledge that these surfaces transfer disgusting germs and bacteria if not well maintained.
Takeaway
A few things to remember:
The quality of your cleaning products will have a significant impact on the effectiveness of your program, so make sure to purchase green, eco-friendly products that match your organization's needs.
Leveraging in-house employees to clean your office, in addition to their other duties, is demonstrably a bad idea that will generate poor results, build resentment among staff, decrease worker engagement in business specific duties, reduce profits, and lead to all around poor performance.
Studies have shown that outsourced/contracted janitorial services outperform in-house cleaning staff, and are better trained and have access to superior equipment that will make the difference between a positive showing, and a horrible first impression.
If you would like to learn more about how you can increase productivity, appeal, and profits with outsourced cleaning services--contact us today for a free quote!
In Bakersfield CA, call (661) 437-3253
In Fresno CA, call (559) 206-1059
In Valencia CA, or Santa Clarita CA, call (661) 437-3253